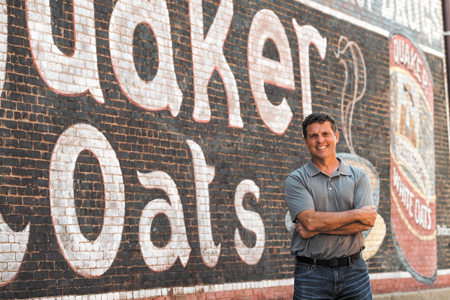 Call it their elevator pitch.
The owners of the 18-acre former Angie's List campus just east of downtown are relying on a promise of lower rent, connectivity with downtown, and the potential for future nearby development to draw tenants.
"We try to keep [rents] a few bucks lower than they are in the central business district," said former Angie's List CEO Bill Oesterle, who led a group that paid $10.7 million to acquire the campus in March 2018. "That's part of the way we compete."
The campus is now known as Elevator Hill—an homage to the neighborhood's original name of Whiskey Hill and to several east-side elevator companies.
The four square blocks, which include 215,000 square feet of rentable space spread across 27 buildings, bustled with activity before Angie's List's 2017 sale to New York-based IAC.
IAC combined Angie's List with its HomeAdvisor unit, creating Colorado-based ANGI Homeservices Inc. ANGI remains a big Indianapolis employer—with more than 1,000 employees—but it vacated the unconventional corporate campus in favor of outposts downtown.
Oesterle, who now runs TMap, a startup focused on bringing talent to the state, views the campus as a "value proposition" for potential tenants.
So far, that strategy has seemed to work, he said, pointing out 35% of the campus is already under lease by 12 tenants.
Among those early tenants are Circle Kombucha, which moved into 14,000 square feet of manufacturing and distribution space along East Washington Street in June, and Ball State University, which is slated to move its Indianapolis operations into a 17,000-square-foot building on the west end of the campus in August.
Spearheading the leasing push is Indianapolis-based Shook Realty Group. The listing agents are Shook's director of brokerage services, Creighton Shook, and broker Rob Coombes.
"We try to find companies who see value in having a unique kind of presence in Indianapolis," Coombes said. "This is a great opportunity for companies that are growing [and] have a greater vision than just themselves."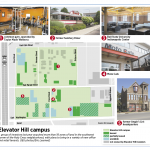 Elevator Hill includes a gym and a cafe that's open to the public. Coombes said the campus's layout creates synergies, allowing businesses to collaborate.
Another strength is its proximity to downtown, which is just 10 blocks west, and the availability of free parking. Many downtown parking lots charge well over $100 a month per spot.
"That's a big factor for us," Coombes said.
Nine of the buildings are partially or fully leased, and several other deals are in the works. Coombes said 80% of the space might be leased by January.
Tenant mix
In addition to Oesterle, the ownership group includes former Angie's List investors John Chuang, Peter Coolidge, Steve Kapner and Henry Hauser.
IBJ Corp. owners Bob Schloss, Nate Feltman and Mickey Maurer—who was an Angie's List board member—also have a stake, as does John Thompson, chairman and CEO of Thompson Distribution Co.
The group is targeting a range of industrial and office tenants, including tech firms.
Lining up those tenants likely will set the stage for luring retailers, Shook said.
"As they say, the last to show up to the party is always retail," he said. "We have a lot of office, industrial activity … so we're looking forward to getting some great retailers."
Industrial rents at Elevator Hill start at $6 per square foot per year, while office starts at $12 per square foot, with some prime sites substantially higher.
By comparison, asking rents for downtown office space of all stripes are about $22 per square foot, while Class A space tops $24, according to a report from Chicago-based Cushman & Wakefield.
Coombes said that, because Elevator Hill is able to offer tenants their own buildings as well as free parking, the highest tier of rents is still often slightly below that of downtown.
John Vandenbark, an office broker with the Indianapolis office of Los Angeles-based CBRE, said he expects the campus also will benefit from the resurgence of the Holy Cross neighborhood. Elevator Hill is in the southwest corner of Holy Cross, which has seen a flurry of residential development and an influx of young professionals.
"They're getting the benefit of that area of town really starting to grow, and I think this is a really nice push for that area," he said.
He said Elevator Hill will appeal to companies that prefer a campus setting—an arrangement more common in suburbs—over being a tenant in a downtown tower.
Kelsey Taylor, a former wellness director for Angie's List, was one of the first tenants to come aboard when she opened her gym, Taylor Made Wellness, last August.
She called the campus "extremely walkable" and predicted "a lot of buy-in because it really is like its own little city, and I think it's going to get better."
Shook and the ownership group also hope further housing development in the neighborhood will fuel demand for commercial space.
Oesterle, in fact, might develop some of that himself. He said he is exploring potential partnerships to build single- and multifamily housing near Elevator Hill.
"We're looking at all our options, but we certainly have a focus on increasing residential density there," he said.
Second act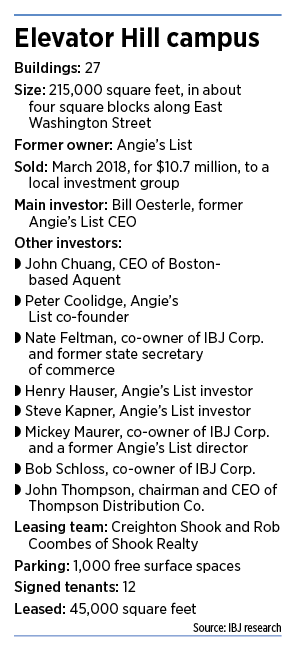 This is Oesterle's second go-round at boosting the corridor.
He moved Angie's List from Carmel to the neighborhood in 2001. In the years that followed, he and a business partner continued to scoop up property, leasing much of it to Angie's List as it continued to grow. They sold the property to Angie's List in 2013.
With Angie's List now relocated, Oesterle opted to rechristen the campus.
The Mallory Elevator Co., Home Elevator Co. and AMCO Elevator all operated on the east side through the late 20th century, while Mid America Elevator Co., which opened in the 1980s, remains in operation south of Elevator Hill.
Zach Adamson, a city-county councilor whose district encompasses the campus, said Angie's List's presence "was really impactful to the development of the surrounding area."
But neighborhood leaders say the company mostly kept to itself, other than service projects and some community engagement sessions.
"I think it would be fantastic and we would welcome" engagement from the businesses at the campus, said Kelly Wensing, president of the Holy Cross Neighborhood Association. "Angie's List was here for a long time, but they didn't reach out all that much."
Holy Cross has seen an increase in home building as prospective buyers seek to live near downtown but avoid the downtown housing sticker shock.
Home prices in the neighborhood generally range from $200,000 to $400,000, though some older, more prominent properties have fetched significantly more.
Emily Mack, director of the city's Department of Metropolitan Development, said she expects Ball State's presence to foster ties with the neighborhood.
The university is moving its Indianapolis operations—including the local outpost of its R. Wayne Estopinal College of Architecture and Planning—to the campus from Meridian Centre, at South Meridian and East Maryland streets, and from the Platform at City Market.
Ball State initially will occupy about 30% of the Glass Building but is expected to fill it within a few years, and potentially could lease additional space on campus.
Oesterle said it's "impossible to overstate" the importance of having Ball State on the east side.
"This will absolutely be important for our efforts to grow and sustain this campus," he said. "It will also go a long way to make the campus part of the larger fabric of the community."
Adamson is pleased with what he has seen so far.
"I'm hopeful that they continue to maintain it the way it always has been," he said. "I really hope it continues to be an anchor for that quadrant of the near-east side."
Oesterle shares that optimism but doesn't want to get ahead of himself.
"Right now, our focus is on what's in front of us," he said. "Once we square all that away, we will look further down the road."•
Please enable JavaScript to view this content.