Thousands of college football fans spent part of their Sunday inside the Indiana Convention Center, in part to find a reprieve from chilly temperatures enveloping downtown Indianapolis and the region ahead of the national championship game.
The convention center is home to Playoff Fan Central, a free event featuring obstacle courses, photo opportunities, a store, food and drink and various other activities, and is one of several downtown spots to which fans have flocked over the weekend.
It's also the primary spot for fans of the University of Alabama and University of Georgia—the teams meeting in Monday's championship game—to mingle and find some common ground through their fandom of college football. Playoff Fan Central will be open 10 a.m. to 3 p.m. Monday.
Generally, out-of-towners told IBJ they've been pleased with their experience in Indianapolis, thanks in part to the fan events. even if it's a bit colder in the city than they're used to.
Kevin Borie of Hoover, Alabama. is an avid supporter of the Crimson Tide. He said there's a stark difference for him between this year's game and the team's last championship appearance—last year in Miami.
"It's cold," he said. "The day before the game, I was on South Beach in a swimsuit; that's not the case here. But I've heard great things about Lucas Oil Stadium and I've heard the Indianapolis is great. I just wish it was 80 degrees here and not 30 degrees."
Borie said he likes the fan events because it gives him an opportunity to interact with other fans, both of his team and others, and to be in a spot where there's heat.
"I like being around other people and kind of getting into the game day vibe here," he said.
Thomasville, Georgia, resident Chris Ellis said he spent about two or three hours at the fan event with some family members.
He said while he's still "trying to get the lay of the land" and navigate around the city, he's enjoyed his stay since arriving late Saturday.
And Bradley Dennis, a Marion, Indiana, resident and Alabama fan, said he is trying to take in all the opportunities having the championship in Indianapolis provides.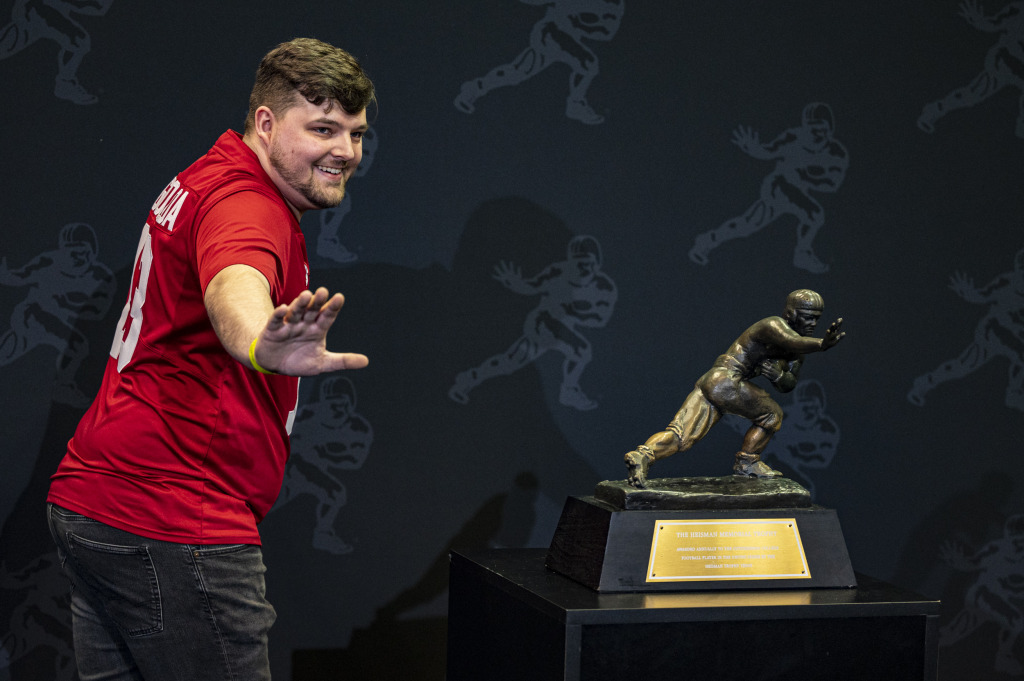 "It's cool when the Colts are here, but it's just so different when college football's is here—it's  a different vibe and a different kind of feeling because it's almost like a religion," he said. "It's just really cool to be part of it. Indianapolis has been so good . So it's just really cool. To be a part of it be here and and that Indy has been so good about putting on this event."
Dennis, an Alabama native, said he plans to spend the remainder of the weekend in Indianapolis, including for Monday's championship game, which he'll be attending. Events like Playoff Fan Center, he said, not only remind people of the big event but give them new ways to engage with other fans and the event itself.
He said he planned to participate in some obstacle courses, pet the therapy dogs on-hand, seek out autographs and listen to various panel discussions. He also planned to get photos with the various trophies on site, including the national championship trophy and the Heisman, the sport's most prestigious award.
"Where in the world can I ever do this again?" Dennis said. "The fact that they have this here, and that you can do these kinds of things—it's like a once in a lifetime kind of thing."
Please enable JavaScript to view this content.