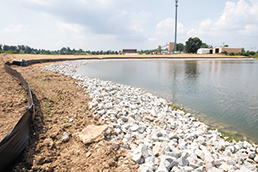 The Fishers City Council on Monday approved an agreement to finance the $16 million first phase of the planned Geist Waterfront Park by issuing bonds.
Fishers announced plans in 2017 to transform the last 70 acres of undeveloped property along Geist Reservoir into a public park. The city's Redevelopment Authority now plans to issue up to $16 million in bonds to pay for the initial design, acquisition and construction of a planned public beach, walking and hiking trails, a boardwalk, a kayak launching area, bike trails, a playground and more.
"We're very, very excited for the opportunity to hit the ground running," Fishers Mayor Scott Fadness said. "It may be 10 to 15 years before Phase 2 happens, and that's OK. Phase 1 of this park will be a world-class park in itself."
Progress on Geist Waterfront Park has moved slowly in the three years since the park was announced. It could take another year for the city to get the permits it needs to actually start remediating the former Irving Materials Inc. quarry property.
In the meantime, Fadness said the city has structured the initial $16 million bond so that it won't start collecting debt until some of the city's old debt rolls off in 2024. That means city residents won't see their taxes rise as a result of the bond issuance, he said.
Council member Jocelyn Vare was the lone vote against the agreement during Monday's meeting. She said it's worth discussing whether now is an appropriate time to commit more money to a "nice-to-have" project.
"The municipality's finances are so uncertain," Vare said. "Even though it's deferred to 2024, it's making a huge commitment at this moment for four years down the line."
In addition to the lower tax revenues cities will collect as a result of the pandemic, Vare said Fishers is facing millions in unanticipated costs related to improvements along State Road 37.
Fadness said the estimated $47 million in State Road 37 overruns are a "worst-case scenario," and the property taxes paying into that project are much more stable than income and other tax revenue that might be negatively impacted by the pandemic.
He said, rather than wait for all of the State Road 37 bids to come in next year, the city would like to get started on the park "sooner rather than later."
"We think we've put together an adequate plan that mitigates any risks due to economic downturns," Fadness said.
Please enable JavaScript to view this content.