Leah McGrath, deputy mayor of Fishers, will not be running for the U.S. Congress in 2020, she announced Monday.
McGrath, a Republican, had been considered a possible candidate in Indiana's 5th District, which is being vacated by Rep. Susan Brooks. Brooks has represented the district since 2013.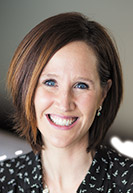 "The past month has been reinvigorating for me as we contemplated a run for the 5th District," McGrath said in a written statement. "I found myself pulled to public service in a new way and have loved the many conversations and ideas that sprung forth. I am grateful and humbled by the encouragement I received and for the people who shared their time and advice with us. After much discernment, however, we concluded it is not the right time for our family. There is more I can do to serve my community here at home."
The district includes the northern portion of Indianapolis along with parts of Hamilton, Madison, Grant, Tipton, Blackford, Boone and Howard counties.
The Democratic Congressional Campaign Committee has the district on its list of targeted races for 2020. Former Democratic state lawmaker Christina Hale announced in July that she is running for the seat, and Dee Thorton, who unsuccessfully ran against Brooks in 2018, also running.
Nearly two dozen Republican names have been circulated by political pundits as possible candidates, including McGrath, former state Rep. Steve Braun, former Indianapolis Mayor Greg Ballard, and former state Sen. Mike Delph.
Ballard ruled out a run for the seat in an announcement earlier this month.
Braun, the brother of U.S. Sen. Mike Braun, has not said whether he plans to run, but Republican insiders say he's seriously considering it with encouragement from his brother.
McGrath, 41, has been deputy mayor of Fishers since 2015. She was previously government affairs director for the Indiana Association of Cities & Towns and has a background in public relations.
"We have been fortunate in the 5th to have a remarkable leader in Congresswoman Susan Brooks," McGrath said. "As she passes the torch, we look forward to supporting our next Republican nominee who will carry on the work Congresswoman Brooks has begun for our communities and for the future of our nation."
Please enable JavaScript to view this content.