Cummins Inc. employees have raised money to repair the bridge over Pogue's Run, organized a food pantry for Westminster Neighborhood Services Inc., and taught professional development classes for the John Boner Neighborhood Centers.
Later this month, they will pull invasive plants out of Brookside Park.
The volunteer initiatives might be wide-ranging, but the efforts all have something in common—the work is benefiting Indianapolis' near-east side, and that's intentional.
Columbus, Indiana-based Cummins started targeting the neighborhood several years ago as it prepared for its distribution headquarters, which opened in 2017 on the east side of downtown.
"I think it was just natural to continue looking east," said Travis Meek, a lawyer for Cummins who leads the company's Indianapolis community involvement team.
Cummins isn't alone in its neighborhood approach. Multiple Indianapolis companies are choosing to focus their philanthropy on a particular neighborhood as a way to make a greater impact.
"We think our business is stronger when our communities are stronger," Cummins spokeswoman Katie Zarich said.
Just a few examples: Bank of America Indianapolis has zeroed in on the near-west side, investing more than $500,000 in not-for-profits working to improve that area; Kinney Group is focused on the River West neighborhood within the near-west side, and helped revive the Gus Macker 3-on-3 Basketball Tournament in 2017; and Fifth Third Bank has aligned with South Indy Quality of Life, investing about $150,000 to help establish a neighborhood advisory council.
"We could sprinkle this all over town, but if we focus this here … we're going to make an impact," said Karen Pipes, senior vice president and market manager for Bank of America Indianapolis. "It allows us to really help them move that needle forward."
Neighborhood leaders are enjoying the partnerships, but say it's important for companies to be willing to make the investment long term and to get to know the area's needs before jumping in.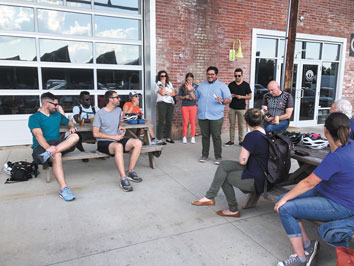 "Meeting with the neighborhood leaders is just so valuable," said Michelle Strahl Salinas, South Indy Quality of Life plan director. "Because they know what the obstacles or concerns might be."
Fifth Third, for example, has a representative that regularly meets with Salinas throughout the year.
"It's really exciting to see how they're growing," said Jadira Hoptry, Fifth Third vice president and community and economic development manager.
John Franklin Hay, executive director of Near East Area Renewal, said Cummins also took the time to learn about the area's biggest needs and opportunities and has developed strong relationships with neighborhood leaders.
Hay said Cummins is a "company that gets it."
"I've really appreciated how Cummins has tried to listen and understand … rather than drive a project from the outside," he said. "It's inspiring to have partners from a major corporation that are helping us address our challenges and our opportunities."
Today, Cummins has 15 near-east-side partner organizations focused on three areas—education, environment and equality of opportunity.
"The real driver is the actual partnerships that we develop with these community organizations that are doing excellent work," Meek said.
Many neighborhood and company relationships have come together through the Local Initiatives Support Corporation of Indianapolis, which has targeted five neighborhoods through its Great Places 2020 program.
"We often play the role of connecting the dots," said LISC Executive Director Tedd Grain.
Pipes said that's how Bank of America Indianapolis decided to focus on the near-west side, which is one of the neighborhoods LISC serves. "There was really an alignment to our foundation and the ability to quickly invest and engage," she said.
Grain also said he cautions companies against "parachuting in" and launching a philanthropic effort in a neighborhood without any conversations or research.
"It's helpful to have relationships that are meaningful and interactive and back and forth between neighborhoods and the entities that want to engage with them," he said.
Pipes said she met with many leaders from community groups and other not-for-profits working in the neighborhood before making any investment.
The biggest investment so far from Bank of America Indianapolis has been $200,000 to Hearts & Hands of Indiana last year to support the organization's mission of helping individuals and families obtain affordable housing.
Bank of America of Indianapolis has also provided grants to partners like the Westside Community Development Corp. and River West Theatre and to Gleaners Food Bank of Indiana for a school-based food pantry in the neighborhood.
Grain said business leaders should pinpoint their core values, identify how they want to have an impact, and look at where they already have relationships and connections when selecting a geographic area.
For example, Kinney Group targeted River West because it's the IT service provider's home.
Jim Kinney, CEO of the company, said he believes the area has the potential to grow and succeed. "This area that we are at is the biggest diamond in the rough in the entire city," Kinney said.
The company has managed a community garden on its property and helped with a beautification project that added artistic lighting to the New York Street bridge.
Kinney and his wife also started a not-for-profit called Near West 21 that supports revitalization projects in the area.
"I'd rather focus specifically on an area and deliver tangible results," Kinney said. "Do I think we've helped move the needle? You bet."
Neighborhood leaders also say it's important to invest both time and money—not just one or the other. For example, Salinas said Fifth Third has helped her develop relationships with other business leaders in the community and helped send her to a week-long professional development training recently.
"The way I look at it is, the checks are never enough," she said. "It's about the programs they have, the resources they can bring to the table."•
Please enable JavaScript to view this content.