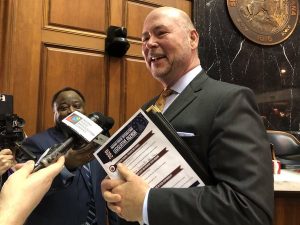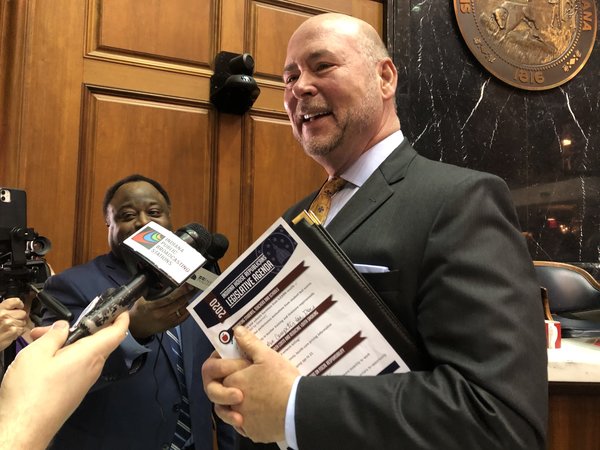 Former Indiana House Speaker Brian Bosma said he plans to leave the Legislature at the end of the month—five months before his term expires.
Bosma, 62, was set to submit his resignation letter Friday morning, stating that he would end his 34-year career as a state lawmaker on July 31.
The Republican represents House District 88, which includes northeast Marion County and portions of Hamilton and Hancock counties.
Bosma announced in November that he wouldn't seek reelection this year and stepped down from his leadership position in the spring. House Republicans elected Fishers Republican Todd Huston to replace Bosma as speaker in March, just before the end of the 2020 legislative session.
Bosma, whose term otherwise would have ended in January, told IBJ in an exclusive interview that he wanted to wait to resign until after this year's primary election to allow voters to have their say in the GOP race for his seat.
But then Indiana's primary was delayed from May until June due to the pandemic, and party leaders wanted him to wait until they felt they could safely conduct a caucus to replace him, he said.
Bosma said he warned Republican attorney Chris Jeter, who won the primary for the seat, that he might resign before the end of the year. A Republican caucus will be responsible for electing someone to fill the vacancy. Jeter did not immediately respond to IBJ's phone call Friday morning.
Democrat Pam Dechert is running against Jeter in the November election.
Bosma said his responsibilities at the law firm where he is a partner—Kroger Gardis & Regas LLP—have increased in recent years and he has other opportunities he is pursuing, such as serving as national chairman of the Republican Legislative Campaign Committee and writing a book on leadership.
"It's bittersweet," Bosma said. "But it is definitely time."
Bosma said he's proud of what he's accomplished in the Indiana General Assembly since first being elected in 1986.
He is the longest-serving House speaker in state history, with 12 years total in the position—initially from 2005-2006 and again after Republicans regained control of the House in 2010. He was the top House Republican as either speaker or minority leader from 2001 until this year.
"I take a great deal of pride in working with seven governors and three Senate president pro tems," Bosma said.
Under his leadership, the Indiana House cut taxes and reduced government regulations. He led the fight for right-to-work legislation, which caused Democrats to flee the Statehouse and stay in Illinois in 2011, until Republicans agreed to shelve the legislation. The House then passed the bill in 2012.
Bosma also led the House during great changes in education policy, with an emphasis on charter schools and a private-school voucher program. And, in the past, he supported a constitutional ban on gay marriage.
He also oversaw the move to lease the Indiana Toll Road to a private operator and adopt statewide daylight saving time.
"I feel very privileged to have made a difference for many Hoosiers, whether they realize the Legislature was involved or not," Bosma said.
Bosma said he will still be active in state government and politics, noting that he has continued to talk to Huston and Gov. Eric Holcomb over the past several months to offer his advice and perspective.
"I'm not going anywhere," Bosma said. "Everyone has my phone number, and they tend to use it fairly frequently."
He said he's also been asked to serve as a consultant in various ways, and that's something he may pursue as well.
"Hopefully there will be more to come," Bosma said.
Please enable JavaScript to view this content.