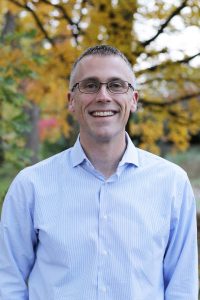 Mitch Frazier didn't grow up on a farm, but he understood how important those corn and bean fields dotting the landscape of his hometown of Sharpsville were not only to the state and nation, but the entire world.
So the former U.S. Army sergeant and long-time tech executive—having worked stints at ExactTarget, Salesforce.com and TinderBox—didn't hesitate in 2016 to take his unique skills to Reynolds Farm Equipment, a regional John Deere retailer based in Indianapolis. Less than a year after joining the company, he became CEO.
After 4-1/2 year at Reynolds, Frazier, 41, is bringing his global vision of agriculture and his knowledge of technology to AgriNovus. He said the opportunity to lead the agbioscience initiative of the Central Indiana Corporate Partnership was too good not to be cultivated.
He replaces Beth Bechdol, who left in December to become deputy director general of The United Nations' Food and Agriculture Organization.
Before Reynolds, Frazier served as vice president of marketing at sales-software company TinderBox and vice president of marketing and investor relations officer at ExactTarget, which was acquired by Salesforce. Frazier also previously led media relations for the Indiana Economic Development Corp.
This week, IBJ talked with Frazier, who lives in Westfield with his wife and two young daughters, to see how he's doing in his second week on the job.
What have you learned about AgriNovus since taking over as CEO?
What I learned in the brief period of time on the job is that the opportunity to link data, technology, agriculture and innovation is very high.
How has taking over in the midst of a pandemic complicated things?
It's been great. I had not met the entire team before the pandemic. I had met a number of people on the team and board, but half of the team members I have not yet met in person. We're moving on a path where we're going to bring people together, taking all the precautions, just to have collaborative work time.
It is different starting to lead an organization in shorts and a T-shirt from your house. But folks have been so welcoming and so excited to plug in and engage. We have an incredible team. And we do have a rhythm we operate under daily. We have a Monday morning meeting and that has given a unique platform to engage and take action. It's amazing the rise of technology with things like Zoom and Microsoft teams has become a great way to scale. Right now, I'm able to meet a lot of people very quickly, whether that's team members, board members or stake holders.
What is your vision for AgriNovus?
I have believed for years that Indians has this unique opportunity to link arms between agriculture and technology to fuel innovation and grow the economy not just across the state and country but to feed the people all around the globe.
My vision is built on two key tenants. The first is economic development. Key to economic development is to make sure we have a talented work force that can meet the needs of modern technology.
Second, our vision is built around innovation acceleration. That means understating the assets that exist all across the state. You'll see a strategy of linking our unique strengths—in agriculture, technology and academic research—to help our businesses here grow and together solve unique issues in agbiosciences.
Why was the job attractive to you?
Beth Bechdol was a dear friend. I had not planned to leave Reynolds Farm Equipment. But I felt called to use the experience I have in technology, agriculture and econic development to help the mission of this organization. I felt the path I had taken gave me unique experience to help the state and the business in the state.
Why is AgriNovus important for the state?
Indiana has long been a leader in agriculture and has become a leader in technology. AgriNovus exists to bring those entities together and fuel those sectors.
How does AgriNovus fit into the city's and state's tech ecosystem?
Agrinovus serves as the bridge bringing technology, agriculture and education together to fuel innovation and growth. What we have the opportunity to do at AgriNovus is to find the challenges and work with the tech and ag ecosystems
So the problems AgriNovus is tackling goes beyond the city and state?
The work AgriNovus does is squarely focused on serving Indiana businesses, but the contributions go far beyond those companies and extend all around the globe.
What kind of global impact do you envision?
The global food supply chain we saw during the pandemic was less than resilient. We will look at how we can link agriculture and technology to resolve the resiliency issues we saw at the height of COVID-19.
That sounds like an amazing challenge. Is AgriNovus up to that?
The challenges that exist in the food science system are filled with opportunity. We will do everything we can identify where we can uniquely address the challenges in that cycle. The agriculture sector is ripe for innovation, and we're in a position to help with that.
How did you happen to go to work for Reynolds?
After Salesforce, I started a small consulting firm. Reynolds was introduced to me by a friend, and eventually they asked if I would come to work there. Ten months into the job, the patriarch said "you are the CEO."
Did you know anything about the agriculture industry?
Business fundamentals extend beyond an industry. I certainly knew of the significance of the industry to the state—and beyond.
How did you become involved in the interview process for the AgriNovus job?
The agrinovus search team asked for a conversation. I thought about this, talked to my wife, prayed a lot about this and developed a calling.
Tell me about the calling you had to come to Agrinovus?
I have believed and continue to believe there's an opportunity for Indiana to become a leader in ag innovation. I know how important this organization is to our state, and I looked at my background. I looked at the path I had traveled and I thought that looks like someone who has what is needed to lead this organization.
I do feel called, and I feel I have a responsibility to lead this organization and fuel the growth of the organizations here and improve the resiliency in the food supply chain.
How long do you envision being at AgriNovus?
My intention is to give every ounce of energy I have to achieve our goals. That's no short order. We have a lot to get done, and there's no timeline.
Please enable JavaScript to view this content.