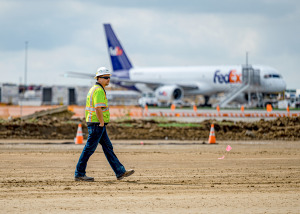 The leaders of Indianapolis International Airport are in the early stages of charting the facility's next 30-plus years. Their master-plan update might eventually usher in additional real estate developments, a third runway, more gates and unmanned aircraft operations.
The Indianapolis Airport Authority is spending $6.7 million on the endeavor and last year began engaging with several firms—including Chicago-based consultant Ricondo & Associates Inc. The plan will ultimately have to be approved by both the airport authority's board and the Federal Aviation Administration. Airport officials hope for final sign-off by 2026.
Airport officials say they expect to place heavy emphasis on emerging technologies and more support for the growing industrial and warehousing sector near the airport. The need for an updated long-term plan for the facility comes as traffic rebounds from the pandemic. In 2010, the authority said it expected an annual air traffic increase of 2.5% through 2040—and those figures aren't expected to wane despite the two-year drop in flight activity.
Jarod Klaas, senior director of planning and development for the authority, said the airport has many pressing matters to address in the new master plan—with a top priority being the timing of a possible third runway, designed for cargo traffic.
FedEx's ongoing $1.5 billion expansion adjacent to the terminal and runways opens an ideal door for that discussion, he said.
"The question is when [building a third runway] would happen and what would trigger that," Klaas said. "FedEx is finishing up what they had as their maximum site plan for Indianapolis. We want to begin planning with them what any future expansion might look like, so we're handling that through the master-plan process—it's the perfect place for that."
FedEx declined to make any officials available for comment for this story. A spokesperson noted that it employees more than 13,700 people throughout the state and is hiring for 2,300 open positions. About 5,800 people work at the airport hub alone.
The facility is second in size only to the company's Memphis headquarters and is one of 35 FedEx facilities in Marion County.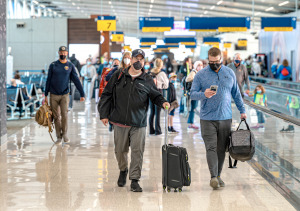 "The Indianapolis hub is in the midst of a $1.5 billion multi-year capital investment project," spokeswoman Isabel Rollison said in written remarks. "The expansion is a part of the company's continued investment in technology and operations as we adapt to recent growth and plan for the future."
A third runway would be on the south side of Interstate 70, where the airport owns hundreds of acres of vacant land set aside for expansion. Such a runway—which was also part of the last master plan, written in the early 1990s and revisited several times since—would likely be accessed by a bridge across I-70 that could support the weight of cargo planes.
Nothing imminent
Larry Gigerich, executive managing director at Indianapolis-based site selection firm Ginovus, said it's wise for the airport to continue considering a third runway, both to attract logistics and other industrial businesses and to increase the revenue it receives from every plane that uses its runways.
Even so, Gigerich predicted that a runway will not be built in the next few years because of the expense and because the FAA requires proof of need before it will approve the construction. One of the airport's two current runways is undergoing a $190 million reconstruction now, with plans to complete that work in 2024.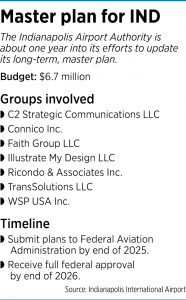 "I don't think there's anything imminent there, especially with this inflationary environment we're in," Gigerich said. "But I think it's wise for the airport to continue to protect that land—if they were to allow development to happen there, then they'll lose that opportunity, likely permanently."
Dennis Corsi, president and CEO of Colorado-based aviation planning firm Armstrong Consultants Inc., agreed. He said the most critical factor for an airport in its master planning is land use—understanding what it has available for redevelopment.
The airport authority has sold more than 2,755 acres near the airport since 2016. Much of the jettisoned land has been earmarked for private development and construction purposes.
"If you're going to expand the airport, you want to make sure that you have good, compatible land around the airport so that you can expand without negative impacts on the neighbors," Corsi said.
Indianapolis International isn't the only airport for which the airport authority is reworking a master plan.
The authority is also in the master-planning process with the Indianapolis Regional Airport it owns in Hancock County, near Mount Comfort. In fact, the authority recently acquired more than 50 acres of adjacent agricultural land for a future runway realignment project there.
The authority owns three other airports across central Indiana: Eagle Creek Airpark, Hendricks County Airport—Gordon Graham Field and Metropolitan Airport in Fishers. It also owns the Indianapolis Downtown Heliport, which it has requested the FAA to decommission.
Klaas said the airport authority looks at the needs of each airport individually, while considering demand at its other facilities and overall market conditions.
Bigger visions
Aside from a possible new runway, and an ongoing $76 million parking-garage expansion that will add 1,500 spaces (many for rental-car companies), the authority has even larger aspirations for Indianapolis International. They include:
◗ An airport hotel—something envisioned for the current terminal, which opened in 2008, that never came to pass.
Klaas said conversations about the hotel have begun heating up over the past few months and that efforts to determine the cost and scale of such a development are underway, as part of a fiscal analysis. So far, the board has not weighed in.
◗ A deeper look at what industrial development could be added along the airport's perimeter.
◗ The possibility of more passenger gates in the terminal down the line.
Planners "left us designated areas for future expansion that would make expanding fairly straightforward and seamless, with how it fits into the existing terminal," Klaas said. "But we'll look at other options, as well, to see if there is a more efficient way of utilizing the gates, employing computer systems and other technology to determine how much efficiency we can get out of those. We need to figure out at what point we would ultimately have to expand the building."
◗ A focus on unmanned aircraft, drones in particular. He said the boom in logistics facilities around the airport has generated questions about what a future with package-delivery drones could look like, and how they could be incorporated into the airport's plans.
A lengthy process
Klaas said the airport authority hopes to have a final plan to submit to the FAA in about two to three years. Officials are "in the initial stages now" of assembling potential partner firms, along with business representatives from major companies surrounding the airport—including FedEx.
A subcommittee of the airport's board is now directly involved in the planning process, he said, alongside authority employees. The group has met a few times since the start of the year to discuss priorities, but he said firm ideas likely won't be shared with the public and feedback sought until late next year.
"It takes a lot more time than most people imagine, but it's simply because this is a very holistic endeavor by its nature," Klaas said. "When you're looking at a vision for the airport 30 years—and sometimes further—into the future, and you're going to do a good job with that planning, it takes a long time."
Public input is a crucial part of the process, said Adam Baxmeyer, director of the Purdue University Airport in West Lafayette.
"Developing a master plan doesn't happen in a vacuum," he said. "Aviation companies should have a say in how the airport's being developed for the future. The FAA strongly encourages that, and a lot of airports tend to follow that guidance.
"They also want to give other groups a seat at the table, including the public. And if there is a very controversial project … one way or the other, the public needs to at least have the opportunity to see the master plan, and it needs to address those concerns."
Klaas said the airport is committed to going through an extensive feedback process with its corporate partners, neighboring property owners and the public.
He said that, while the planning process was delayed due to the pandemic, neither the steep drop in traffic nor the quick recovery this year will be factors in the long-term plans.
"COVID is a blip—it was a shock to aviation, but when you look at these things on a decades-long graph of aviation [trends] … we are certain about the future of aviation and its growth," Klaas said. "We certainly can and will make predictions about what we feel the forecasts look like for our airport, but we have to merge that with the guidance that the FAA gives coming out of the pandemic."•
Correction: An earlier version of this story incorrectly stated how many people work at FedEx's Indianapolis International Airport hub. It also incorrectly stated the firm plans to hire 2,300 workers for the hub within five years. It has been corrected to say that about 5,800 people work at the airport hub and that the firm is hiring for 2,300 open positions across Indiana.  You can see all of our corrections here.
Please enable JavaScript to view this content.