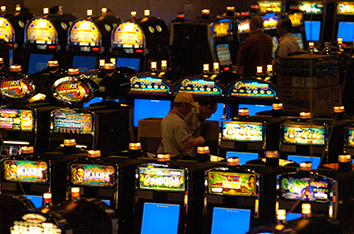 Indiana gambling revenue took a steep hit in March after casinos closed for nearly half the month due to pandemic restrictions.
Gambling generated only about $29 million in tax revenue for the state in March, down 52% from $60.2 million in February. Last March, the state collected $67.9 million in gambling tax revenue—and that was before sports betting was legalized.
The Indiana Gaming Commission ordered the state's 11 casinos and two horse-track racing casinos to close March 16 as large social gatherings were prohibited across the state in an attempt to slow the spread of COVID-19.
The total "win" at the casinos was $98 million last month, down from $196 million in February.
Adjusted gross revenue for casinos was about $88 million in March, which is a significant drop from $187 million in February.
The sports betting handle was $75 million in March, down 60% from February.
Mobile sports betting has been allowed to continue, even with the closure of the casinos, but the widespread cancellation and postponement of sporting events has severely limited what Hoosiers can wager on.
Sports betting wagers had been expected to swell in March, in large part thanks to the NCAA basketball tournament, but officials called off the tournament. Conference tournaments also were canceled before most games were played. The Big Ten Conference men's basketball tournament, for example, only played a couple of games before canceling the rest.
Hoosiers still bet $35 million on basketball in March, though.
"Last March, states with similar sports-betting regulations like New Jersey and Pennsylvania saw their revenue essentially double from February to March, thanks to the biggest event in sports betting, the NCAA basketball tournaments," Max Bichsel, vice president of U.S. business for Gambling.com Group said in an email. "While it's hard to predict the full impact, it's safe to say Indiana only achieved a fraction of its gaming revenue potential for March."
Adjusted gross revenue for the sportsbooks only reached $5.5 million—the lowest amount since sports betting became legal in Indiana in September.
"Without major sports and with casinos shut down, it's no surprise that Indiana's gaming revenue wasn't even close to its full potential for March," Bicshel said.
Bichsel said sports betting won't completely dry up, though, because Hoosiers can still place bets on the NFL and WNBA drafts, which are scheduled for later this month. And a handful of less-followed sports, such as table tennis, are still being played in some countries.
Please enable JavaScript to view this content.