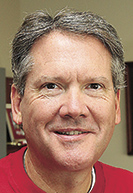 Gleaners Food Bank of Indiana has named longtime local attorney and former Indiana University Athletic Director Fred Glass as its new president and CEO, the Indianapolis-based not-for-profit announced Thursday.
Glass, 63, will succeed John Elliott, who is retiring Sept. 30 after six years in the position.
Glass worked as IU's athletic director from 2009 to 2020 before returning to private legal practice as a partner at Taft Stettinius & Hollister LLP in Indianapolis in 2020.
Before his stint at IU, Glass was a partner and business attorney at Baker & Daniels (now Faegre Drinker Biddle & Reath) for 15 years and held several jobs in local and state government, including as Gov. Evan Bayh's chief of staff from 1989-1993.
Glass was a key staffer for Indianapolis Mayor Bart Peterson, as well as other Democratic office holders such as Lt. Gov. Kathy Davis and County Assessor Greg Bowes.
He also served as president of the Capital Improvement Board of Managers from 2000 to 2008, during which time the board built Lucas Oil Stadium and broke ground on further expansion of the Indiana Convention Center.
The Gleaners board of directors said it conducted a six-month search for Elliott's successor.
"The interest in this incredibly important leadership position was tremendous," said Chad Mayer, board chair of Gleaners, in written remarks. "The significant response from over 100 qualified applicants is evidence of how important Gleaners Food Bank is to Indiana and across the national food bank network."
Glass earned his law degree from the Indiana University McKinney School of Law and his bachelor's degree from Indiana University. He also served as a law clerk for U.S. Federal District Court Judge Samuel Hugh Dillin.
Gleaners is the 14th-largest not-for-profit in the Indianapolis area, based on 2020 revenue of $139.9 million, according to IBJ research. Founded in 1980, the organization provides food to Hoosiers in 21 counties. It has about 85 employees and nearly 10,000 local volunteers.
"I am grateful and honored for this tremendous opportunity to lead Gleaners as we work together to lead the fight against hunger," Glass said in written remarks. "Feeding the hungry is one of the most fundamental and impactful actions we can take as good neighbors and responsible citizens, and I'm thrilled to be joining the Gleaners team to be a part of doing just that. My dad modeled feeding the hungry for me at his skid row bar when I was a kid. Entering this new chapter feels like I'm coming full circle."
Glass will be just the fourth chief executive in Gleaners' 42-year history. The organization was founded by Pam Altmeyer, who was succeeded by Cynthia Hubert in 2010.
"Fred is a tremendous talent and the ideal leader to take on the challenge of food scarcity in central Indiana," said Robert Hicks, Taft chairman and managing partner, in written comments. "He has been a great asset and contributor at Taft, and we will miss him. I am confident that Fred's creativity, resolve, and work ethic will take Gleaners Food Bank to the next level in meeting the community's needs."
Please enable JavaScript to view this content.