Marianne Glick, a leader of philanthropy and volunteer service in central Indiana, remembers when charitable giving by foundations amounted to imposing the donor's ideas on people needing a hand.
The Glick Family Foundation's board chair said she's grateful a new approach is taking hold. Paying attention to what's being sought in communities is a key component of trust-based giving, a concept in which funders and grant recipients collaborate as partners.
"Historically, philanthropists have come into communities, thought they had a good idea and then imposed their ideas on the community," Glick said. "'Here's what my grant is for. You may not have asked for this, but this is what I'm going to give it for.' It was not really done in conjunction with talking with the people who live in that neighborhood."
Established 40 years ago by Gilck's parents, Eugene and Marilyn Glick, the foundation has awarded more than $275 million to charitable causes.
This summer, Glick Philanthropies awarded grants totaling $1.87 million to 34 community organizations through its Glick Fund at the Central Indiana Community Foundation.
The organizations were grouped in three categories:
◗ supporting arts and creative expression;
◗ advancing education;
◗ helping those in need and promoting self-sufficiency.
Arte Mexicano en Indiana, a grassroots organization with a mission to uplift Mexican culture, became a first-time recipient of Glick funding. The not-for-profit was awarded $21,500 for a visual artist mentorship project.
Conceptual artist and event promoter Eduardo Luna founded Arte Mexicano en Indiana in 2019.
"We created an organization called Arte Mexicano en Indiana to make sure the kid who is born in the United States with parents from Mexico will see there's a connection," Luna said. "There is an organization they can look up to and find out a little bit about their heritage."
Allissa Impink, director of family philanthropy at the Central Indiana Community Foundation and senior philanthropic adviser to Glick Philanthropies, said funders can look to grant recipients as experts who can inform future rounds of giving.
"We're able to lean into them as partners, and they can help us to explore new ways to increase opportunities for other artists of color," Impink said.
Within the $1.87 million in overall grants, $363,500 was awarded to 11 organizations Glick Philanthropies recognized for "creating vibrant communities through the arts and increasing equitable access to opportunities for creative expression."
Those 11 organizations included Arte Mexicano en Indiana as well as Discovering Broadway (to establish a BIPOC artist fund), Indiana Black Expo (for its Performing Arts Academy) and The District Theatre (for outreach related to its upcoming production of "Qaddafi's Cook," a play based on Mexican chef Carlos Ambrosi).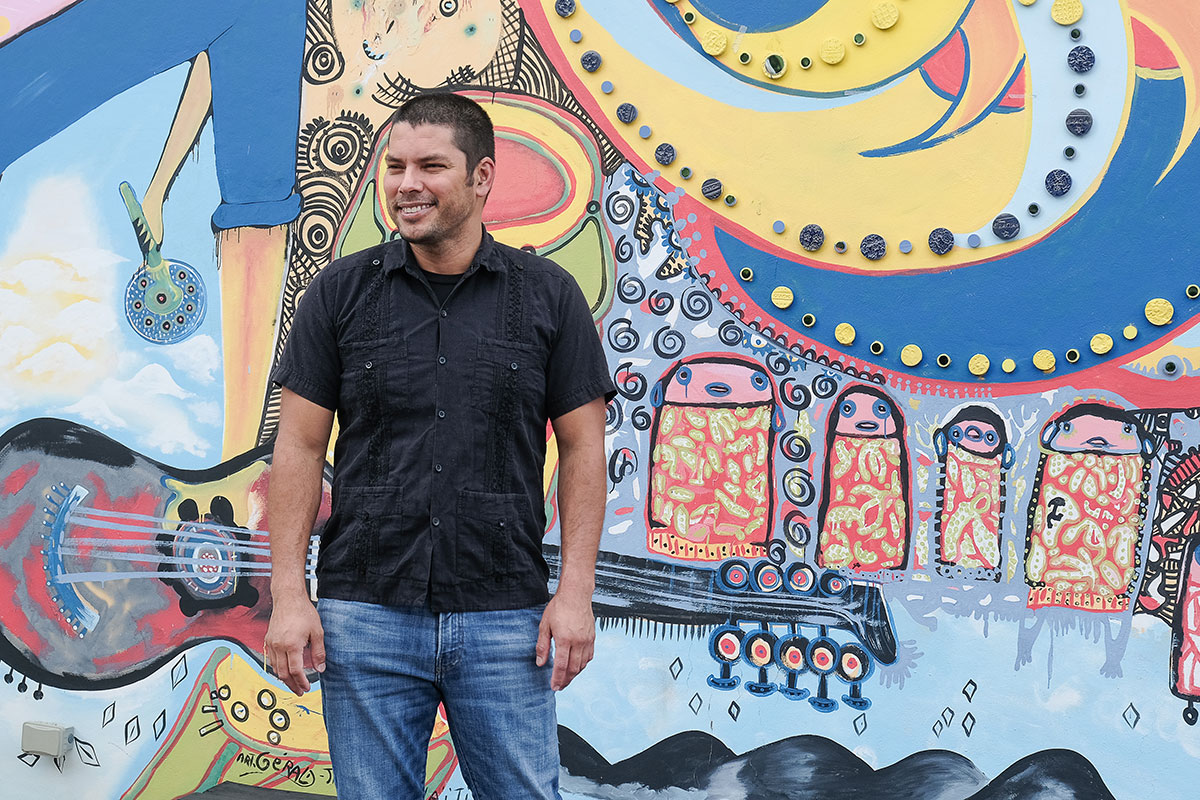 Center stage
In 2021, Arte Mexicano en Indiana founder Luna helped organize performances as part of the Swish arts and culture festival during the NCAA men's basketball tournament.
Luna said he's pleased that one of the groups he scheduled for Swish, Ballet Folklorico Mosaicos, will be showcased Aug. 25 as the opening performer of Indy Arts Council's Start with Art fundraiser at the Indiana Roof Ballroom.
"If you have a talent, let's not be in a corner of Indianapolis," Luna said of Mexican American artists. "You have to be center stage, because you are part of the community."
Luna said his organization will use the Glick grant to hire two people to implement the artist mentorship project.
The first, cultural promoter Marisa Zambrano, will scout the city's Latino community for artists.
"We're going to ask people, 'Hey, do you know anybody in your network who is making art?'" Luna said. "We're going to look for professionals, semi-professionals, amateurs and hobbyists."
Arte Mexicano's second hire, Daniel Del Real, who co-founded multicultural arts organization Nopal Cultural with Luna in 2012, will lead a multi-day workshop for 20 artists selected from Zambrano's pool of creators. The workshop will offer instruction in how to present artwork, promote one's career and write grant proposals.
Common goals
The practice of trust-based giving emerged in 2018, when leaders from six foundations across the United States launched the Trust-Based Philanthropy Project.
Tyrone McKinley Freeman, an associate professor at the Indiana University Lilly Family School of Philanthropy, said not-for-profits have called for streamlined paperwork in the process of applying for grants and reporting progress after grants are awarded.
Meanwhile, the Trust-Based Philanthropy Project encourages funders to appreciate the expertise and experience of grant recipients.
"It's a movement that comes out of this view that foundations should be engaging with their grantees as partners to achieve common goals," Freeman said.
He added that recipients are seeking "more equality and more engagement, sitting together at the table as partners rather than one having to constantly shift and move to appease the other."
Freeman and Glick mentioned 2020 as a pivotal year in the evolution of philanthropy, because of the pandemic and because of protests for racial justice following the murder of George Floyd by police in Minneapolis.
"I think the ways in which the pandemic caused us all to focus on issues of racial equity and vulnerable communities and power, [trust-based philanthropy] became amplified," Freeman said.
"I think 2020 made all of us much more aware of racial discrepancies that perhaps we thought we had done better with than we have," Glick said. "We realized that, no, in fact, we have not."
Glick credited the influence of the Central Indiana Community Foundation, which announced in 2018 its mission to dismantle institutional racism, in helping Glick Philanthropies become aware of organizations led by people of color.
In addition to CICF adviser Impink, Glick Philanthropies works with Dionne Griffiths, community leadership officer at CICF affiliate organization The Indianapolis Foundation.
"We have taken a much closer look at where our dollars are going and who our dollars are helping, with a very intentional focus," Glick said.
Cultural identity
Griffiths praised Luna, who's a staff artist at Big Car Collaborative, for his work as an advocate for other artists.
Arte Mexicano en Indiana "is a great way to create a pipeline to elevate the Latinx artists that are here," said Griffiths, who manages the arts and creative expression portfolio for Glick Philanthropies. "This was a much-needed opportunity for Latinx artists to get their work out there and to build a sense of community and strong cultural identity."
Although Luna works with artists with ties to countries throughout Latin America in his Nopal Cultural work, he said it was important to launch Arte Mexicano en Indiana specifically for the Mexican community.
According to 2020 census data, Indianapolis is home to 116,844 Hispanic residents, or 13% of the overall population.
In 2010, Indy's Mexican community accounted for 76% of the state's Hispanic population.
"We've been placed into a bubble that mixes up all the cultures of Latin America," Luna said. "I feel that, when you do that, you lose part of our heritage."
Luna, who was born in Acapulco, Mexico, and grew up in central Illinois, organized an Aug. 12 outdoor performance by Spanish-language rock band Vertice at Super Tortas restaurant, 2641 W. Michigan St. On Sept. 10, Arte Mexicano en Indiana will present an eight-hour festival of rock, punk and ska bands at 10 East Arts Hub, 3137 E. 10th St.
Luna said he's been frustrated by seeing cultural institutions plan Latino-themed events without having Latinos on staff. At the very least, he said, organizations should hire guest curators to provide expertise.
With Arte Mexicano en Indiana, Luna said he's working to raise the visibility of qualified cultural experts who can fill such roles.
"We are inside of a system that tries to keep the minorities in check," Luna said. "It's up to us to uplift ourselves. If we wait for the establishment and big institutions to do that for us, it will never happen. We have to do it for ourselves."•
Please enable JavaScript to view this content.