A startup with multiple Indiana connections is seeking to solve  increasingly common problems for podcast lovers—where to find podcasts and how to tell if they're worth listening to.
In the podcast world, Podchaser—co-founded by Indiana University alum Cole Raven—has become known as "the IMDb of podcasts."
Podchaser, which has its 30 employees scattered across the globe, recently closed a $4 million funding round with participation from the Bloomington-based IU Angel Network and Indianapolis-based High Alpha, which also invested in an earlier round.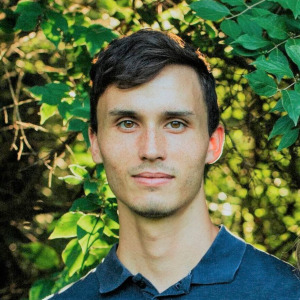 Covington, Kentucky-based Connetic Ventures—led by IU alum Kyle Schlotman— also participated in the round.
The round was led by New York City-based venture capital firm Greycroft.
"The podcasting space was already a rapidly emerging market prior to the pandemic," Jason Whitney, executive director of the IU Angel Network and vice president of IU Ventures, said in a written statement. "However, the immense growth demonstrated on both the consumer and marketing sides throughout the pandemic demonstrated an immense demand to potential investors. So, our network was very fortunate to be able to participate in this exciting capital raise."
Raven said Podchaser has "been blown away by the support from the IU Angel Network. It's really helped us take Podchaser to the next level. It's empowering to have such a strong team of investors in our corner."
Like IMDb—aka the Internet Movie Database—Podchaser collects and organizes oodles of production data about its topic, listing all podcasts past and present. But the growing Podchaser platform is more than just a database.
The insights provided by Podchaser include everything from creator and guest credits to listener demographics. Through crowdsourcing, the platform has developed features like curated lists, ratings and reviews, and activity feeds that enable connections between listeners, podcasts and brands.
Every podcast has a profile page to display episodes, creators, reviews, statistics and more. Users can follow podcasts to see new releases in their Podchaser feed. Users can also follow each other to see ratings and reviews.
Late last year, Podchaser launched a paid upgrade called Podchaser Pro that unlocks measurable statistics on podcasts, beyond the downloads metric, including demographics and contact information for about 2 million podcasts.
Podchaser Pro is made specifically for marketers, public relations firms and other media professionals, company officials said.
Raven said Podchaser Pro—which is operated on a software-as-a-service model—pulls back the curtain on all the data collected from the years of partnerships that Podchaser has accumulated since its launch in 2017.
Podchaser officials said other features are under development and that the recent capital infusion should speed those to market. The company also expects to add at least another 10 employees this year.
Raven and Bradley Davis, who have known each other since going to junior high together in Evansville, started the company with two other founders who live overseas. The founders came together while discussing—via Reddit—the need for a podcast catalog.
"We actually couldn't believe that something like this didn't exist," Raven told IBJ. "But it didn't, so we built it."
Podchaser went online in 2017. It now has more than 2 million page views per month, 500,000 active users per month and 100,000 registered users.
Company officials said the number of active monthly users has quintupled in the last year.
The startup has three primary revenue streams: Podchaser Pro; Podchaser Connect, a guest-booking service that places clients on prominent podcasts; and Podchaser API, which allows clients to plug into Podchaser's database and use it within their own products or services. A fourth source of revenue is coming soon, Raven said.
Its clients Indiana University, Purdue University and Indianapolis-based tech marketing firm BlastMedia, as well as a number of national and international companies.
"There's a lot going on within our company behind the scenes that you wouldn't be able to tell by just looking at our web site," Raven said. "We're collecting a lot of really unique podcasting data that a lot of companies are interested in."
For corporate clients like those mentioned above, Podchaser helps identify which podcasts they should pursue for exposure, as well as determine whether accepting an invitation to appear on the podcast would be worthwhile.
The company doesn't have a traditional headquarters, Raven explained. Its employees are spread across 10 different countries. But they have few problems managing the firm, he added.
"Fortunately, everyone speaks English. We have Zoom interviews and meetings and deal with time zone differences with Slack and asynchronous communications," he said. "It's an autonomous culture. We give people jobs to do and we trust them to do them."
Raven, who previously worked for Fishers-based audio marketing technology company Vibenomics Inc., now lives in Honolulu.
"I was one of Vibenomics first employees and helped build out a sales team there," Raven explained. "I left when we made our first capital raise for Podchaser."
Podchaser raised a $500,000 pre-seed round in 2017, followed by a $1.6 million seed round. It has now raised a total of $6.1 million.
Meanwhile, Raven moved to Honolulu for his wife's job.
"My wife is a traveling physical therapist, so for a while we were traveling the country in an RV," Raven said. "That stopped during COVID, so she looked for a permanent job, and Hawaii was the only place hiring. She had an offer in Maui and Honolulu. We had already been in Maui, so we chose Honolulu."
Podchaser declined to disclose its revenue, but Raven said he expects it to quintuple this year.
"We're never content or complacent with our growth," he said. "We have very high expectations. The growth is never enough. We have some pretty big deals I'll be able to talk about in the next month or two."
Please enable JavaScript to view this content.