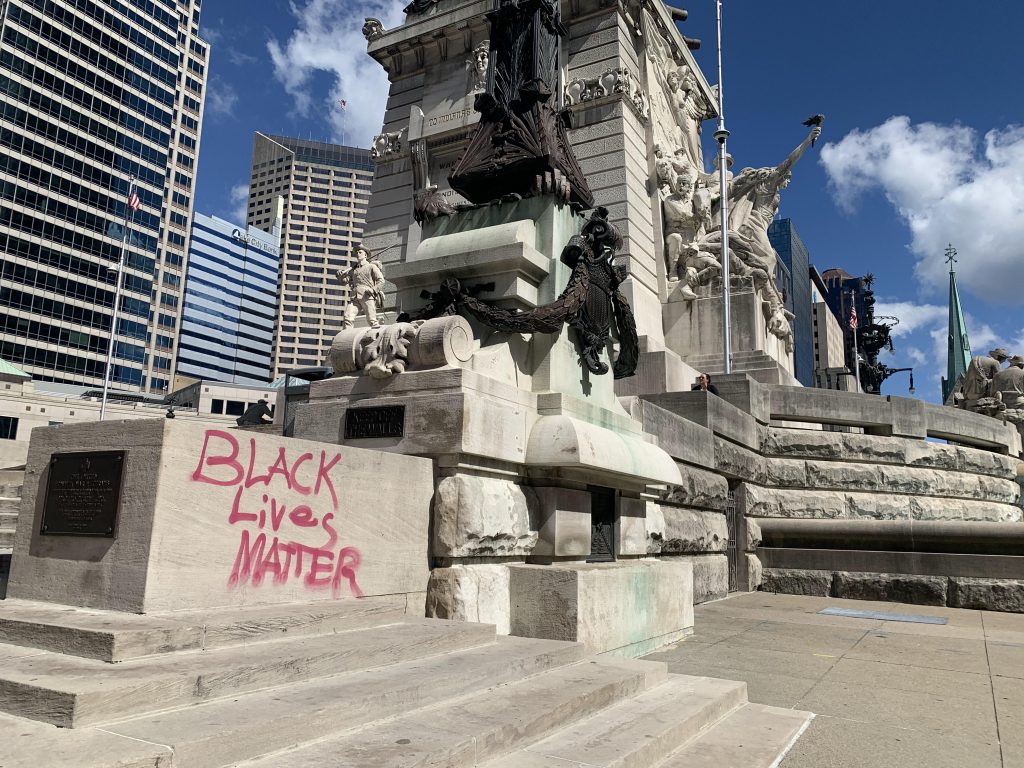 Gov. Eric Holcomb has put the Indiana National Guard "on standby" so members are ready to help Indianapolis and other communities that ask for assistance and said he will deploy Guard members to protect state properties starting today.
Holcomb did not specify which state properties Guard members would patrol. But in addition to the Statehouse, the Soldiers & Sailors Monument—which has been repeatedly graffitied as part of the protests—is operated by the state's Indiana War Memorials department.
The Indiana War Memorial, also operated by the department, is another area where protesters have gathered.
The Governor's Office said on Sunday that Holcomb had "verbally activated" the Indiana National Guard Reactionary Force on Saturday, but no community requested assistance.
And on Sunday, Indianapolis Mayor Joe Hogsett said he did not see a need to deploy the National Guard in the city. Hogsett announced that he will impose a curfew that starts at 8 p.m. Sunday and ends at 6 a.m. Monday following a second night of violence and significant vandalism downtown.
Holcomb's statement comes as more than a dozen states have activated National Guard members to help with the response to protests that have turned violent in major cities following the death of a black man in police custody last week in Minneapolis.
Kentucky and Ohio are among states that have activated National Guard units.
Holcomb's office did not respond to requests from IBJ about the use of National Guard units on Saturday night and Sunday, although the office says that it initially made the Guard available on Saturday.
"At my order, the Indiana National Guard stands ready to assist local communities in need to protect the public and property, and I am deploying Guard members to protect state property beginning today," Holcomb said in a statement on Sunday.
"Organized protests have taken place across the state without incident but the events that have followed, particularly in Indianapolis, have devastated businesses, defaced public monuments that are centuries old, and resulted in loss of life," he said.
Holcomb also lifted his restriction preventing local governments from imposing travel warnings that are stricter than the state's restrictions. On Sunday, Hogsett issued a warning-level local nighttime travel emergency.
Police reported 29 arrests of protesters late Saturday until about 4 a.m. Sunday after 27 were arrested the night before.
Please enable JavaScript to view this content.