Whether its startup partners win or lose in the marketplace, Grand Park Sports Campus in Westfield stands to benefit from the sports tech and tourism products the firms create.
The city of Westfield and Grand Park announced a framework last month to let commercial and institutional organizations use the 400-acre athletic facility as a research lab and product-testing ground. Four companies will inaugurate the effort.
Westfield officials liken the hub to an incubator that will give early-stage companies the opportunity to vet their products in the real world, while providing Grand Park cutting-edge technologies, including some not even on the market yet.
It's the next evolution at youth-sports-focused Grand Park, which opened in 2014 on the north side of Westfield, at 186th Street and Spring Mill Road.
"It's really beginning to happen," Westfield Mayor Andy Cook said. "Grand Park was born some seven or eight years ago, and we've been working on [the incubator] for 10."
William Knox, Grand Park's executive director, said bringing bodies to the park was the first step in realizing the athletic facility's potential as an economic development tool.
"Now, we're expanding on that," Knox said. "The research hub is yet another step along the way."
Grand Park's 31 multipurpose fields, 26 ball diamonds and three indoor facilities draw more than 2.5 million visitors each year. Several of the hub's partner companies cite the facilities' variety of youth sports and its overall scale as a desirable environment for testing their products.
The density of events and people will allow startups to test technologies, develop case studies for product use, refine or improve existing products, or gain access to athletes or coaches for research and focus groups.
And city officials hope companies that partner with the Grand Park Research & Development Hub will ultimately choose to set down roots nearby.
As the companies grow, Knox said, "we hope they'll start to look outside of our four walls."
One of the hub's first commercial partners is Charlotte, North Carolina-based Awre Sports, which provides sports venues with a live-streaming platform featuring advanced game analysis.
Awre's baseball-oriented app, PitchAware, allows subscribers to tag a player and amass a library of automated highlight clips. Beyond the personal use by athletes and their fans, a college recruiter could also subscribe to access the platform's video library and search for an athlete according to his or her style, abilities, graduation year or other parameters.
For example, a recruiter could use the app to quickly find a left-handed pitcher who can throw 90 miles per hour and is on track to graduate in 2024.
Awre Chief Operating Officer Rob Corsi said the company has already installed a camera system at Creekside Baseball Park in the Kansas City suburb of Parkville, Missouri, and it's gearing up to do the same at Grand Park this summer.
"When we started this in 2018, we wanted to work with someone in the tournament space that has a really strong name. Someone that has been doing it for a while," Corsi said. "Not only a really good partner, but almost someone we could learn from along the way."
Corsi said Grand Park is that "crown jewel" facility and that its research and development hub will allow Awre to expand its applications to tackle field sports.
"We've been trying to follow the advancements made in computer vision," Awre CEO Chris Clark said. "Everybody is pushing the limits of cameras, what they can recognize and how fast they can process it. Those are the nuggets we're fleshing out with the research hub at Grand Park."
Though the action in baseball might follow a structured form, Clark said field sports like soccer or lacrosse can be a bit harder for the cameras to follow. To cut through the chaos, Awre is installing a six-camera system at Grand Park to shoot field sports from various angles, to create 3-D renderings of the games.
"With this multiple camera setup, we can start tracking acceleration, speeds of players, agility, all of these cool metrics that scouts and colleges are craving that they don't have access to for soccer or lacrosse events," Clark said.
Corsi said the partnership also provides Awre with a highly populated sandbox for its new solar-powered, internet-connected, high-definition camera systems.
"The amount of video footage we're going to be able to capture in a short time for testing is going to be unparalleled," he said. "It allows us to be as expansive as possible in terms of trying to solve every problem we can find before deploying this solution on a bigger scale."
Beyond being able to offer tournaments a cutting-edge amenity, Grand Park's partnership with Awre means the park will be able to install a $300,000 camera system at a fraction of the cost, Knox said.
A grand scale
Grand Park has not created a formula that determines whether a company qualifies to be part of the hub. But Knox said he's hired a part-time employee to establish criteria and manage agreements with the companies.
"All of our partnerships will look a little different," he said.
Already, three other fledgling businesses have joined Awre Sports in the hub's inaugural cohort.
Zionsville-based RefReps uses video taken from a referee's perspective to create educational and interactive videos for new and returning officials. Knox said the system uses a video game format to provide interactive training without the pressures of actually being on the field.
"A lot of younger individuals are officiating, and they're not as confident. As you can imagine, some moms and dads are not the nicest when their kids are playing sports," Knox said. RefReps has "developed a tool to help not only new, but seasoned officials progress in their understanding of the rules and regulations."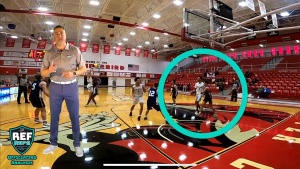 RefReps founder Kyle Armstrong said a nationwide referee shortage is affecting all sports. Officials are getting older and retiring, and there's not enough interest in the next generation to fill the gap. By using a video game approach that incorporates computer vision, Armstrong believes RefReps will interest and sufficiently prepare a new wave of officials.
"It's a really unique approach to try to infuse the cool factor, while providing a benefit to the officials with the hope that we'll appeal to that next generation of officials," he said.
Before partnering with the hub, Armstrong said, he traveled the country with his video production team to capture footage for the interactive learning simulations. Now, RefReps will be able to capitalize on Grand Park's diamonds and field sports to build a more robust training library.
Grand Park's scale is also appealing. Armstrong said that, even if just 1% of the 2.5 million visitors to Grand Park each year see RefReps in action and consider becoming an official, the influx could turn the shortage around.
"It's the sheer number of officials and people coming through, but also the opportunity to introduce officiating to the athletes, the fans and their families," he said.
Tracking trends
Madison, Wisconsin-based Spotz was founded in 2019 as an online platform that identifies, consolidates and establishes a process for booking community gathering spaces. Spotz founder and CEO James Jackson said Grand Park and its new hub represent a special opportunity for the growing company.
"Basically, we're trying to work together by us offering our software to Grand Park without a charge—aside from credit card processing fees," Jackson said. "It gives us an opportunity to work together with an organization that has unique and varied spaces. It gives us a nice cross section to see what the trends are and to make sure our software works well for its intended use."
Spotz is currently working with Grand Park employees to catalog, photograph, describe and list its more than 150 venues. If Spotz can build out a robust catalog of varying spaces, James said, it will certainly be able to do so for universities and other partner venues across the country.
The hub's final commercial partner is ZoneIn, a sports nutrition app that is personalized to the training schedule and physical fitness of each user.
Looking ahead, Knox said the Grand Park Research & Development Hub will have to establish and refine its criteria for determining eligible partners. After announcing the first four participants, Knox said, he had 10 more interested companies knocking on his door within the week.
"Moving forward, we'll go through a process to understand the value to us and the opportunity," he said. "First and foremost, we look at what our current needs are. The pure benefit to us is offsetting expenses."•
Please enable JavaScript to view this content.