Over the past few years, a growing number of companies in Indiana and beyond have started to report about their environmental footprint and what they're doing to battle climate change.
But there's no standard for what companies release—and they're not legally required to report anything at all. That is likely to change.
Last month, the U.S. Securities and Exchange Commission announced a proposal that would require publicly held companies to disclose specific and wide-reaching information about the risks climate change poses to their business and to report the amount of greenhouse gas emissions produced by the company and its supply chain.
Local companies aren't yet saying much about how the rule change might affect them—but attorneys who specialize in corporate and environmental law say the SEC's proposal, which was not unexpected, is significant.
"I think it's very consequential. It's extremely broad and also very specific," said Ashley Parr, an attorney who specializes in environmental law and works in the Chicago office of Indianapolis-based Barnes & Thornburg LLP.
Companies' voluntary environmental- and climate-related reporting is sometimes included in official financial reports or in the increasingly common practice of ESG reporting, which are documents that highlight a company's environmental, social and governance activities.
"A lot of big companies have already been including this information on climate change, because their investors have been demanding it," said attorney Amy Romig, a partner at Indianapolis-based Plews Shadley Racher & Braun LLP.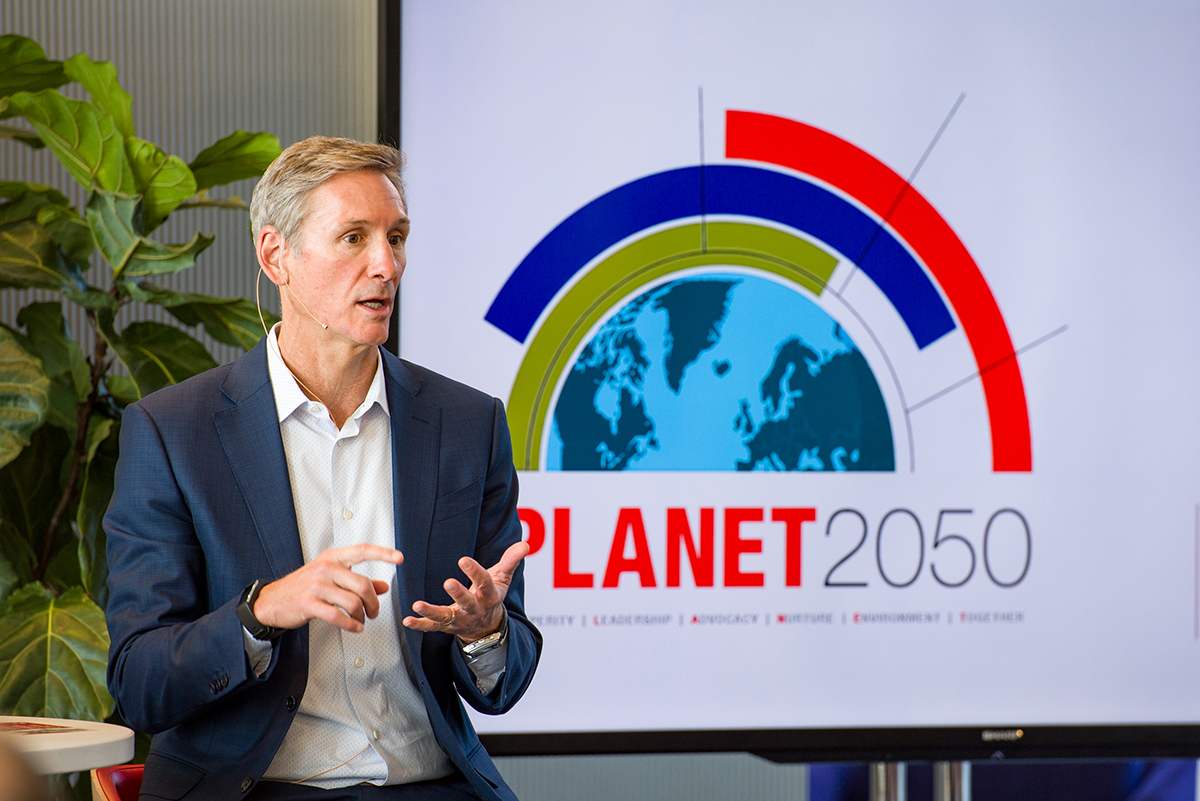 Cummins Inc. spokesman Jon Mills said via email that the Columbus-based company's officials are "reviewing the [SEC] proposal and plan to work with the SEC and other stakeholders to ensure that companies provide transparency on their emissions and environmental strategies in a consistent, flexible manner in order to combat climate change."
Cummins has done environmental reporting "for many years," Mills said, and earlier this year, the company launched what it calls Destination Zero, a strategy for reaching net-zero emissions by 2050.
Indianapolis-based Infrastructure and Energy Alternatives Inc., a publicly traded company that designs and builds infrastructure projects, also said it is evaluating the SEC's proposed rule changes. About 70% of the company's revenue comes from wind- and solar-farm projects.
"As a leading renewable infrastructure provider, we have embraced ESG initiatives and disclosures, and we have already implemented portions of ESG frameworks, including the Sustainability Accounting Standards Board and Task Force on Climate-Related Financial Disclosures," Aaron Reddington, IEA's vice president of investor relations and corporate development, told IBJ in an e-mail.
Indianapolis-based manufacturer Calumet Specialty Products Partners LP and Indianapolis-based Eli Lilly and Co. are among some of the other public companies that also issue ESG reports. Both say they are reviewing the SEC proposal.
Even companies that already do some environmental reporting, though, don't likely release everything that would be required under the SEC proposal.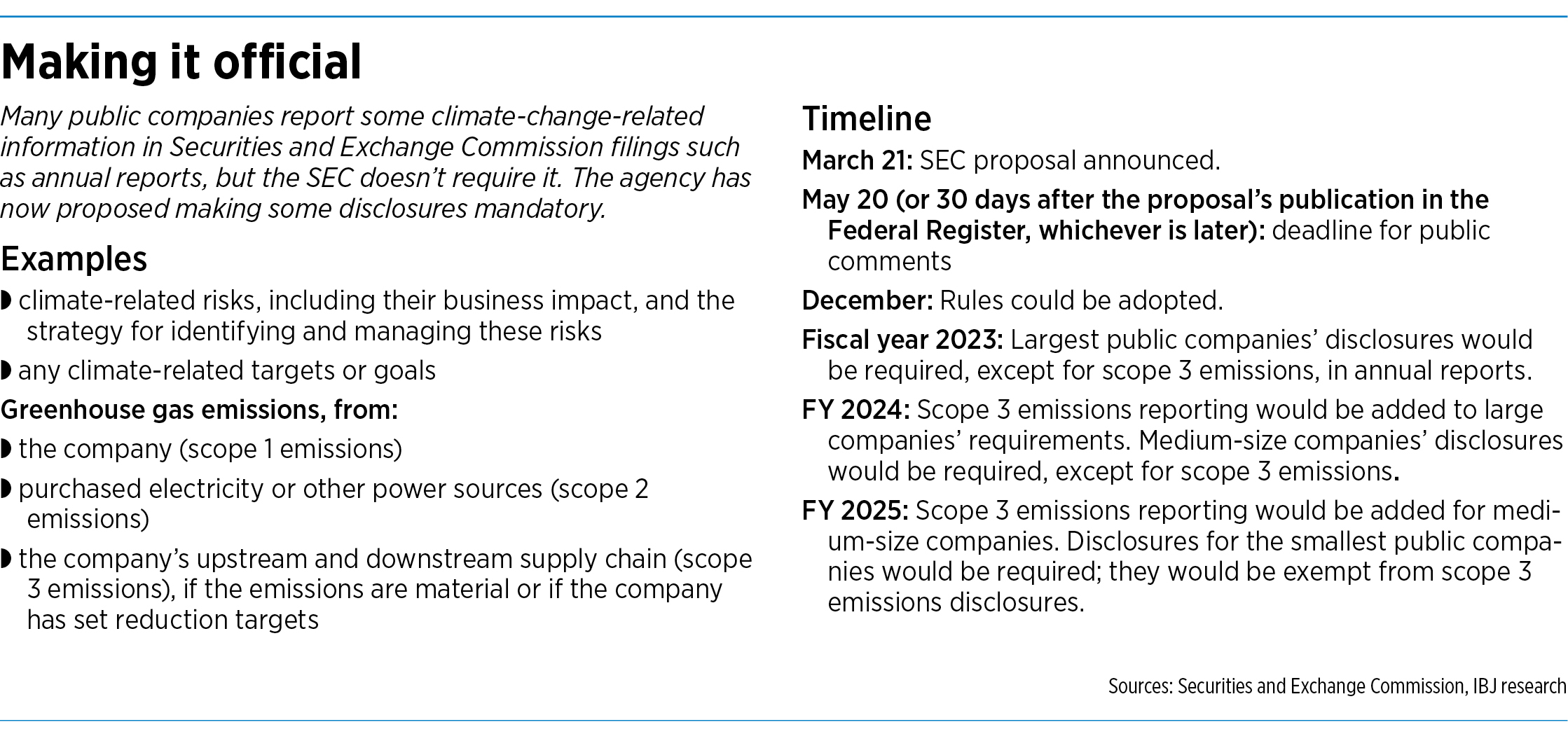 While not commenting on any specific companies, Romig predicted that even larger public companies might have to pay outside consultants to help them with the new requirements. "I think that will be the biggest pushback to [the proposal]. It's going to require a lot of expertise that some companies might not yet have."
The largest burden, attorneys say, is likely to come from the "scope 3" emissions reporting requirements.
The SEC has proposed requiring companies to report the greenhouse gas emissions generated both by the company itself and by the electricity or other energy the company uses. These are known as scope 1 and scope 2 emissions, respectively. Companies would also be required to report what are known as scope 3 emissions—the greenhouse gas emissions produced within the company's entire supply chain. The SEC proposes to require companies to report scope 3 emissions if those emissions are material, or if the company has set emissions targets that include scope 3 emissions.
As an example, an automaker would have to report emissions produced by its manufacturing plant (scope 1). It would also have to report the emissions generated to produce the power it uses, whether that's from a coal-fired power plant, solar energy or something else (scope 2). If required to report scope 3 emissions, that would include those associated with the production of the steel and other materials used to make the vehicles.
According to the U.S. Environmental Protection Agency, scope 3 emissions are generated by a range of activities, including business travel, employee commuting, transporting goods to market and the processing of sold goods.
James Greffet, who leads Lilly's ESG efforts, said the company's ESG report already discloses scope 1 and scope 2 emissions, "and we are working to enhance our understanding" of the scope 3 emissions generated by the company's suppliers and customers.
Because scope 3 emissions can come from so many activities, assessing that category of emissions is likely to be challenging.
"That's going to be, I think, very difficult for companies to do if it applies to them," said Indianapolis attorney Christine Long, a partner at Faegre Drinker Biddle & Reath LLP.
Long's expertise is in advising public companies on SEC compliance issues, corporate governance issues and other matters.
The SEC's public comment period on the proposal extends through at least May 20, and the agency has said the rule changes could go into effect by December.
There's no way of knowing yet, though, what exactly will be implemented.
"It may end up looking a lot different than these proposed rules, once they're finally approved," Long said.
She anticipates a fair amount of pushback on the proposal, including litigation, which could lead to changes. The U.S. Chamber of Commerce has already voiced its concerns with what it describes as the SEC's "prescriptive approach" to climate disclosures.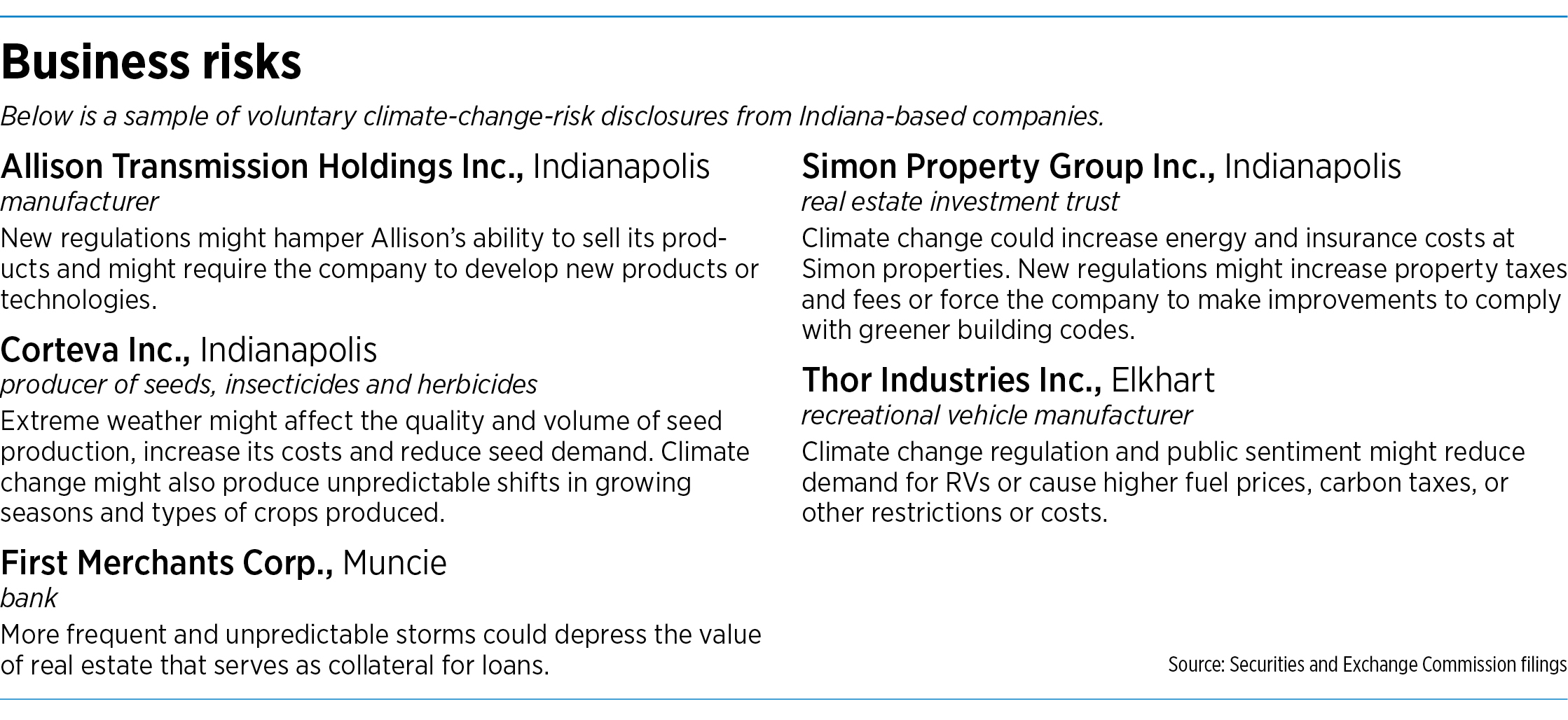 By March 25—four days after the SEC made its announcement—the agency had already received more than 135 public comments on the proposal, representing a mix of supportive and critical views.
Not everyone agrees that the SEC proposal will bring significant change.
Vicky Keramida, founder and CEO of Indianapolis-based consulting firm Keramida Inc., said most public companies are already reporting the things the SEC proposal would mandate. "What the SEC is doing, most companies are already doing it."
Even smaller, non-public companies might already be reporting climate-change information because they are suppliers to larger companies that require such reporting, Keramida said.
Her company advises businesses on environmental, health and safety, and sustainability matters. She acknowledged the scope 3 reporting is the biggest change. "Most people have not, until now, reported scope 3."
She said the proposal might also reduce the prevalence of so-called "greenwashing," which is when a company burnishes its image by announcing environmental goals without necessarily acting on them. If the company is required to put those goals in a public filing, Keramida said, it is more likely to be realistic about what it can actually accomplish.
Parr, the Chicago attorney, agreed.
In light of the SEC proposal, she advised companies to make sure their ESG reporting is realistic.
"You'll be on the hook for what you put in there."•
Please enable JavaScript to view this content.