Indianapolis-based High Alpha has been gaining altitude since the venture studio launched in 2015, but with eight tech startups introduced this year, it's entered a new stratosphere.
And the ascent shows no sign of leveling off. High Alpha expects to introduce at least two more startups next month—and it has seven that have been incorporated but are operating in stealth mode.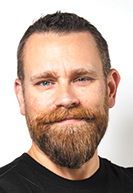 Some of those firms, High Alpha officials said, have already secured big-name customers and are generating serious revenue. The ones that aren't publicly rolled out this year will likely be introduced publicly next year.
But this year has proven to be High Alpha's' breakout. By the time the calendar reads Dec. 31, the nearly 6-year-old organization—which specializes in software firms—will have announced the launch of more startups than in the previous five years combined.
"We certainly didn't come into this year expecting this type of explosion in activity," said High Alpha partner Kristian Andersen. "And no one knew what to expect as the pandemic hit."
What makes High Alpha's burst even more impressive is that multiple sources project the number of startup launches nationwide this year will decline more than 25% from 2019.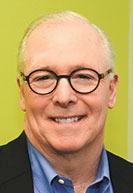 "There were a lot of people that were hitting the brakes on investment between March and September," said Chris LaMothe, CEO of locally based Elevate Ventures. "There was a real slowdown. There were a lot of [investment firms] on the private side that spent a lot of time working on their existing portfolio companies.
"I know the High Alpha team, so I'm not surprised by what they've done over the last five years, but I am surprised they have the volume this year," LaMothe added. "It's incredibly exciting and encouraging."
High Alpha laid the groundwork in 2019 for some of the companies it introduced in 2020. But the majority of the work has been done this year.
To date, High Alpha's portfolio has contained a total of 20 companies. Four of those—digital document-management firm Octiv, legal transaction-management firm Doxly, student-engagement software maker Clear Scholar and email-signature marketing company Sigstr—have been acquired, leaving 16 officially named in the portfolio.
Those portfolio companies have created a combined 550 jobs, 75% of which have been in Indianapolis. Of its 16 publicly announced portfolio companies, 12 are headquartered here, two are totally virtual and the two headquartered elsewhere have engineering offices here.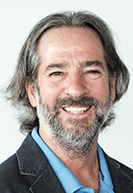 "This is a testament to the people involved in High Alpha," said Todd Saxton, associate professor of strategy and entrepreneurship at Indiana University's Kelley School of Business and a Kelley Venture Fellow. "This organization is a tremendous asset to the local business and tech ecosystems."
Pandemic push
Until this year, High Alpha grew steadily, announcing the launch of one to three companies per year.
And while the 2020 explosion seems counterintuitive—and even surprising to High Alpha officials themselves—Andersen said that, in retrospect, it makes sense. After all, High Alpha was essentially made for this.
"Historically, many of the best companies are built during down markets," Andersen said. "Innovation and entrepreneurs tend to flourish when forced to operate within constraints. The more constraints there are, the more creative and resourceful you have to be."
High Alpha has four high-powered, experienced tech and entrepreneurial veterans as partners and dozens of other highly creative business-minded employees. Startup mavens Andersen, Mike Fitzgerald, Eric Tobias and former ExactTarget CEO Scott Dorsey in 2015 lit the fuse on High Alpha with the idea of pioneering a new version of entrepreneurship.
It has processes in place—including its trademark Sprint Week—designed to vet ideas and launch companies quickly. High Alpha also has deep connections to venture capital markets in and outside Indiana, and it has a massive financial arsenal at its disposal.
Tobias calls Sprint Week "a forcing-function for innovation." It's essentially a high-intensity internal competition meant to work out brand ideas, business plans, market strategies and designs for three to four concepts—eventually leading to a new firm.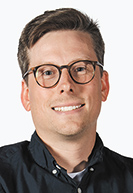 High Alpha announced in 2018 that it secured $85 million for its High Alpha Capital II, a seed and Series A venture fund, and $16.7 million for its High Alpha Studio II, an enterprise-startup studio focusing on software-as-a-service companies. That's the source of much of this year's activity, said Drew Beechler, High Alpha's marketing director.
Essentially, High Alpha was locked and loaded coming into this year, and the pandemic gave the organization the impetus to fire.
"Most of the companies we launched in 2020 were started as a response to an existing industry being dismantled," Andersen said. "The only way to build new and bigger muscles is to break them down, then they rebuild stronger."
High Alpha, which this year has moved into a new building in the Bottleworks District downtown, has added 11 employees. It now has a 40-person staff to accommodate the outburst.
High Alpha officials are confident the frenetic activity will outlive the coronavirus.
"It's kind of like bench-pressing or running a mile," Beechler said. "Once you bench-press a certain amount of weight or run so fast, you know you can do it again. We've added to our team to be able to keep up this pace. This pace may not be the norm, but we will be this busy and likely busier at times in the future."
Ignition switch
One yet-to-be-announced firm with the working name Spaces, provides a virtual meeting and collaboration platform. Entrepreneur-in-residence Matt Compton created the platform to run a High Alpha virtual Sprint Week session in May. Four companies were eventually launched from that session alone.
"We realized [the week] was so effective because the tool was so good," Andersen said. "We thought, 'It's so effective, let's commercialize it.'" And another company was born.
The Spaces platform goes far beyond rethinking how to stuff old ways of doing business into a platform like Zoom, Andersen said. It is a highly customizable group virtual workspace that allows users to have multiple virtual rooms dedicated to various teams and subjects. It's always on and users can go into rooms at any time to meet with others or take part in threaded conversations and other remote group activities.
"It's fair to say there's a causal link between [Spaces] and the Cambrian explosion we've had this year" at High Alpha, Andersen said.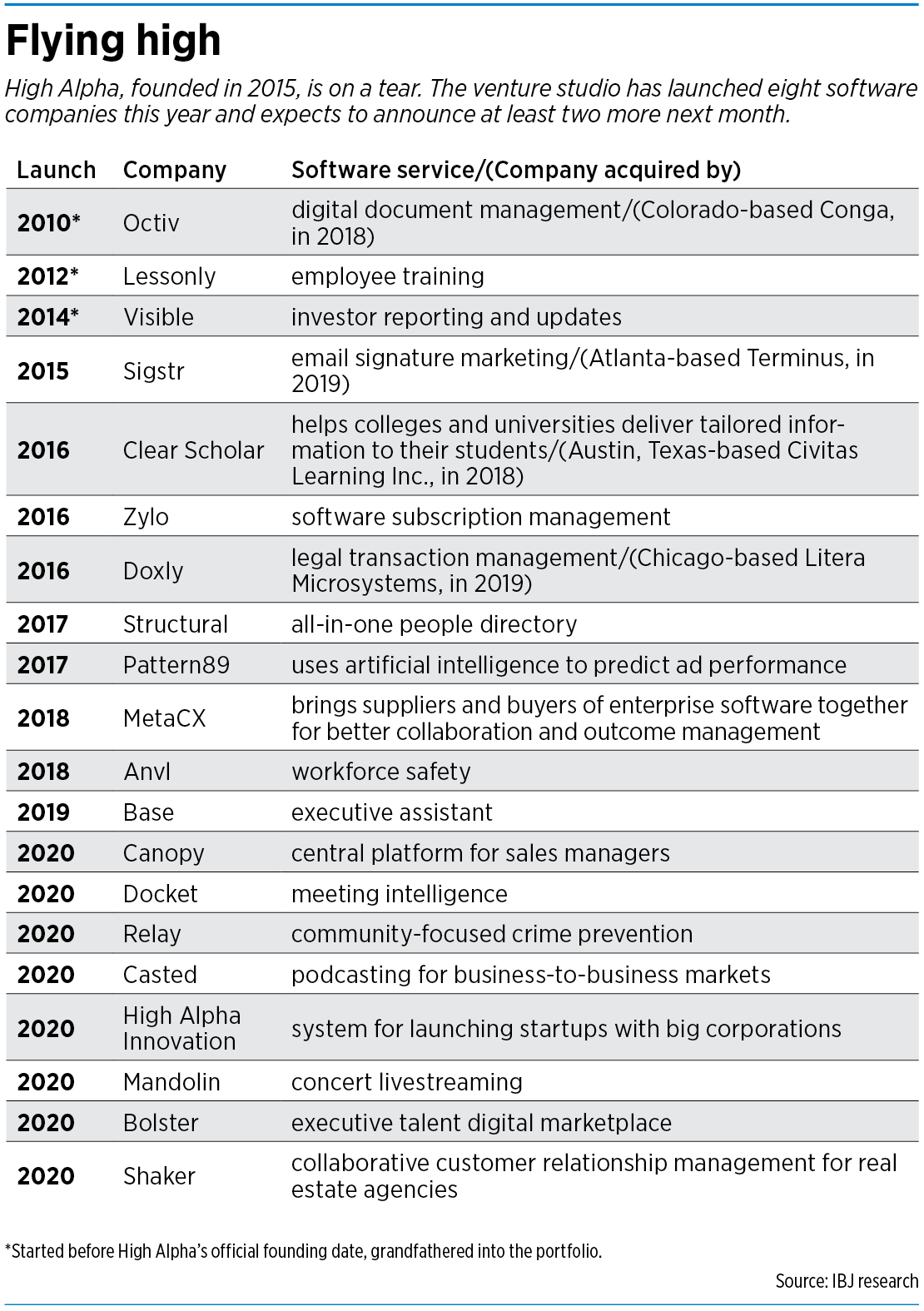 Spaces is set to roll out publicly on Dec. 17—under a new name, Filo—but a number of outside companies are already using it. One is the renowned TechStars accelerator, which is using the software nationally.
"We have a very robust pipeline and a lot of early traction with paying customers," Andersen said.
Of course, not every idea generated within High Alpha—or brought to it—becomes a company.
"At any given time, we're sifting through 100 or more ideas and trying to narrow that down to four or five ideas," Beechler said.
High Alpha has explored 150 ideas this year, officials said. Of those that have made it to a Sprint Week, about 70% have become companies.
And by the time those hit the market, they are far more than just concepts, Andersen said. High Alpha officials have a calculated expectation that the startups in their portfolio will succeed.
Still, they're certainly not launching the companies without risk. Andersen said many startup launches involve a solid six-figure High Alpha investment.
But the studio's early track record indicates the system is working.
So far, Andersen said, High Alpha hasn't launched any companies that didn't recoup the original investment and more.
And, Beechler added, "companies coming out of Sprint Week this year are doing better than normal." Andersen said one of High Alpha's startups this year has generated a six-figure revenue mark with no outside financing.
"Starting businesses is very difficult, so we know in the long run we can't have a 100% batting average," Andersen said. "But taking risks is what creates breakout companies and big returns for our investors."
Crossroads and challenges
High Alpha—and its earliest companies—are at critical points in their journeys.
About half of all startups nationally fail in the first five years, according to economic research, and about 70% fail within 10 years. If High Alpha portfolio companies are a mere flash in the pan, we should know within three to five years.
"High Alpha is among the first venture studios and, now with its success, others are copying it," IU's Saxton said. "But it will be critical to monitor the companies they start as the critical five- and 10-year benchmarks approach to fully evaluate their track record."
There are challenges, too, to launching so many companies in a short time frame.
The first is internal for High Alpha. The relatively small operation must juggle all the sudden activity while continuing to focus on its older—but still young—portfolio companies.
"How do we do that?" Andersen asked rhetorically. "Not always perfectly. We run a pretty tight ship. We have some well-defined departments that are responsible for shepherding these companies from ideation to market. We do a good job of understanding what our swim lanes are."
Each partner is responsible for one of four phases of growth, Andersen said. And under those department heads is a nuts-and-bolts-focused team.
"Right now, we're exploring the limits of what we can do, and in some cases, we're rubbing up against that limit," he said.
Andersen runs the business-design side—which gets startups out of idea phase.
Tobias runs the business-launch sector.
Fitzgerald oversees finance and funding, which includes helping startups create a pitch and get connected to venture capitalists.
Dorsey focuses on coaching and working with the startups' CEOs, as well as building a board and a management team.
The second challenge for the startups is external.
"When you are launching as many as 20 companies, it's a tricky balance," Saxton said. "Those companies need talent and resources. High Alpha portfolio companies are an attractive place to go, and they're competing for people with other local companies. To have a healthy ecosystem, you have to make sure you're not creating a system of haves and have-nots.
"But there's a strong argument [that] they are also attracting talent and growing the pie," he added. "High Alpha is a brain magnet. And the current they're creating now, I think, could be the cause of the next big wave."•
Please enable JavaScript to view this content.