An Indianapolis software startup's new livestreaming platform has become music to the ears of concert venue operators and performers struggling to reach their audiences during the pandemic.
Mandolin, a High Alpha portfolio company led by Mary Kay Huse, the former chief operating officer at Salesforce Marketing Cloud and Exact Target, has been immediately embraced since launching in June and this week announced it has raised $5 million in a seed round of capital to dramatically increase its growth.
Mandolin is the 18th company to launch out of High Alpha's venture studio. This is its first round of funding.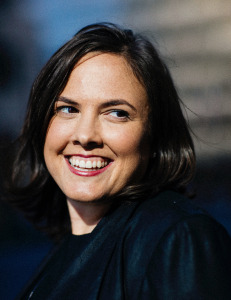 High Alpha led the round, which also included participation from Marc Benioff, the founder and CEO of Salesforce, a San Francisco-based enterprise cloud computing company with a major presence in Indianapolis, and a number of leading software-as-a-service angel investors.
This is the first High Alpha company Benioff has personally invested in. "Marc Benioff knew Mary Kay, and she pitched him on the idea," said High Alpha spokesman Drew Beechler. "He got really excited about it."
Mandolin—which has already livestreamed dozens of shows—works with artists, management teams and venues across all genres. It recently was named the exclusive livestream provider for the #iVoted Election Day 2020 festival, the largest single-day digital concert on record, all in support of voter turnout.
In September, Mandolin signed a two-year partnership deal with the iconic City Winery network of venues, and in August, a partnership with Nashville's historic Ryman Auditorium for the first-ever Live at The Ryman livestream experience.
"The new version of live continues to evolve and reveal itself. We're in an all-digital world, and there's no going back," Huse, Mandolin's co-founder and CEO, said in a statement. "But Mandolin has a way forward—a way to bring people back together and live music back to the stage, whether we're in the same room or reaching out across the globe. Our journey to redefine live entertainment is real, and we have the digital know-how to make the music industry even more resilient for this new normal."
Huse teamed up with Steve Caldwell, who previously headed up engineering for health analytics software firm Springbuk, and Robert Meitus, a Bloomington-based entertainment attorney with more than 20 years of experience and an adjunct teacher at the Indiana University School of Law.
Meitus, who works directly with a number of performers, saw firsthand how the pandemic pounded singers, musicians, bands and venues. He was led by a mutual acquaintance to High Alpha—who put the idea of Mandolin through its sprint week high-intensity vetting process—earlier this year.
"We created this platform to bring artists and fans together. Like many industries before it, the music business is going through massive disruption and musicians need to build digital-first businesses to thrive," High Alpha Partner Eric Tobias said in a statement. "It's inspiring to help artists do what they do best—play shows and connect with fans. Mary Kay is a brilliant, highly-dynamic leader. Her ability to build and scale software, to accelerate revenue growth, and to inspire organizational greatness, at a global level, is unmatched."
Mandolin, which is working out of the Bottleworks District in Mass Ave, has 30 full-time employees, High Alpha officials said, adding that the company is hiring and will likely double its staff size in the next year.
"Mandolin is growing tremendously quickly, and we're seeing a tremendous response from the market," Beechler told IBJ. "There are 50-plus concerts already on the platform. Everything right now is going right for Mandolin. There is a huge opportunity and potential for this company.
"They plan to grow their team very quickly," Beechler added. "They have seven-plus open positions right now."
Mandolin's target market is midsize and large venues, he said. "From venues like the Vogue and Hi-Fi in Indy all the way up to massive venues."
Company officials said they will use funding from the seed round to grow their team, invest in sales and sales capacity, enhance product technology, and build out more features and elements for which artists and venues are asking.
Mandolin is set up as a software-as-a-service—or SaaS company—which means the company charges a subscription for the use of its software.
Pricing is based on the size of the venue, how many concerts the organization is doing and how many people will join the livestream. Some of the deals have a revenue-sharing component. The target market—which could include artists, performance managers and venues—essentially includes any sizable entity that is having an event and wants to livestream it. The livestreamed event usually requires payment from people who want to watch.
Mandolin lets artists and venue organizers run their own shows.
"Mandolin has a pretty robust services team that works with venues," Beechler said. "We have a number of playbooks for how to put on a livestream concert, but the default is not full-service, run everything for them. Usually, the venue wants to handle some of this on their own."
While the COVID-19 outbreak has sped the need for such a service, Beechler said the need for livestreaming services will live long after the pandemic has waned.
The idea of livestreaming events has been around for a number of years, but it has been slow to catch on among music enthusiasts.
"COVID will accelerate the trend, but now that we're used to it, we think it will be part of the new normal," Beechler said.
There are a number of competitors in the space, but Beechler said Mandolin's livestream audio quality and other features set it apart.
"We have a unique approach in terms of how we're going to market and how we're working with the music industry," he said.
Mandolin has a vision for recreating the excitement of live entertainment and the sense of community fans share by pushing the boundaries of traditional livestream technology. Notable product features include artist meet and greet experiences; public and private chat; embedded, limited-edition merchandise tables; watch parties and ticket sharing; custom emoji reactions; and charity and donation collection capabilities.
Artists who have performed shows on Mandolin so far include Grammy Award winners Shawn Colvin and Old Crow Medicine Show, country star Chris Young and alternative and folk bank Judah & The Lion.
"Mandolin is adding shows every day," Beechler said.
"We can't ever replace an in-person, live concert, but the way we experience these events will be hybrid in the future. This is a different innovative approach about how fans can experience music."
Please enable JavaScript to view this content.