Indiana Attorney General Curtis Hill says he respects the ruling that suspends his law license for 30 days, and he has named his chief deputy to take over the office in his absence.
The Indiana Supreme Court issued a decision Monday saying it had found Hill guilty of misdemeanor battery and two related violations of the Indiana Rules of Professional Conduct.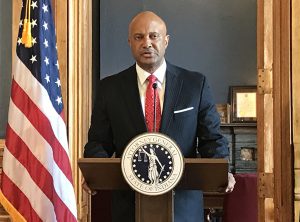 Hill, a Republican, will begin his suspension May 18 and will be automatically reinstated at the end of the 30-day period, provided no other suspensions are in effect.
The discipline against the embattled Hill comes just shy of two years after allegations became public that he groped four women at a March 2018 legislative party. The women he was accused of groping are Democratic State Rep. Mara Candelaria Reardon, and legislative staffers Gabrielle McLemore Brock, Niki DaSilva and Samantha Lozano.
The Indiana Supreme Court Disciplinary Commission brought the ethical charges against Hill—who is in the midst of a re-election campaign—in March 2019, and a four-day evidentiary hearing was held in October.
The Disciplinary Commission had recommended that Hill serve a two-year suspension without automatic reinstatement, while hearing officer and former Justice Myra Selby recommended a 60-day suspension without automatic reinstatement.
In a statement issued Monday afternoon, Hill said he "accepts with humility and respect" the Indiana Supreme Court's decision. He has denied any wrongdoing.
Hill also announced that Chief Deputy Aaron Negangard will take over the office during Hill's suspension.
"I offer my deepest gratitude to my family, friends and the entire staff of the Office of the Attorney General," Hill said in a statement. "My staff has worked tirelessly and without interruption and will continue to do so on behalf of all Hoosiers."
State law requires the attorney general to be "duly licensed to practice law in Indiana," but it doesn't specify whether the person can continue serving after facing professional disciplinary action.
It remains unclear whether Gov. Eric Holcomb could—or would—name a replacement for Hill during the suspension.
Holcomb and other top Republican officials called on Hill to resign when the allegations became public in July 2018.
Holcomb said Monday afternoon that his position on that has not changed, but he has not made any decisions about whether he could appoint a replacement.
"I'll make any and all decisions that I have the authority to do so," Holcomb said.
Questions have been raised for months though over whether Hill could remain in office with a suspended license. Indiana House Republicans tried to address the issue with legislation introduced earlier this year, but the bill died on the final night of the session.
The language would have required the attorney general to forfeit the office if he or she were disbarred from or suspended from practicing law for 30 or more days. Such a forfeiture would create a vacancy in the office, which would be filled by the governor.
The legislation also would have also prevented anyone who had been disbarred or had his or her law license suspended for 30 days or more within the past five years from running for the office.
Holcomb said at the time that he supported the bill and would have signed it into law, but it failed to pass out of the Indiana Senate.
Holcomb said on Monday that he didn't know whether the Supreme Court in its ruling would speak to the issue of whether Hill could still hold the office, but it did not.
"Knowing now where we are, I will get with my legal counsel and my team here internally and see what are the steps ahead, what do they look like," Holcomb said.
He said he's expecting his legal team to provide answers quickly.
"We won't allow grass to grow underneath us as we get those answers," Holcomb said.
Hill is seeking re-election and faces two Republican challengers at the party's nominating convention next month. Decatur County Prosecutor Nate Harter and Bose McKinney & Evans attorney John Westercamp are both running for the office.
Hill's license will be reinstated just days before the convention, which is scheduled for June 20.
The Indiana Republican Party has not endorsed a candidate, but party Chairman Kyle Hupfer has made it clear he does not support Hill.
"The Indiana Supreme Court unanimously confirmed that Curtis Hill committed battery against four female victims," Hupfer said in a statement. "Hoosiers would be best served by having a new Attorney General. I have faith in our delegates."
Please enable JavaScript to view this content.