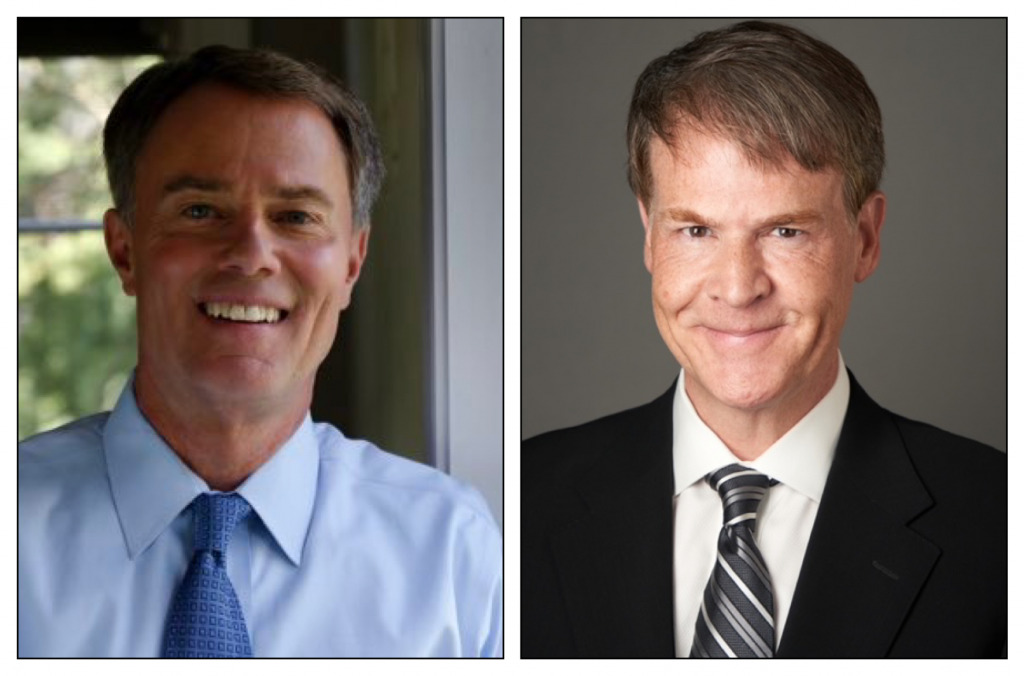 Indianapolis Mayor Joe Hogsett and Republican challenger Jefferson Shreve are building campaign teams with advisers that some say are the best in the business as they head for a November showdown.
Hogsett is seeking his third term. With nearly eight years in the mayor's office and decades in Democratic politics, he's relying on a solid crew of longtime aides, former city workers and volunteer foot soldiers.
Shreve, a previous candidate for state senate and a twice caucus-selected city-county councilor, has campaigned before but never at the countywide level.
The wealthy businessman has largely self-funded his campaign so far and placed a heavy emphasis on radio and television advertising during his primary campaign to boost his name recognition. He has pulled together alumni from the state's top Republican campaigns for his mayoral bid.
SHREVE'S TEAM
Shreve's campaign commercial strategy has relied largely on Eric Cullen, a partner at Omaha, Nebraska-based Bullhorn Communications and the former campaign manager for U.S. Sen. Todd Young. 
"He's a really sharp and capable guy," said Cam Savage, a Republican political operative and principal at Limestone Strategies. "He's obviously a good friend of mine, so I'm very biased."
In Shreve's pre-primary campaign finance report, he reported paying nearly $1.2 million to Bullhorn. Prior to Young's 2022 campaign, Cullen worked for D.C.-based The Voyageur Company.
Mark Lubbers, a close confidant of Mitch Daniels and the husband of former Indiana higher education commissioner Teresa Lubbers, is serving the campaign in an unofficial advising capacity. Lubbers was also a longtime aide to the late Sen. Richard Lugar.
On the night of Shreve's primary election victory, Lubbers told IBJ the campaign may focus more on the mayor's role in education in the coming months.
Campaign operations
The official leaders of the campaign are Matt Organ, campaign manager, and Savannah Kerstiens, deputy campaign manager.
Organ started out by volunteering for Eric Holcomb's U.S. Senate campaign-turned-gubernatorial campaign in 2016 before holding multiple state GOP roles. Organ also worked on Holcomb's gubernatorial re-election campaign in 2020. He most recently worked with conservative public affairs group Hathaway Strategies.
Kerstiens was most recently with Indianapolis-based Catalyst Public Affairs Group. Prior to joining Catalyst, Kerstiens spent nearly two years as former Congresswoman Susan Brooks' press assistant and press secretary.
Shreve's finance directors are Emily Daniels Spaulding and Heather Patterson. Daniels Spaulding runs Daniels Spaulding Consulting LLC, which Shreve paid nearly $10,000 for pre-primary services. She worked in several roles for the late Congresswoman Jackie Walorski and on the U.S. Senate campaigns of Mike Braun and Luke Messer. Patterson is the former major donor director of the National Republican Congressional Committee.
David Boyer, a recent IU McKinney Law School graduate and Indiana Senate legislative assistant of nearly five years, is the campaign's policy director. Andrew Johannes is the data director and has previously served in roles with the Indiana GOP and Todd Young.
Online, media and polling
Reagan Gamache is the digital director of Shreve's campaign. She served as Young's finance assistant for two years, ending in December 2022. Prior to that, she worked for Fishers-based Coverdale Consulting. She is married to Brian Gamache, the campaign manager for Republican gubernatorial candidate Eric Doden.
TV news alums Sarah Holsapple and Jennifer Erbacher of Holsapple Communications are handling the campaign's media relations. 
Shreve also has who Savage called the "best pollster in the state" in Patrick Lanne of Public Opinion Strategies. Lanne was the pollster for former Indianapolis mayor Greg Ballard and former Marion County Prosecutor Carl Brizzi. 
Christine Matthews with Bellwether Research and Consulting is also doing research for the campaign. Shreve paid her firm at least $9,000 leading up to the primary.
Shreve's campaign documents also reported that $4,7548 was paid to Three Point Advisors LLC. The consulting firm is run by Derek Hugo and is currently working on the Suzanne Crouch's gubernatorial campaign. The firm helped elect State Treasurer Daniel Elliott in November and pushed Greenwood Mayor Mark Myers over the finish line in a messy May primary.
HOGSETT'S TEAM
Hogsett has held onto key advisers, including self-described "super-volunteer" Thomas Cook.
Cook worked for the incumbent mayor when Hogsett was U.S. attorney, served as his mayoral campaign manager in 2015 and later spent five years as Hogsett's chief of staff. He now serves in an unpaid, unofficial role as an adviser to the mayor's campaign.
"In some respects, [the campaign team] hasn't changed a lot," Cook told IBJ. "Obviously the mayor benefits from having 40 years worth of political and personal relationships around the state."
Hogett first rose to prominence in Indiana politics in the 1980s for his behind-the-scenes role in Evan Bayh's political career. Then he scored a huge political upset of his own by defeating former Indianapolis mayor William Hudnut in the 1990 race for Indiana secretary of state.
After that, Hogsett suffered a series of election losses, with unsuccessful campaigns for U.S. Senate in 1992, Congress in 1994 and Indiana attorney general in 2004. But he made a comeback in 2015, winning his first term as Indianapolis mayor.
Hogsett's mayoral campaign chair Cordelia Lewis Burks—whom volunteers refer to as "Ms. Cordelia"—has been with the campaign in other capacities since that first heady win. She previously served as vice chair of the Indiana Democratic Party, was a Democratic National Convention superdelegate in 2016 and worked for years as director of politics and legislation for the American Federation of State County and Municipal Employees in Indiana.
"She has this great connection to the community to organize labor into the Democratic Party," Cook said. "And even though the campaign team has changed and evolved over the last decade, Ms. Cordelia has been the one constant and I would say she keeps both the staff and the mayor on their toes."
Blake Hesch, campaign manager, worked "about as close with Joe Hogsett as you can" as Hogsett's special assistant, Cook said. He served in city roles for nearly two years before becoming interim communications director for the Indiana Democratic Party.
In 2020 and 2022, Hesch led successful campaigns for state Rep. Mitch Gore of Indianapolis. He also ran John Zody's unsuccessful campaign for Indiana Senate in 2020. 
Hesch oversees Hogsett's get-out-the-vote efforts, for which the campaign maintains four campaign offices and employs four field directors who coordinate volunteers. 
While Shreve's primary campaign seemed less focused on boots on the ground, the Marion County Republican Party included a call for full-time Shreve campaign field organizers and interns in a recent newsletter.
Emily Gurwitz is continuing to serve as Hogsett's finance director. The campaign called her "a seasoned political fundraiser with decades of experience." 
Former State Democratic Chair Kip Tew called Gurwitz "the best in the business."

Through her company EG Strategies LLC, she has worked with the campaigns of Congressman Andre Carson, former U.S. Sens. Evan Bayh and Joe Donnelly and the late Marion County Prosecutor Terry Curry. In an April campaign finance report, her business had been paid $18,000 for consulting.
Polling, media
The campaign has used the same trio of vendors to handle polling, ads and mailers since it's launch.
Pollster Global Strategy Group, led by Jefrey Pollock, will conduct research for the campaign. Tew said Global Strategy Group is one of the nation's best pollsters.The Hogsett campaign paid $45,000 to the company before the primary election.
Putnam Partners will produce advertisements for the Hogsett campaign. The organizations is led by Mark Putnam, whom Cook noted created a 30-minute ad for Barack Obama in the 2012 presidential election. Putnam is the "one of the gold standards in the country for Democratic politics," Tew told IBJ.
CORRECTION: The name of Coverdale Consulting was incorrect in an earlier version of this story. See a list of our corrections and clarifications here.  
Please enable JavaScript to view this content.