After weeks of maintaining that he would not have a specific "black agenda" during his re-election campaign, Indianapolis Mayor Joe Hogsett presented such a plan to black religious leaders on Monday.
The question of whether the mayoral candidates—Hogsett, a Democrat seeking a second term, and Republican state Sen. Jim Merritt—would have an agenda that outlined specific policy ideas and goals to improve the lives of black Marion County residents was initially raised in a post-debate interview in late August. At that time, Merritt said he would have one, while Hogsett said he would not.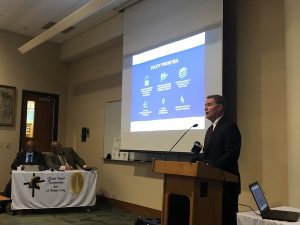 Hogsett's answer drew criticism from black community leaders, who have grown frustrated with what they see as a lack of progress to improve conditions for black residents. In some cases, such as the poverty rate, the situation has actually worsened for black individuals in Marion County this decade.
When asked again in September about having a black agenda, Hogsett told IBJ his overall agenda is inclusive and beneficial for minorities, so he didn't need a specific black agenda.
"My agenda is an African-American agenda, but it's an agenda for all of Indianapolis, as well," Hogsett said at the time. "That's my philosophy, and if that's unacceptable to people, then I'm sorry for that."
Hogsett seems to have changed his opinion, though. As he started his presentation on Monday in front of the Concerned Clergy of Indianapolis and the Baptist Ministers Alliance—two of multiple organizations that have called on the mayoral candidates to focus on issues in the black community—he said the city should have a specific black agenda.
"Before I begin, I'd like to take a moment to address something that I know has been on the minds of many in this room—the question of whether I believe our city needs a black agenda," Hogsett said. "Let me be clear so that there's no confusion. Indianapolis and its elected leadership should absolutely have an agenda to lift up communities of color, generally, and our African-American community specifically."
He also apologized "to anyone who I have offended" about his initial responses when asked about having a black agenda and said he—along with anyone running for mayor of Indianapolis—does need support from the black community.
Hogsett's agenda that he shared Monday focused on education, economic opportunity, affordable housing, access to food and criminal justice reform.
"This is not an agenda of awareness," Hogsett said. "It is an agenda of action."
Hogsett talked about his recently announced changes to how the city will award incentives to companies and mentioned the ongoing disparity study that is analyzing the way the city contracts with minority-owned businesses.
He also added that his administration plans to review existing entrepreneur lending programs so there are loans and incentives aimed at supporting minority-owned businesses.
"Many would argue the Indianapolis economy has never been better," Hogsett said. "But the success of the last decade has not lifted all boats, not by a long shot."
On education, Hogsett said in the spring he plans to create a community advisory council that will assist in the charter school application review process and will host a recruitment event to connect minority leaders with charter school board openings.
With housing issues, Hogsett said his administration is working with developers to include permanent affordable options into new buildings and is creating an eviction-prevention fund to provide financial and legal assistance to tenants.
And, on criminal justice reform, Hogsett talked about how the 2020 city budget includes $1.2 million for police body cameras.
Hogsett's presentation seemed to be accepted by some black leaders, but others questioned whether he will follow through, and still others said they would have liked to have seen more specific ideas.
"I think he's heard from our community in terms of pushing to go in the right direction," David Greene, pastor at Purpose of Life Ministries and president of the Concerned Clergy of Indianapolis, said. "But he still has a lot of details missing on how he's going to do some of these things."
One specific worry Greene has is how it will be determined which inmates at the future Community Justice Campus are referred to the mental health and addiction-treatment center as opposed to spending time in jail. The fear from black leaders is that white inmates will disproportionately receive mental health services while black inmates will remain in jail cells.
Wayne Moore, senior pastor of Olivet Missionary Baptist and president of the Baptist Ministers Alliance, expressed concerns about how Hogsett prepared the agenda he presented and criticized Hogsett for not involving the black community sooner.
"No doubt the elephant for me in the room is this is Mayor Joe Hogsett's agenda for the African-American community," Moore said. "When you do agendas for the community, the community ought to be at the table."
Hogsett said he believes he has been a mayor that's listened to not just the black community, but all the different communities in the city.
"I don't want to ever be the leader of our city who believes I know what is best for everybody," Hogsett said.
Issues facing black residents will be the main subject at a mayoral forum Monday night that both Hogsett and Merritt have agreed to participate in. The event, hosted by the African-American Coalition of Indianapolis, starts at 6 p.m. at Arsenal Technical High School in the main auditorium.
"I want to hear them directly and see where they are on some of these things," Greene said. "I'd like to hear some more meat and substance. It's one thing to say, 'it's going to be better,' but tell us how we're going to make sure it gets better."
Please enable JavaScript to view this content.