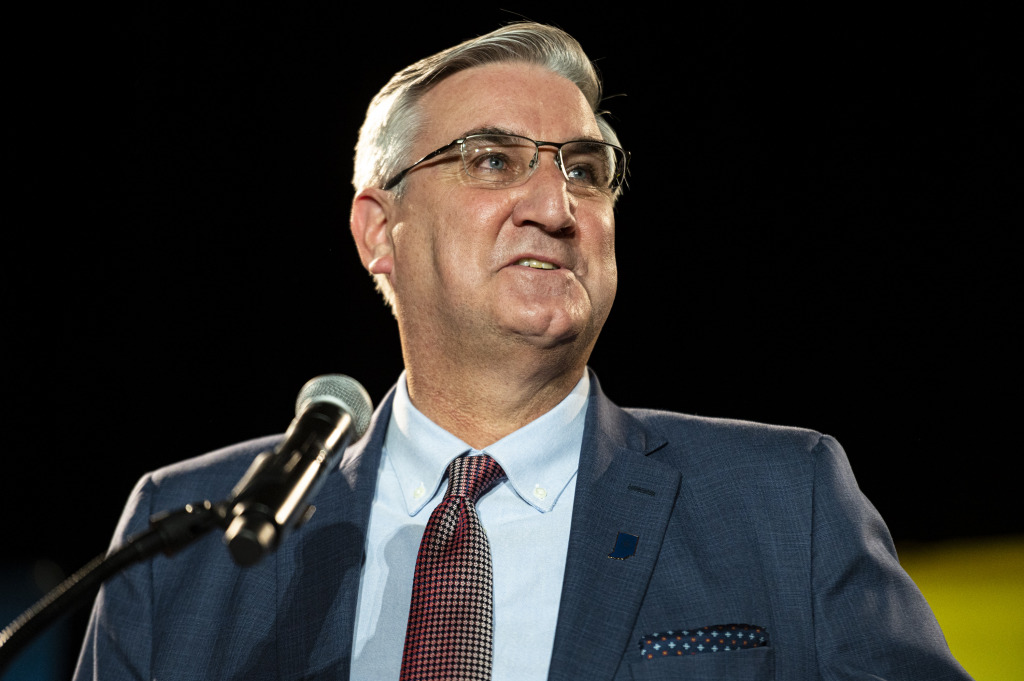 Indiana Gov. Eric Holcomb on Wednesday afternoon said he was not planning to impose new restrictions or move the state back to a prior stage of its pandemic recovery plan. The announcement came amid growing rumors that he planned to do so because of record COVID-19 cases and hospitalizations in the state.
At the beginning of his weekly press briefing, Holcomb addressed a rumor that he would be returning the state to Stage 1—which involved the stay-at-home orders and the most restrictions—and that he would mandate schools operate on a completely virtual basis.
"No truth to that whatsoever," Holcomb said.
Holcomb, a Republican, won his reelection bid Tuesday night over Democratic challenger Woody Myers and Libertarian candidate Donald Rainwater.
In the days leading up to the election, some believed Holcomb would reverse course after securing a second term. Holcomb moved the state to Stage 5, which has essentially no restrictions other than a mask mandate without penalties, in late September.
Since then, positive COVID-19 case numbers, deaths and hospitalizations have gone up.
Holcomb said the rumors are "not helpful" and "counter-productive."
"We don't want Hoosiers to be misled," Holcomb said.
During the campaign, Rainwater criticized Holcomb for imposing any restrictions on the state, while Myers argued that Holcomb needed to be doing more to contain the spread of the virus.
Holcomb said on Wednesday that the election has not affected his decision-making process.
"We're making decisions based on the common good," Holcomb said. "It has zero to do with political capital or election results with me."
Holcomb said he didn't feel statewide restrictions would be effective and preferred to take a more localized approach when outbreaks occur in different regions. He said he would only consider broader restrictions if the state began seeing major issues with its "capacity to care."
The Indiana State Department of Health on Wednesday reported 3,756 new COVID-19 cases, an all-time high in the department's daily report. Hospitalizations due to COVID-19 rose from 1,867 on Monday to an all-time high of 1,897 on Tuesday.
COVID-19 deaths have reached or topped 25 for nine straight days and have been in double digits 27 times over the past 29 days.
The department said the seven-day moving average for cases reached another all-time high of 3,245.
The state's health commissioner, Dr. Kristina Box, said Wednesday that the biggest challenge for the state right now is "having enough staffing"to deal with the pandemic. "The greatest strain, perhaps, is on our hospital workforce, which has been dealing with this for nine months. And frankly, they're exhausted."
Box urged people to volunteer through SERV-IN, a statewide electronic registration system of medical and non-medical volunteers.
Please enable JavaScript to view this content.