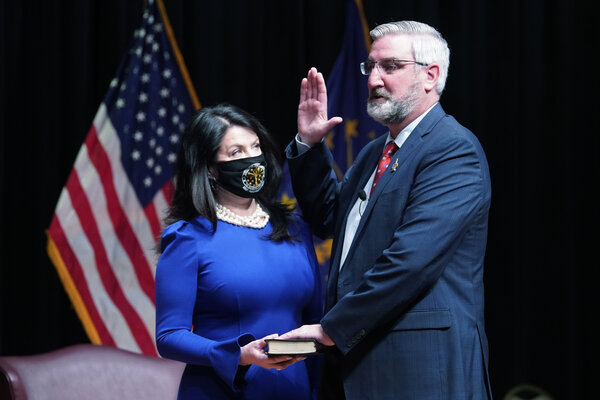 Indiana Gov. Eric Holcomb has been sworn in to a second term in office that will be dominated, at least for now, with coordinating the roll out of a vaccine to fight COVID-19. But the Republican said he's looking ahead to an economic recovery.
Holcomb, along with Lt. Gov. Suzanne Crouch and Attorney General Todd Rokita, took the oath of office in a small private ceremony Monday morning at the Indiana State Museum. The state limited the crowd to  family members and other top elected officials as a COVID-19 precaution. Attendees at the ceremony wore masks.
During brief remarks, Holcomb talked about how he's preparing for Indiana's future, even though his administration is still committed to fighting the COVID-19 pandemic.
Holcomb compared the situation to what leaders faced during the Civil War, when even though the country was "tearing itself apart," railroads were still being constructed, and in the 1960s, when despite the Vietnam War, Americans were developing tools for the information age, expanding rights for women and people of color, and traveling to the moon.
Holcomb said the pandemic has caused many trends, such as online shopping, telemedicine and TV streaming services, to move forward even faster than expected, but Indiana is prepared to weather those economic changes because of its stable business environment.
"I will not ever minimize the challenges that we still face emerging from this pandemic—sustaining our recovery, continuing to strengthen our state and extending opportunity to all Hoosiers," Holcomb said. "That is the work before us, for sure, but I remain convinced that for Indiana, the future is in fact now, and I will work every day to make that future a reality for all of us."
Voters reelected Holcomb to a second term in November. He earned more than 56% of the vote over Democratic candidate Woody Myers and Libertarian candidate Donald Rainwater.
"It's important to now look to the future," Holcomb said.
Rokita, who replaces outgoing GOP Attorney General Curtis Hill, also spoke during the event and emphasized his desire to protect liberty and individual freedoms for Hoosiers.
"We will do it because order, liberty and individualism are the very foundation of our nation," Rokita said. "Without them, and the responsibilities that go with them, we cease to be the United States of America, because liberty and justice for all is the very heart of our republic."
Rokita specifically mentioned his intent to defend the right for Hoosiers to peacefully assemble, go to church and conduct business. Earlier in the pandemic, some of Holcomb's executive orders required churches and businesses to temporarily close, frustrating some conservatives in the state.
Rokita also talked about his plan to "stand with law enforcement," protect the Second Amendment and defend the right to life.
Rokita previously served as Indiana secretary of state and a congressman for Indiana's 4th District. He defeated Hill for the GOP nomination at the party's convention in the summer and Democratic candidate Jonathan Weinzapfel in the general election.
The terms for governor, lieutenant governor and attorney general are four years.
Please enable JavaScript to view this content.