Apria Inc., an Indianapolis-based provider of oxygen kits, sleep-apnea masks and other home-health equipment, has agreed to be bought by global health care products distributor Owens & Minor Inc. of Richmond, Virginia, for about $1.6 billion, the two companies announced Monday morning.
The deal is worth $37.50 a share, a 26% premium to Apria's closing price on Friday. Shares of Apria jumped about 25% Monday in pre-trading activity on the news. The deal includes the assumption of about $150 million in debt.
It's unclear what the deal will mean to Apria's local presence. The company moved its headquarters to Indianapolis from the Los Angeles area just about a year ago, and went public in February. About 50 people work here.
Owens & Minor, a supplier of medical and surgical products, did not say what it plans to do with Apria's local operations. In an email to IBJ, Apria called the combination "an exciting milestone" but did not say what would happen to the Indianapoliis operations after the deal closes.
"Apria remains focused on serving its patients and leading change in the durable medical equipment industry," the email said. "Until the transaction closes, Apria and Owens & Minor remain separate and independent companies and will continue to operate as such. Apria employees will not be asked to make any changes to their work location at this time."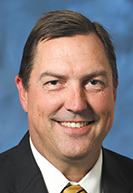 The deal will combine Owens & Minor's product lines in diabetes, ostomy, incontinence and wound care with Apria's product portfolio in home respiratory, obstructive sleep apnea and negative pressure wound therapy, Apria has been riding a wave of strong demand for its oxygen products, due to the chronic nature of asthma and other respiratory diseases.
Owens & Minor said the acquisition positions it to broaden its product portfolio "to better serve patients across the entire patient journey."
Apria CEO Dan Starck, who has led the company since 2015, will join Owens & Minor in an unspecified leadership role.
"I am energized and enthusiastic to join Owens & Minor," Starck said in written remarks. "Both companies share cultures fueled by a commitment to customers, patients, teammates and the communities we serve. We look forward to joining together and delivering the highest quality health care solutions to our customers."
Apria is not a consumer-products company, and its brand is not well-known outside of health care circles. Its Indianapolis headquarters is behind a car wash, a grocery store and a self-storage lot off of Interstate 65, near the intersection of Emerson Avenue and Southport Road. It has about 6,000 employees and hundreds of locations around the country.
Before going public last year, Apria was owned by Blackstone Group, a New York investment company, which bought it for $1.6 billion in 2008 and took it private. Blackstone remains one of the largest holders of Apria stock.
Owens & Minor rang up sales of $2.5 billion in the first nine months of 2021, making it far larger than Apria, which had sales of $676 million during the same time.
Please enable JavaScript to view this content.