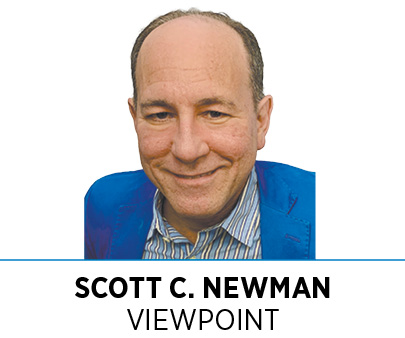 I am a Republican—have been for a long time. Indianapolis-area citizens of a certain age—who might remember what I said, did, and stood for as Marion County prosecutor and later as Mayor Ballard's first director of public safety—know I'm not likely to be mistaken for a "softie."
Despite my 34-year pedigree as a steadfast Indiana Republican, I'm not proud of my GOP affiliation as we approach this election. It bothers me that I feel this way about our presidential candidate, and it bothers me even more that most Hoosier Republicans remain silent. We know better!
In the last election, those of us who held our noses and experimented with a hoped-for change-agent in Donald Trump made a grievous error. We need to admit it and take responsibility for removing this disgrace from the national scene.
Let's face it. A vote for Trump is a vote for a man we suspected four years ago would not be worthy of our trust. The only difference now is that we know for certain that Trump is not worthy of our trust. We cannot plead ignorance.
A vote for Trump is an act of complicity, a vote to force-feed this country a giant everlasting-gobstopper of thoughtlessness, autocratic rule, inattention to global threats from notorious enemies, craven kowtowing to the most contemptible world dictators, utter failure to provide the most fundamental protections owed to our citizens regarding their health, and contempt for our Constitution's mechanisms for protecting all of us from government overreach.
It is time to get back to what makes our country worthy of the world's respect: freedom, justice, fairness, compassion, hard work and optimism—a reassuring pillar of strength to the world, not a laughingstock.
The first term of Trump's hostile occupation of the presidency has gone a long way toward destabilizing our uniquely blessed and balanced constitutional democracy. And Republicans have, for the most part, gone along quietly. Even the appearance of engagement on real issues in this election has never materialized. Republicans actually convened something called a "convention," but voted not to tell the public what they stood for—meaning the only "issue" voters can reliably consider is, "What will [or won't] make this Trump guy angry?"
The first Republican president, Abraham Lincoln, knew that our democracy, by design, is fragile. Allow the government's limited grant of power from its citizens to be placed at the mercy of a grasping self-absorbed individual careening from one self-made crisis to the next, and you are well on your way to trying on your own shackles.
As bad as Trump's first term was, I really start to revisit my lunch when I hear him and his newest clutch of enablers promising that "the best is yet to come."
"The best," you say? "The best" is putting aside excuses and exercising our right to replace him with a leader worthier of support.
As I write this piece into the night, the date has changed to the same September date in 1858 when Senate candidate Abe Lincoln told a crowd in Edwardsville, Illinois, that they must never stop prizing and stoutly defending liberty: "Our defense is in the preservation of the spirit which prizes liberty as the heritage of all men, in all lands, everywhere." Allow yourself and others "to trample on the rights of those around you," he predicted, and "become the fit subjects of the first cunning tyrant who rises."
We know just such a man. He is cunning, he is rising, and for now he is us. Let's summon our inner strength, reaffirm the values of our founder, and restore our democracy while we still can.•
__________
Newman is a former Marion County prosecutor.
Please enable JavaScript to view this content.