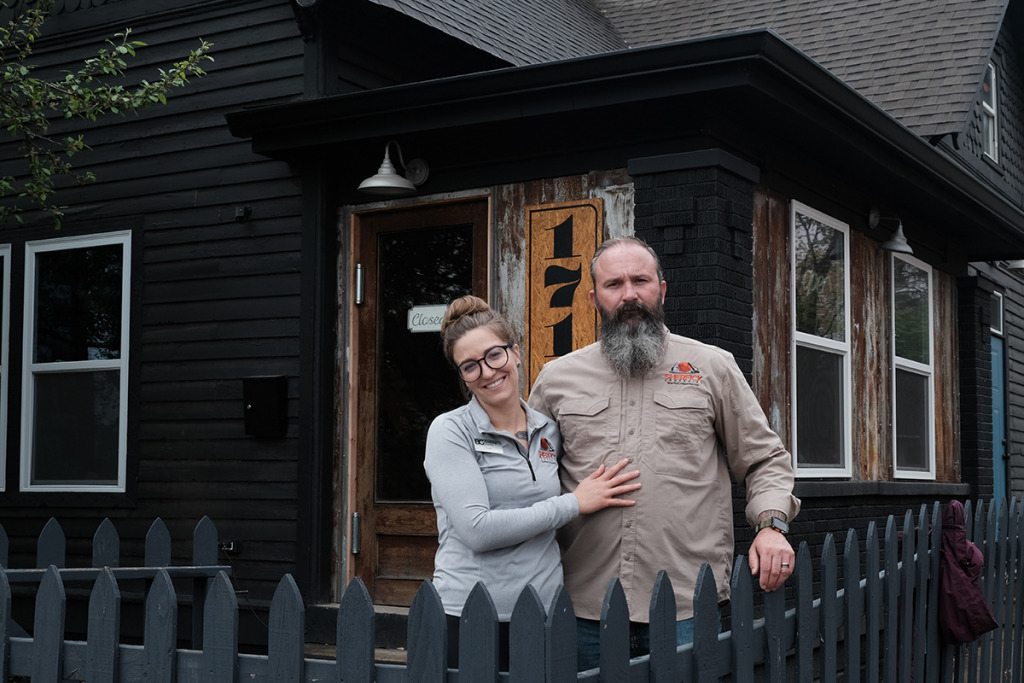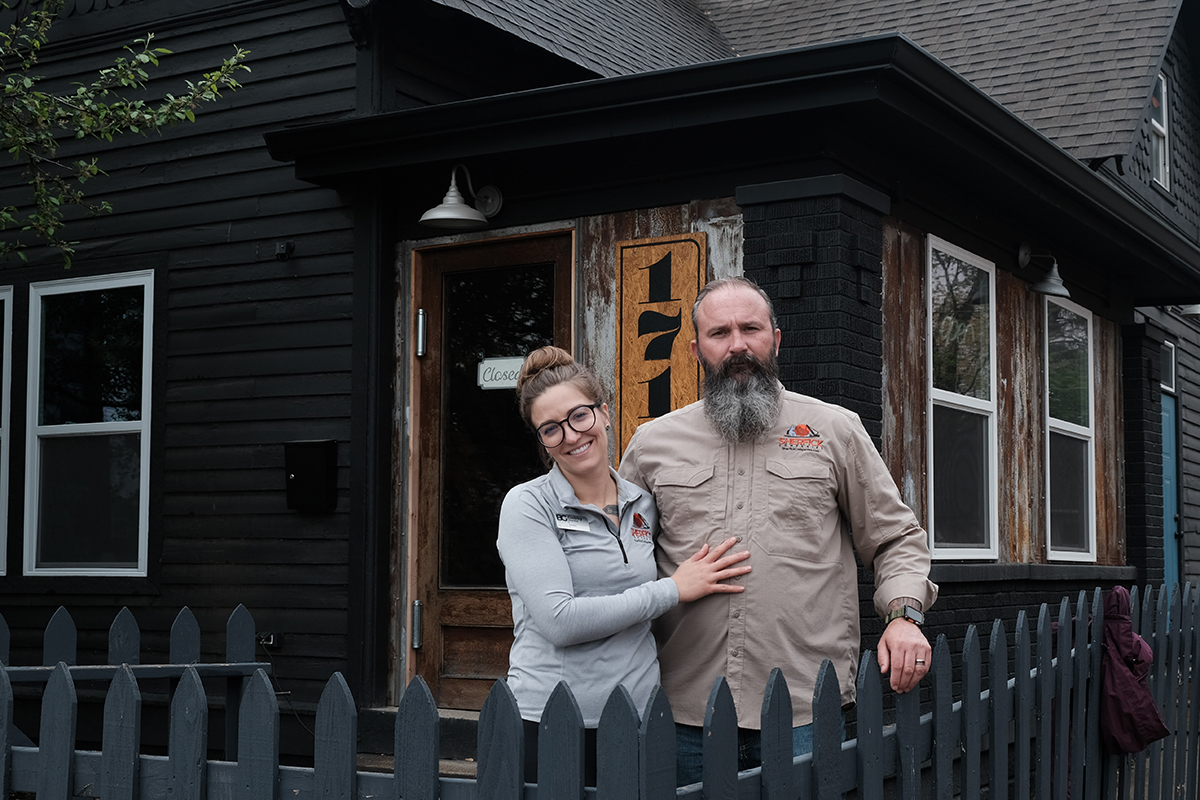 The Bates-Hendricks neighborhood just south of downtown has been one of the city's emerging residential hot spots the past several years—and commercial developers are taking notice.
In a three-block stretch of East Street, a key neighborhood thoroughfare, six different properties are being rehabbed for a mix of uses, including restaurants, salons, professional offices and Airbnb rentals. Two other enterprises, a hair salon and a coworking space, have also opened along East Street since the beginning of the year.
The projects promise to transform a stretch where, until recently, vacant and neglected buildings dominated. They'll also add to the commercial offerings in a neighborhood that doesn't yet have many businesses, even though the neighborhood is peppered with rehabbed homes—some priced at $400,000 and up.
As an example: There are only four restaurants in the entire neighborhood, whose footprint stretches from Madison Avenue to the west, Interstate 65 to the east, Interstate 70 to the north and nearly to Raymond Street to the south.
"It's incredible the amount of turnaround that has happened with the houses in the neighborhood," said Kris Bashenow, who, along with her husband, Greg, is redeveloping two East Street properties. "There's just a huge demand for commercial [development] there."
Kris Bashenow is a real estate agent with F.C. Tucker Co., as well as an Airbnb operator and real estate investor. The couple purchased neighboring homes at 1610 and 1614 S. East St. last year and is in the process of rehabbing them for use as Airbnb properties geared toward bridal parties and special events. The 1614 address is being decorated in a jungle theme meant to appeal to groomsmen and should be complete in a few weeks, while the 1610 address will be bridal-focused and should be complete in a few months, she said.
The Bashenows, who live in the Butler-Tarkington neighborhood, north of West 38th Street and Michigan Road, were already familiar with Bates-Hendricks through other property they own there.
So, of course, is Indianapolis-based real estate developer Two Chicks and a Hammer Inc., which is building a new headquarters on a formerly vacant lot at 1628 S. East St.
Two Chicks, whose housing rehab work is featured on the HGTV show "Good Bones," has done numerous residential projects in and near Bates-Hendricks. The company also opened Two Chicks District Co., a home-goods shop and bistro, last summer at 1531 S. East St.
Two Chicks owner Mina Starsiak, who founded the company with her mother, Karen Laine, said the company hopes to be in the new building by October. Its offices are currently at the Stutz Business Center, 1060 N. Capitol Ave.
The neighborhood's growth has also attracted new investors.
Story continues below map.
Local developer Keith Wiggins, of Indianapolis-based property management firm Reid Properties LLC, said he got interested in the neighborhood after some of his residential tenants moved out of his properties to purchase homes in Bates-Hendricks.
"We feel quite optimistic that that area is growing and should be a nice little area," Wiggins said.
Last summer, he and his wife, Myrian, purchased the former Moore's Market building at 1710 S. East St. from Southeast Neighborhood Development. Wiggins said he's working to secure permits for the renovations, which will transform the formerly vacant 7,400-square-foot building into a mixed-use space. Once construction begins, work should take six to nine months, Wiggins said.
Current plans call for two commercial spaces on the ground floor, with two high-end loft apartments upstairs. Wiggins said a deli-style restaurant would be a good fit for one of the spaces, though he hasn't yet begun recruiting tenants.
Other newcomers to the neighborhood are real estate investors Roger Lee and Steve Flanagan, who purchased 1540 S. East St. in January 2020 for $105,000. The commercial property sits at the northwest corner of East and Lincoln streets, a commercial corner in the heart of Bates-Hendricks.
"It was too attractive to pass up," said Lee, who has done a number of residential projects with Flanagan elsewhere in Indianapolis. This is the pair's first commercial project.
The two later added Mike and Gabby Sherfick of Noblesville as co-owners. Now, Lee, Flanagan and the Sherficks are all equal owners of the building. A chiropractor and a salon are set to open in the space shortly, and the building's third tenant space is being marketed for a restaurant.
Through their real estate and development company, Sherfick Cos., the Sherficks have been active in Bates-Hendricks since 2016. Mike is a developer, and Gabby is a real estate agent. The two have purchased, rehabbed and sold several homes in the neighborhood. In addition to the 1540 S. East St. project, they're also working on another commercial project a block south, at 1632/1634 S. East St. This project will house a hair salon called Bang (A Salon) and a pizzeria that's yet to be named, Mike Sherfick said.
All told, the Sherficks have invested just over $2 million in development projects around Bates-Hendricks and currently own several properties there.
"We've got a pretty large investment here, when you add it all up," Mike Sherfick said.
Lee said he and Flanagan wanted to work with the Sherficks because of their vision to create a walkable community in Bates-Hendricks. "I really respect what the Sherficks have done."
Bates-Hendricks residents say they see a couple of reasons why commercial development has gained traction in the neighborhood.
For one thing, the neighborhood association has been courting commercial development for several years—keeping tabs on vacant commercial properties, acting as matchmakers between property owners and developers, and advocating for the types of development they think would benefit the area.
Now, those efforts are beginning to gain momentum.
"We're just flying by the seat of our pants sometimes, making it work," said Bates-Hendricks Neighborhood Association President Matt Nunley.
Another factor, said association member Brandon Mott, is the neighborhood's strong support of existing businesses.
As an example, he cites 1718, a bar and restaurant that opened in late 2019 at 1718 S. East St. Even through the pandemic, Mott said, neighbors patronized the restaurant and helped keep it afloat—a strong signal to other would-be business owners.
Mott is executive director of Dathouse, a faith-based organization that owns Lincoln Center, a commercial space at the northeast corner of East and Lincoln. The building houses Lincoln Lane Coffee Co., which opened in 2016, along with a small public laundry and community gathering space. A coworking facility, The Loft, opened on the second floor in March.
One concern, Mott said, is how to retain Bates-Hendricks' mixed-income character by not pricing out longtime residents as the neighborhood continues to develop.
"It is a tough balancing act," he said. "I can't say that I think we're doing a great job of it, but we are mindful of it."
Though young families are snapping up homes priced at $300,000, $400,000 and up, the neighborhood also has many neglected rental homes. According to data from the Polis Center at IUPUI, the median household income in Bates-Hendricks in 2018 was $32,152. That's up dramatically from $24,969 in 2016, but still far below the average 2018 household income for both Marion County ($46,692) and the greater metro area ($59,232).
And the neighborhood is still working to attract a grocery store and a child-care center, two types of development that residents have consistently identified as top priorities.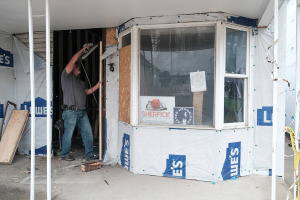 The challenge with a grocery store in particular, Mott said, is that the grocers typically want larger spaces than are available in Bates-Hendricks. "It's just a riddle that hasn't been solved yet."
Another challenge is how to improve walkability along East Street, a busy thoroughfare where residents say speeding is commonplace. The neighborhood has a vision of eliminating on-street parking along the east side of East Street to create a pedestrian and bike path.
The neighborhood association has had this project in mind for years, but the effort is still in its early stages and has so far raised only half of the $9,000 needed to complete initial design work.
In the meantime, commercial developers say they see great potential for Bates-Hendricks to continue to evolve over the next decade or so.
"Bates-Hendricks is one of the last few neighborhoods [in Indianapolis] where you've got good traction and you've got good inventory to work with," Lee said. "We're going to keep investing in that pocket."•
Please enable JavaScript to view this content.