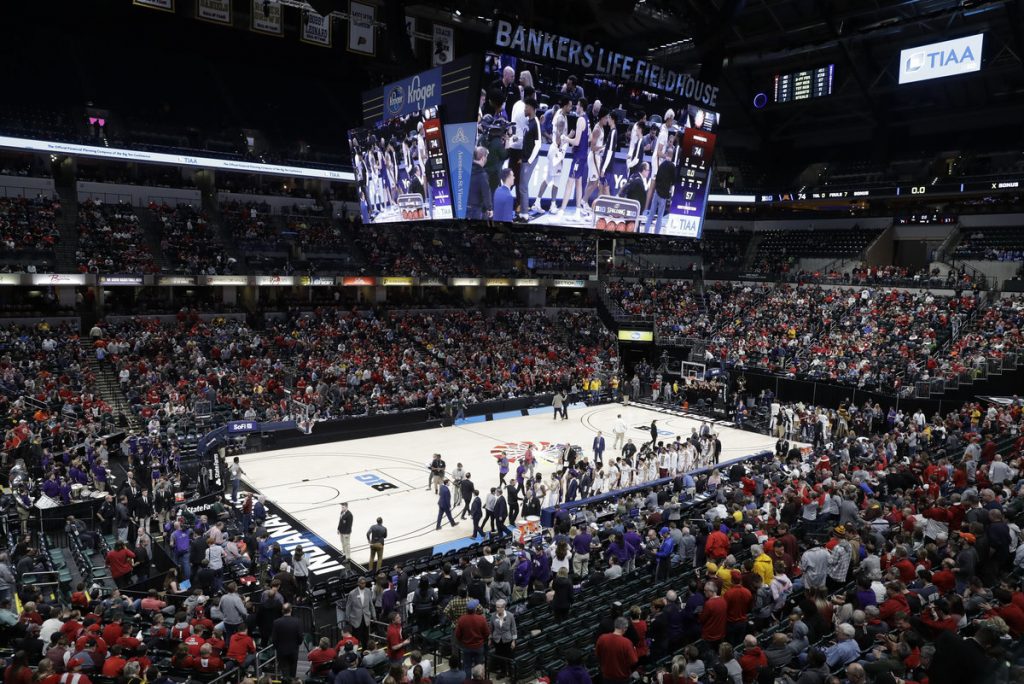 Downtown Indianapolis businesses will lose out on tens of millions of dollars in revenue over the coming weeks, following decisions by the Big Ten conference and the NCAA to ban fans at their post-season tournaments.
In addition, Plainfield-based Capitol Sports Center has canceled its Nike Mid-East Qualifier, a volleyball tournament that was expected to draw 38,000 people—including young athletes and their families—to the Indiana Convention Center, Lucas Oil Stadium and the Incrediplex sports center northeast of Lawerence from March 20-22.
"I would imagine this is going to be bad for business," said Scott Bennett, manager at Loughmiller's Pub & Eatery, located blocks from Lucas Oil Stadium, where the NCAA Division I men's basketball tournament's Midwest Regional is scheduled to take place on March 26 and 28.
"We were planning on a bunch of people coming to town," Bennett said. "And I imagine they're not going to be coming now."
In fact, the NCAA event was expected to draw some 42,000 people to the city. Another 18,000 fans were expected to attend the Big Ten men's basketball tournament at Bankers Life Fieldhouse this week. That tournament started Wednesday, with fans at the first two two games, but will be played without crowds Thursday through Sunday.
The groups separately decided Wednesday they would close the events to the public as the outbreak of COVID-19, a disease caused by a novel coronavirus, worsens throughout the United States. The Indiana Sports Corp. said Wednesday night that it will cancel events associated with the Big Ten tourney.
The moves are a blow to downtown hotels, restaurants and bars that count on large sporting events and big conventions to boost their bottom lines.
Jim Dora Jr., president of Indianapolis-based General Hotels Corp., which manages multiple local hotels including the Crowne Plaza at Union Station, said the loss of business in the coming weeks will be a blow to his and other hotels.
"I'm very concerned," he said. "I don't know how, as a city, we dig ourselves out of that hole."
Dora said he hasn't yet seen figures for how many guests will cancel or alter their reservations because of the Big Ten and NCAA decisions, but he said it's sure to be in the thousands.
Officials with the Big Ten and the Indianapolis-based NCAA said they made the decisions to protect the public and student-athletes. And the moves are in line with their member colleges, many of which have canceled in-person classes in favor of online instruction.
The NCAA was expected to generate about $20 million in revenue for local businesses, including hotels and restaurants, according to Visit Indy. The Big Ten men's and women's tournaments were expected to generate a combined $15 million.
The Big 10 women's tournament—which draws significantly fewer fans than the men's tournament—took place last week.
The volleyball event was canceled "due to the current health scare throughout the nation," following discussions between Capitol Sports, governing body USA Volleyball, local and state health departments and the Indiana Convention Center, according to a brief statement on
the Capitol Sports' website
.
The tournament—which would have helped determine the national championship bracket for USA Volleyball—was expected to generate $24.8 million in economic impact.
The moves are the latest economic hits to have resulted from the spread of the virus, which as of Wednesday night had infected more than 1,300 Americans and killed at least 38. More than 126,000 people around the world have contracted the disease and nearly 4,600 people have died.
To try to stem the impact of the illness, companies and organizations have canceled meetings and conferences, asked employees to work remotely and restricted travel. Local groups are canceling events across the region.
Dora said the moves—particularly by the sports associations—will leave hotels with massive holes in their calendars that cannot be refilled.
"My biggest concern is for my associates and for the associates in every business, restaurant, hotel in the area—the entire supply chain is basically all going to come to a stop right now," Dora said.
Patrick Tamm, president of the Indiana Restaurant and Lodging Association, told IBJ that the virus already has hurt local businesses, including restaurants, hotels, event venues and caterers.
"Clearly there's a widespread impact," he said, noting that several small events had been cancelled or postponed in recent days, and that more of the same was expected. "People are saying things are going to get worse before they get better, so we'll see," he said.
The volleyball tournament, the NCAA regional and Big Ten tournaments are the second, third- and fourth-largest events, respectively, on the city's convention and event calendar over the next two months, based on economic impact.
The most impactful event through the end of April is the FDIC International convention, which is expected to generate $34.6 million. It has not been canceled or postponed.
The American Coatings Show, originally scheduled for March 31 to April 2, has been postponed to later this year. It's expected to bring about 9,500 visitors and create an economic impact of about $7.9 million.
In written remarks that did not directly address the decisions by the NCAA and Big Ten—or any other group—Visit Indy Vice President Chris Gahl said the tourism agency's priority is "the health and safety" of the city's 83,000 hospitality workers and nearly 30 million annual visitors.
"As with other major cities across the U.S, we know we aren't immune from this issue," Gahl said.
The NCAA and Big Ten decisions came despite the fact that neither the Marion County Public Health Department nor the Indiana State Department of Health has advised the public to avoid large events to contain the virus. So far, 10 people have tested positive in Indiana.
However health officials in other states have advised against such gatherings. And health advocates have encouraged sports organizations to cancel or suspend games altogether—as the NBA has done. But the NCAA said it did not want to deny students the opportunity to compete.
"This decision is in the best interest of public health, including that of coaches, administrators, fans and, most importantly, our student-athletes," NCAA President Mark Emmert said in written comments. "We recognize the opportunity to compete in an NCAA national championship is an experience of a lifetime for the students and their families.
"Today, we will move forward and conduct championships consistent with the current information and will continue to monitor and make adjustments as needed," he said.
A spokesperson for the Indiana Convention Center and Lucas Oil Stadium did not immediately respond to a request for comment.
"It's a difficult situation," said Mike Wells, president of local hospitality firm REI Real Estate, speaking about the Big Ten's and NCAA's decisions to keep fans out of games in Indianapolis.
"They're damned if they do and damned if they don't," he said.
Please enable JavaScript to view this content.