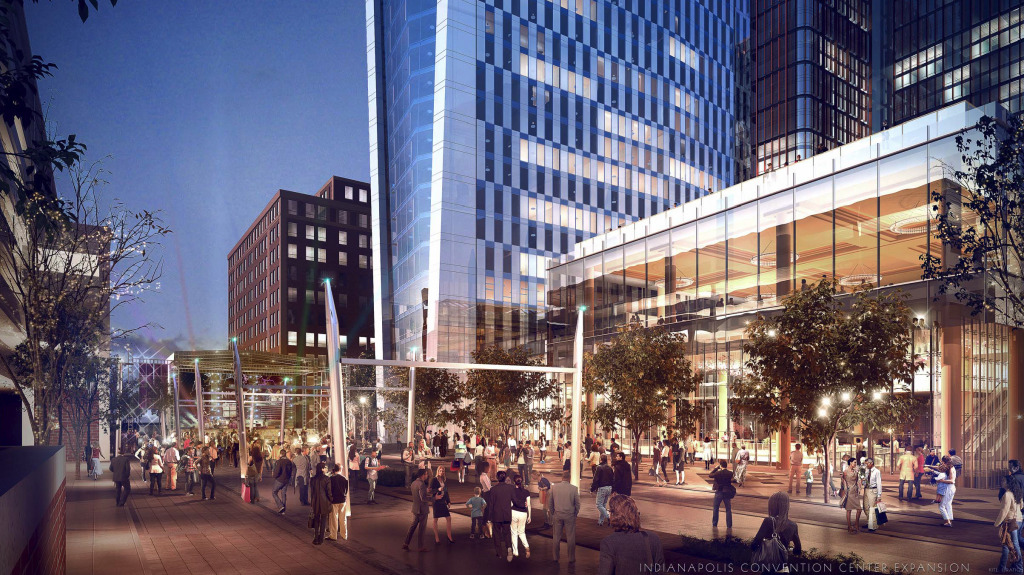 Kite Realty Group Trust's plan to build two hotels with 1,400 rooms at Pan Am Plaza is expected to create 600 full-time jobs paying at least $14 an hour plus benefits.
That would be the highest minimum wage for hotel jobs in city history, Kite and city officials told IBJ.
The project, which includes plans for a $125 million expansion of the Indiana Convention Center at the site, would also create 2,500 construction jobs before completion in 2025.
And Kite has committed to meeting the city's minority contracting goals for the project. The city's standard goal for city-financed projects is to have 27% of contracts go to minority-owned businesses according to the following formula: 15% to certain disadvantaged racial minorities, 8% to women-owned firms, 3% to veteran-owned firms and 1% to disabled-owned firms.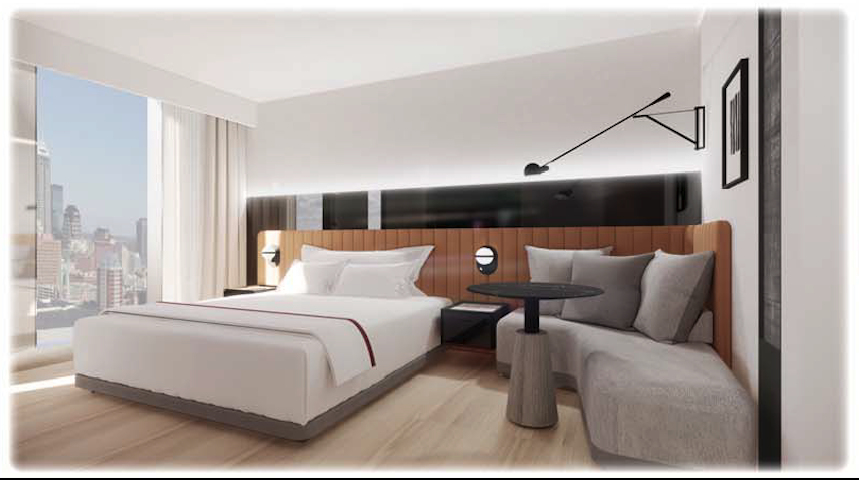 Altogether, the projects are expected to cost as much as $550 million to construct, meaning minority-owned businesses should capture at least $148.5 million of work.
For comparison, the $575 million criminal justice center complex has seen $162 million in contract dollars be committed to minority-owned businesses.
The hotel workers would be hired by Hilton, which will operate both hotels. The Signia, a high-end 800-room hotel, would create 400 jobs. Another 200 jobs would be created by the second hotel, which won't be constructed for several years and will come as a second phase.
Tom McGowan, president and chief operating officer of Kite Realty Group, noted that for two years in a row, Hilton has been named the No. 1 company to work for in the United States and has been named the No. 1 workplace for diversity by Fortune magazine.
"When we come out with this project, we want to come out with something that's never been done in this market," McGowan said.
The $14 minimum wage is lower than the $18-an-hour wage Develop Indy wants to see for companies requesting tax abatements, but it is higher than the minimum wage of $13 an hour for city workers.
Kite won't receive any city subsidies to build the hotels.
Thomas Cook, chief of staff to Mayor Joe Hogsett, said the City-County Council, when approving various projects or project agreements, has for years expected hotels to pay a minimum wage of about $12 an hour. The city's partnership with Kite offers an opportunity to increase that.
"It was our intention in this project to use it as an opportunity to set a new mark," Cook said. "That is important for a variety of reasons, not the least of which being the mayor's and the council's focus on inclusive economic growth and, frankly, viewing the hospitality industry as a great example of a trade with upward mobility."
Cook said the wage floor for the pair of hotels is "absolutely" going to affect wages at other downtown hotels.
"That rising tide, we believe, will lift a lot of boats," he said.
Please enable JavaScript to view this content.