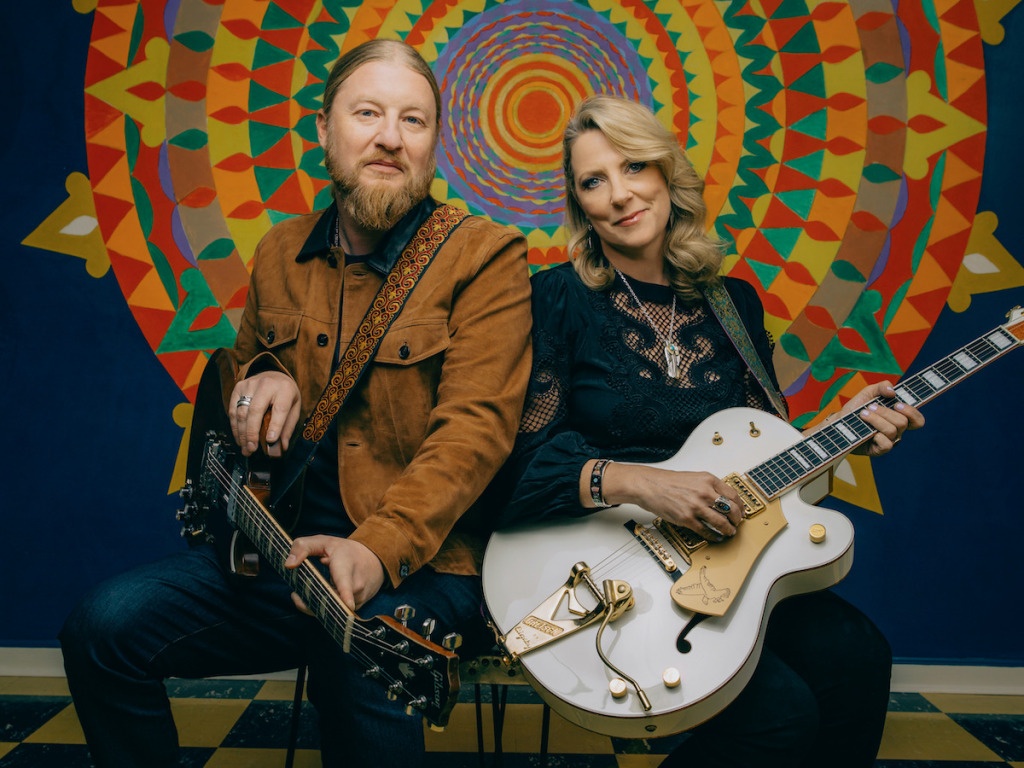 The members of the Tedeschi Trucks Band did more than stay in touch during pandemic lockdown.
Mike Mattison, a vocalist in the 12-member group, contacted his band mates and proposed something akin to a homework assignment while the Florida-based musicians weren't able to travel from city to city playing shows during parts of 2020 and 2021.
The idea: Read a 12th-century story, "Layla and Majnun," written by Persian poet Nizami Ganjavi, and try to write songs from the perspective of different characters in the tale of a young woman and man who fall in love but are prevented from being together by Layla's parents.
To make a long story short, vocalist-guitarist Susan Tedeschi, guitarist Derek Trucks and other members of the band liked the idea and wrote and recorded a four-album series titled "I Am the Moon." The first release in the series, billed as "Crescent," arrived on June 3. The second release, "Ascension," will arrive on July 1, three days after the Tedeschi Trucks Band performs at TCU Amphitheater at White River State Park.
But why choose brevity when the topic is four albums made during the glacial pace of lockdown?
Tedeschi said "I Am the Moon" likely wouldn't have been made without the restrictions of stay-at-home orders.
"We normally don't have this kind of time to conceptualize an album, or to think about having this much time to write and to record it and do all that," she said during a phone interview. "Normally, we're on the road every year. It's not something we can just work into the schedule."
She also said it wasn't surprising that Mattison, who studied English and American literature at Harvard University, suggested the writing prompt.
"Layla and Majnun" already had a rock 'n' roll history, serving as partial inspiration for Eric Clapton's song "Layla." Clapton and co-songwriter Jim Gordon composed "Layla" for the 1971 album "Layla and Other Assorted Love Songs" credited to Derek and the Dominos.
Trucks has a connection to "Layla and Other Assorted Love Songs" because guitarist Duane Allman of the Allman Brothers Band made a guest appearance on 11 of the album's 14 songs. Trucks is the nephew of late ABB drummer Butch Trucks, and Derek joined the Allman Brothers Band in 1999—or 28 years after the death of Duane Allman.
In 2019, the Tedeschi Trucks Band and Phish guitarist Trey Anastasio joined forces at Virginia's Lockn' music festival to perform "Layla and Other Assorted Love Songs" in its entirety.
Although Clapton's "Layla" represents Majnun's anguish of being apart from Layla, the Tedeschi Trucks Band's "I Am the Moon" offers the imagined perspective of Layla and other characters.
Tedeschi said she was impressed by vocalist-keyboard player Gabe Dixon's ability to channel a woman's point of view on the title track of "I Am the Moon," one of five songs that appear on the "Crescent" release.
"It's really cool to see that you can open yourself up and think from different points of view," said Tedeschi, who sings "I Am the Moon" as a duet with Dixon. "I love where he took the song. It was one of those songs that actually got me through the pandemic. I Ioved playing it and singing it all the time."
Trucks, who is married to Tedeschi and is widely considered to be one of the best guitarists in the world, unfurls his talents on "Pasaquan," a 12-minute instrumental that closes "Crescent."
Tedeschi said she hears in "Pasaquan" the influence of the Allman Brothers Band's "Mountain Jam," which routinely stretched to longer than 30 minutes in concert. In the Tedeschi Trucks Band, Trucks explores instrumental pathways with drummers Tyler Greenwell and Isaac Early, keyboard player Dixon and bass player Brandon Boone.
"You have a theme, and then they improv off of that," Tedeschi said. "Then they come back to the theme. It's sort of like a jazz song, where you will have a head and then they'll go somewhere. But as a unit together, they can turn on a dime and then come back. Each day we would record, they might take a pass at that song. This one day, they were really kicking on all cylinders. I think it was where it naturally felt good."
Tedeschi Trucks Band
With: Los Lobos, Gabe Dixon
When: 6:30 p.m. June 28.
Where: TCU Amphitheater at White River State Park, 801 W. Washington St.
Tickets: $29.50 to $59.50.
Info: Visit livenation.com.
Please enable JavaScript to view this content.