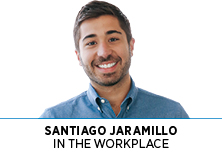 If you've ever traveled to the Rocky Mountains or Pacific Northwest, you've probably encountered a lodgepole pine tree.
It might look like any other evergreen, but the lodgepole pine is one of the most resilient species in nature. Lodgepoles are ubiquitous to areas that endure frequent forest fires and, over time, their cones have developed a thick resin that can harbor seeds for years. The only time the tree's cones can germinate is when extreme heat melts the resin, releasing the seeds. For this reason, lodgepole pines are the first plants to sprout after a fire has scorched a forest.
The degree of disruption that COVID-19 has wrought upon our lives—both personal and professional—cannot be overstated. But as leaders, we have the opportunity to plant seeds in the ashes so something new can take root. One of those seeds is a new era of human leadership that cultivates resilience in our teams and supports employees as whole people. Here are three ways to propagate this kind of leadership.
Build trust through authenticity.
Trust is the foundation of healthy leadership and the key ingredient of effective teams. Google's Project Oxygen—a multiyear study that sought to find the unique qualities of high-performance teams—found psychological safety sets effective teams apart.
Psychological safety is the degree to which someone trusts that they can be authentic, take risks and provide feedback without fear of negative consequences. That starts with leaders.
In the age of COVID-19, authentic leadership means being vulnerable about the aspects of the "old normal" you're mourning. It means sharing the personal practices that have made social distancing more bearable. And it means showing up to video calls as yourself, trading polish for authentic imperfection. It's only in modeling these behaviors that we can build trust with our teams and encourage authenticity.
Cultivate resilience through coaching.
In a culture addicted to feeling good, resilience—or the ability to metabolize difficulty and adversity into growth and strength—is an underdeveloped skill with benefits that cannot be overstated.
As people leaders, shifting our mindset from "commander" to "coach" is the first step to building resilience in our teams. Commanders value hierarchy. Coaches value relationships. Commanders give orders. Coaches ask questions.
John Whitmore, a pioneer in the executive coaching industry, posited that skilled coaches "unlock people's potential to maximize their own performance." Coaching is less about giving advice and more about inspiring people to find the answers that are already hidden inside them.
This is why asking thoughtful questions is so important. Questions are tools coaches can use to help people look inward and reflect on their perspectives, attitudes and opinions. When asked the right questions, team members can reach their own conclusions and reframe difficulty as opportunity.
Resilience is found when people see obstacles as speed bumps rather than insurmountable peaks, and the coach's role is simply to help his or her people maintain that perspective.
Care for the collective team.
In addition to building trust and supporting each employee individually, leaders should also consider putting measures in place to care for the collective team.
At Emplify, we've implemented weekly well-being video chats where professionals in health care, personal finance, media literacy and change management have provided tips and resources for our employees that help them navigate this time of uncertainty. It might be worth scanning your network to see if any connections have expertise that could help your employees thrive in the "new normal."
Additionally, we've committed to scheduling non-work times for employees to come together and strengthen friendships. Virtual happy hours, pet photo exchanges and friendly competitions do wonders for team morale and help employees feel connected to the team and mission. Taking some time for lighthearted activities brings teams together and strengthens employees' connections with one another.
The opportunity in front of us is one we might not see again in our lifetimes. But whether we plant and tend to the seeds is up to us. May we look to the lodgepole pine as our guide and emerge from the ashes as better leaders with stronger, more resilient teams.•
__________
Jaramillo is co-founder and CEO of Emplify.
Please enable JavaScript to view this content.