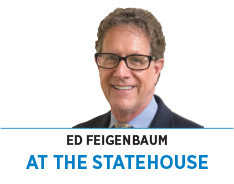 Another session of the Indiana General Assembly has drawn to a close. If lawmakers hadn't already been given an unceremonious push out of town to accommodate visitors to Indianapolis for the Big Ten men's basketball tournament, they might have closed shop early, anyway, from coronavirus concerns.
Consider that lawmakers—just back from a weekend of cracker-barrel, third-house and chamber of commerce events at home that wrap up most legislative weeks—turn the same north-entrance Statehouse doorknob as hundreds of other visitors each day.
After shaking hands in their respective districts as they prepare for primary elections in fewer than eight weeks, they return to a Statehouse populated by people from around the state converging to advocate for specific legislative language during conference committee deliberations.
In short, before factoring in family activities and routine chores like shopping, solons have an outsized exposure to germs even before they come back to Indianapolis, where many stay in hotel rooms that might have just been occupied by visitors who have spent time in planes and interacting with others in far-flung places.
Then they share the people's building with schoolchildren on tours or serving as pages.
Fortunately for legislators, their workload was not as pressing as usual in the final days of the session, even as conference-committee deliberations were far more compressed this year.
Unlike the final-day collapse two years ago, there were no critical pieces of legislation floating around this month, the demise of which would require a special session (although there was some irony in hospital and health care issues being the highest-profile unresolved issues in the final days).
Thus, it was a fortuitous decision by legislative leaders heading into January to seek adjournment sine die by March 11 or 12. Ostensibly, this was done simply because of the need for hotel rooms to house Big Ten tournament visitors. But organizers knew—as is always the case when deadlines are crafted—that this would encourage members to pass only essential legislation, compromise when possible and not prolong the process.
In retrospect, it might have been ideal to have finished business earlier this month, but if the coronavirus epidemic had been two weeks further down the line, leaders likely would have opted for a brief recess or simply accelerated the schedule.
Indeed, next door in Kentucky, lawmakers are pondering how to proceed with their budget session, scheduled to conclude April 15, given coronavirus concerns.
Going forward, you might hear discussion of how to formally address similar situations. There was some preliminary talk of altering the legislative schedule during the swine flu outbreak a decade back. But no planning ever resulted from this early warning of sorts.
Given the increase in international travel to Indianapolis, the city's growing dependence on major sporting events and meetings and conventions, and online alternatives to in-person interaction (remember the 2004 House "remote vote" flap?!), expect more consideration to institutionalizing legislative procedures that can be implemented in times of emergency—some of which might carry more urgency than COVID-19 in 2020.
Lawmakers might not be well-equipped to deal with the issues surrounding public health concerns—witness their reluctance to definitively address tax and availability of vaping liquids and delivery devices—but they will at some juncture be forced to consider broader policies affecting their own work processes.
The sole question: Will they begin to think about it now? Or just improvise in the white-heat aftermath of a crisis?•
__________
Feigenbaum publishes Indiana Legislative Insight for Hannah News Service. He can be reached at EDF@hannah-in.com.
Please enable JavaScript to view this content.