It's tempting to characterize Sue Beecher's yard as simply a hosta garden.
And with good reason. There are hundreds of the shade-loving plants—big and small, variegated and not—in the front yard, along the side and in back of her Irvington bungalow. And they represent some 50 or 60 varieties—she long ago lost track of how many.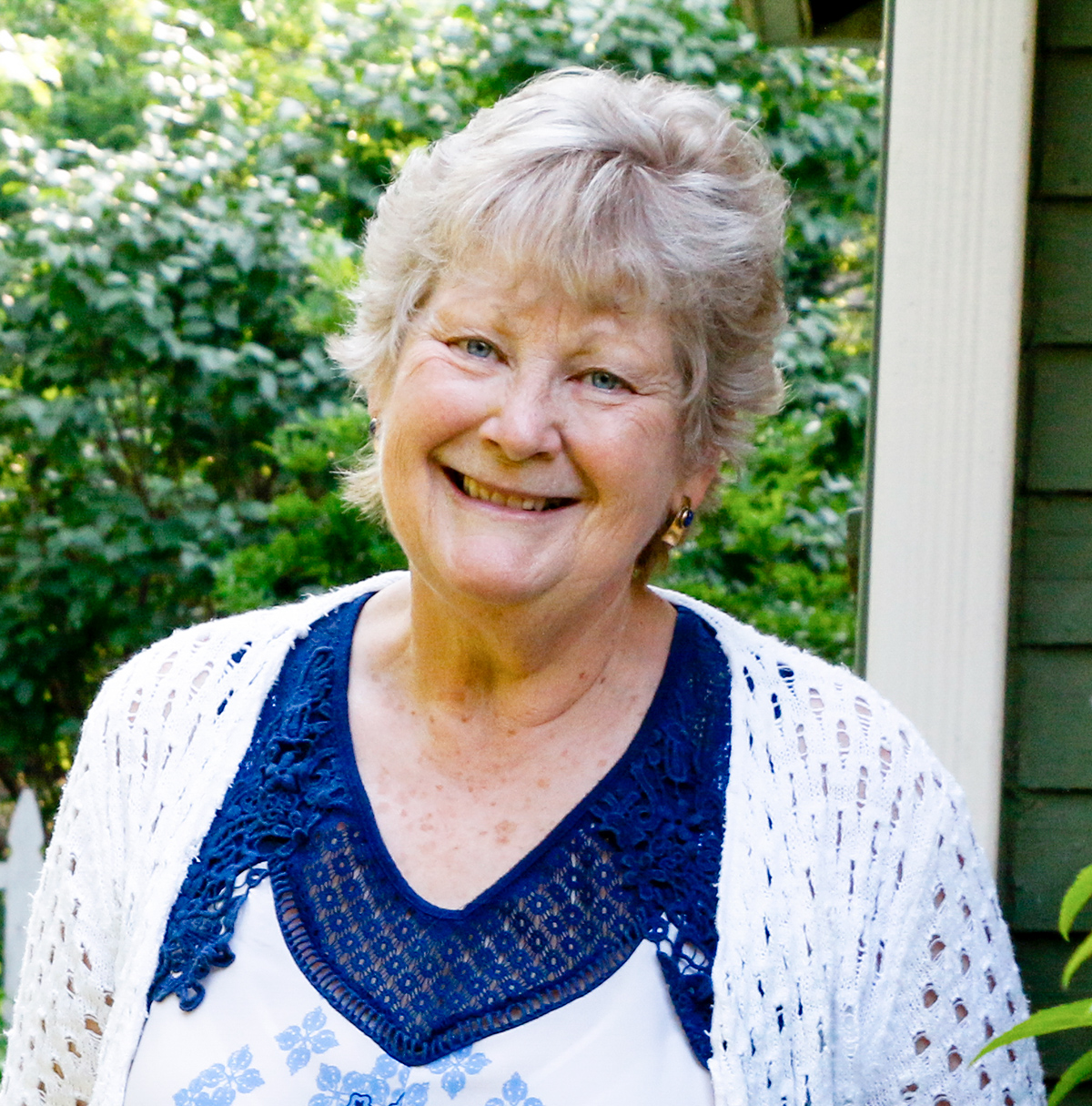 "I have a bit of an addiction with the hostas now. I don't even know what they are. I just know I like them," said Beecher, 64. "They're easy to grow and you can kind of create art with them."
But there's much more to see on this quarter-acre property, which sits just a block from Irving Circle Park. A wide ribbon of bright red bee balm waves in the breeze against the backdrop of forest-green paint on the house. Ferns fill in along the back fence, lilies and Jack-in-the-pulpits pop through the moss and ground cover, and clematis climb the walls.
The garden is filled with surprises: a collection of tiny geodes, a small landing of old bricks uncovered while digging in the yard, and pieces of wood, stone and concrete that were once part of machinery.
It has taken Beecher, a member of the Irvington Garden Club, two decades to create this eclectic masterpiece. It started in 2000 when she bought the house—which was just down the street from a place she was renting. The yard was a mess. She couldn't even see the little concrete pond just 15 feet out the back door (the previous owner later called to tell her it was there). And a 5-foot poison ivy bush was waiting to strike.
CLICK HERE TO SEE TWO MORE CHARMING IRVINGTON GARDENS.
But Beecher's parents helped her clear the lot. Then she started creating her landscape a little at a time.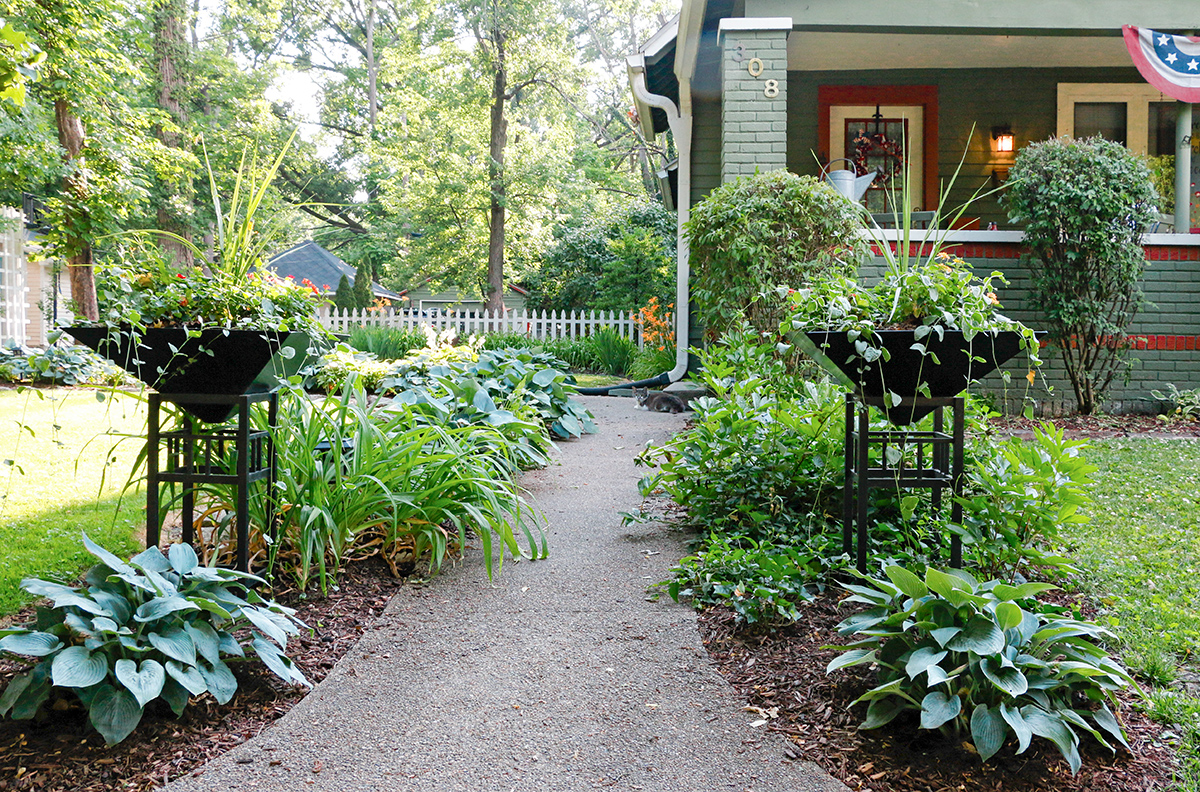 Beecher already had some affection for hostas. She grew up on a dairy farm, and her family had what she called a "truck patch," essentially a small area to grow vegetables. Her mom grew hostas along a walkway, which inspired Beecher to do the same.
"So this is my homage to my mother," Beecher said, gesturing to a sidewalk lined with alternating colors of hostas where feral cat Phantom stretched out for a nap.
At the end of the slightly curving walk is the drive—once two strips of concrete that Beecher replaced with pavers leading to a detached garage. That was about eight years ago, and the moss now growing in between the pavers adds to the cottage feel of the garden.
The back garden has been slowing growing through the years—and, like most gardens, is ever changing. It has some more manicured areas, complete with mulch, pots and statuary, as well as wild, overgrown swaths of wildflowers, especially near the pond, that draw hummingbirds, butterflies and neighborhood critters.
A small back deck houses a collection of 1940s and 1950s outdoor chairs—all purchased over the years from a man in the neighborhood who finds rusty pieces of furniture, fixes them up and sells them at the Irvington Farmers Market.
"Nothing ever leaves Irvington," Beecher said. "It simply gets recycled at other people's homes."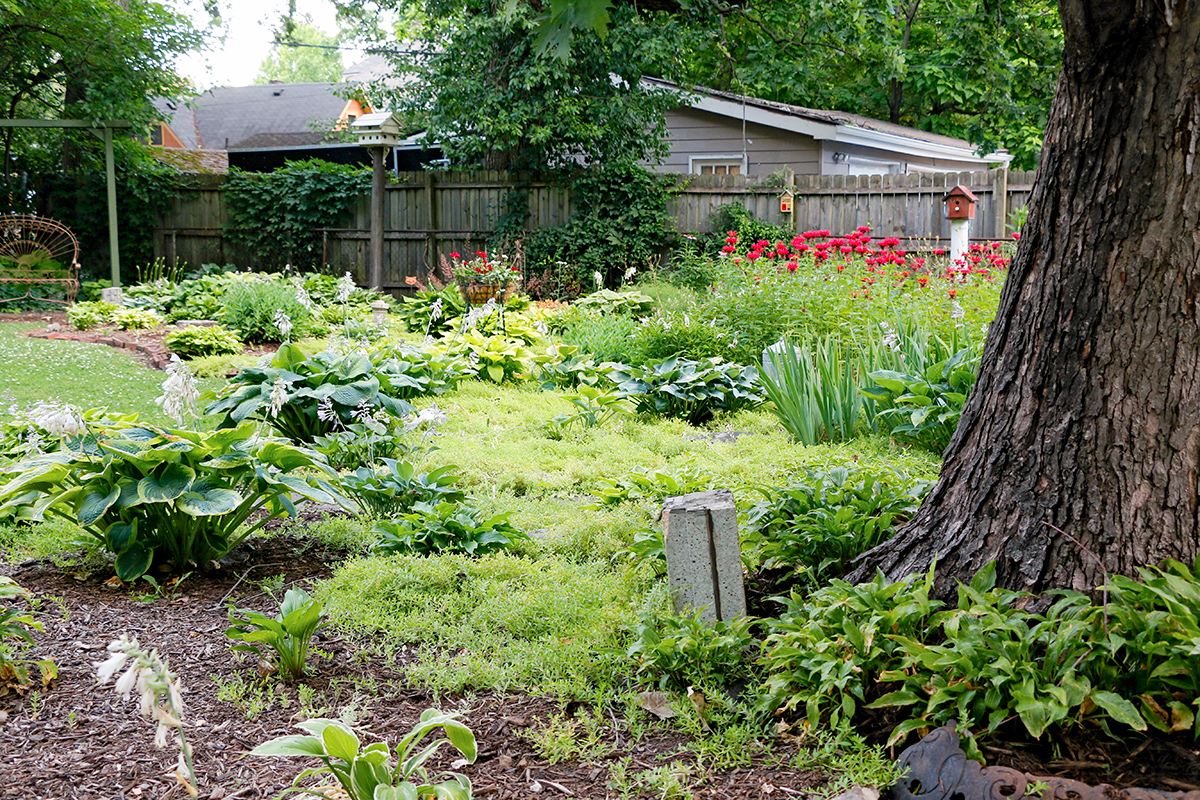 And that's true of her hostas as well, which can be divided annually. Beecher has planted some of them in Irving Circle Park, where she oversees landscaping and events, and gives others away to friends and neighbors, who later divide those plants and share the offshoots with friends. Many hostas and other plants arrived in Beecher's garden the same way.
At the moment, one young couple who live nearby have their eye on some of the blue-toned hostas along Beecher's walkway. She promises to divide them and pass on some plants—but only after the photo shoot for this story.
"You can dig them out, cut them in quarters, and you know, in two years, you've got four huge plants off of the single plant," she said.
That's one reason Beecher recommends hostas for beginning gardeners. If you have a little shade or an area without too many hours of sun, they're easy to grow.
Her other advice for beginning gardeners? Take it slow. You won't develop a full garden overnight. Be open to advice from other gardeners and "take all the free plants you can get from people."•
Please enable JavaScript to view this content.