Even after more than a year of dealing with pandemic fallout, area architects and office designers say it's still too soon to predict just how drastically it will change the physical layout of Indianapolis workspaces.
But one thing is certain: Instead of getting back to pre-COVID normal, many firms will have to adjust to a new normal.
Whatever that might be.
When COVID arrived, the first, nearly reflexive move was to send most office-bound employees home for the duration—and put plenty of space between those who kept coming in. But now that things are starting to clear up, the big question is how many people will be brought back full time.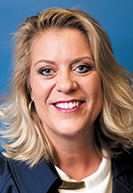 Or perhaps more accurately, how many people will submit to visiting an office full- or part-time.
Of course, not every firm wants workers to return. During the pandemic, remote work's benefits to employers (a potentially massive cut in the amount of expensive office space they need) and to employees (more flexible hours and a sometimes more productive work environment) became obvious.
"I will never come in five days a week again," said Melissa St. John, CEO of Relocation Strategies. "I work from home on Tuesdays and Thursdays, and it's great for me, even as the owner of the company. I crank out proposals, go through 150 emails. I wouldn't get half of that done at the office."
Given the revolution in staffing, it's safe to say office redesigns will deal with two new normals—accommodating fewer full-time workers and making workspaces more resistant to the spread of disease.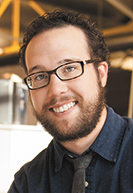 Right now, much of the talk is about how to accommodate all those home workers and hybrids (folks who spend maybe two days in the office and three at home). Weston Snyder, project architect for Access Architecture and Interiors, has dealt with firms taking polar-opposite approaches to the problem. For instance, a graphic-design outfit that had recently renovated its downtown headquarters sent everyone home when the pandemic hit. And its leaders have pretty much decided to keep them there.
"They've since given up their lease on their building downtown and predominantly their workforce is just working from home," Snyder said. "They've talked about getting a smaller storefront office, with some workstations and meeting spaces. People will come in with their laptops and meet with clients."
However, the company has also seen some clients proceed full speed with their pre-COVID office plans, not reducing their planned brick-and-mortar footprint a single square inch.
"Some people are really downsizing while others are thinking, 'Actually, our business model is continuing to grow. We see a lot of potential in the future, so full steam ahead,'" Snyder said.
Needs have changed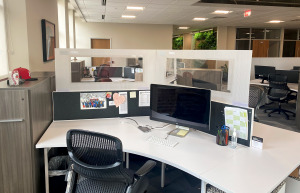 One new trend is the phenomenon of "hoteling": setting up a number of generic workstations at headquarters (not too dissimilar from the setup one finds in business-oriented hotels), where hybrid or full-time home workers can come in occasionally for in-office duties. In concert with those generic workspaces are equally generic meeting areas that can accommodate anything from a large group to two or three individuals.
"Clients this works really well for include tech firms and some of the research and development companies that tend to have teams that are constantly fluctuating," Snyder said.
St. John's company, which has been in business since 1986, specializes in placing clients in office space appropriate for their needs. And those needs have changed radically over the last year. Relocation Strategies makes a habit of surveying clients' employees, and during the pandemic some new trends rose to the fore.
For instance, the firm's most recent polling shows that, while 27% of workers would prefer to work at the office five days a week, 43% want to work on-site only three days a week, and 29% would prefer to always work at home. These statistics correlate almost eerily with national surveys conducted by such companies as Steelcase and the Gensler Research Institute.
"It's no longer going to be a hundred percent butts in seats," St. John said. "I just don't think that's wise, because it's not a good use of your talent and it's not a good use of your real estate."
Indeed, St. John has some fairly precise views about what the office of the future will include: "hotel" offices and cubicles that can be reserved by home and hybrid workers; more collaborative areas; small, three- to five-person conference rooms; more space between workstations; and higher cubicle walls.
St. John's company is personally addressing the cubicle-wall situation. According to her and other sources, cubicle-wall heights have changed over the decades, dwindling from a height of perhaps 6 or 7 feet back in the 1980s and 1990s to a currently fashionable (at least until the pandemic) height of maybe 4 or 4-1/2 feet.
"About 75% of office cubicles are low-wall, which means, if I'm sitting across from you, I could just cough in your face," St. John said.
The usual remedy for this—buying larger partitions—could cost around $600 per cubicle. Sensing a business opportunity, St. John's company now sells far cheaper plastic wall extenders that can be clipped onto the top of short dividers, increasing their height for much less money.
The dividers are made here in Indianapolis.
No-touch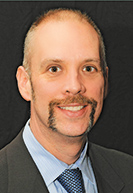 The cubicle quandary illustrates that, while many companies expect the disease situation to recede in the next year or so, it will still color their thinking in the long term. For instance, there's still a great deal of interest in surfaces (such as stainless steel and copper) that are naturally antimicrobial, along with no-touch entry systems, an emphasis on high-efficiency HVAC systems to scrub the air, as well as more fresh air.
"We're more focused on indoor/outdoor spaces," said Jason Shelley, executive director of AIA Indiana. "We're looking for more opportunities to bring fresh air in and create places for people to meet outside."
And no-touch doorknobs. Lever-type latches that can be opened with an elbow are the rage, as are automatic doors or models that are unlatched with a foot instead of a hand. Also, air-filtration systems capable of snagging microbes and UV lighting, which also serves an antimicrobial function.
"You've seen these lighting systems already in some restaurant kitchens," said Mark Beebe, partner with Lancer and Beebe Architects.
There's also a general belief that the footprint of the office will shrink.
"It's more of a hotel-type model," Shelley said. "You have space where everybody can gather for an all-hands-on-deck meeting, but you don't use it every day because you may only have half the staff there at any given time."
Those who are in-office full time might find more amenities designed to help them transition from home to the office. For instance, Beebe talks about a somewhat amorphous concept called the relaxation station, where workers can find momentary respite from their colleagues.
"It's a space within the office environment where you can have a bit of an emotional break and recharge," he said. "It's the kind of space that wasn't necessarily on the radar of a lot of companies before. But now they're recognizing that there's a lot of different stresses workers are going through."
However, with the potential for a high percentage of the staff at any given office to never return full time, perhaps the biggest overall design trend will be downsizing. Which makes Beebe wonder about the future of downtown's large office towers.
"It's definitely going to be a new normal that they're heading into," he said.
One possibility, he predicted, is that formerly all-business high-rises might become mixed-use properties, with offices, stores, schools and residences mixed in.
But before anyone sounds the death knell of the traditional office, St. John offers the cautionary tale of one employee—a former military man who's spent the pandemic trying to work at home with his wife and three small children. He pines for the days when he didn't have to hide in a large closet to make Zoom calls.
In spite of the new boom in the work-from-home lifestyle, many workers can't wait to get back to their desks. As for the rest, it might be impossible to build a corporate culture or develop esprit de corps unless everybody shows up at least part of the time.
"One of the big things that's been tough for them is maintaining their corporate culture," Shelley said. "How do you create and maintain that, and inculcate it into new hires, when everybody's so spread out?
"I think a lot of our members have found that, while productivity actually increased when people worked on their own, the struggle was maintaining and curating a firm's culture," Shelley said. "We're really trying to figure that out."•
Please enable JavaScript to view this content.