Local tech executive Eric Tobias and two partners bought the entertainment business that stages events at the Vogue in Broad Ripple in early 2019. "When people ask me about this, I say, 'Owning a music venue—best first year of my life … but maybe one of the most challenging second years,'" Tobias says.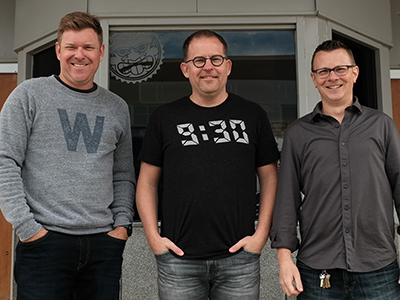 The Vogue closed abruptly on March 12, 2020, just as that night's band—Drive-By Truckers—was warming up on stage. The pandemic of course hit the live entertainment industry like a sledgehammer, and Tobias and his partners had to think outside the box—literally, outside the venue itself—to keep the business going.
In this week's edition of the IBJ Podcast, longtime local music journalist (and newly minted IBJ reporter) Dave Lindquist catches up with Tobias to discuss how the group has been able to weather the pandemic. Tobias says he has seen convincing proof that some patrons aren't sold on attending live events. The ownership group is getting more involved in livestreaming concerts and promoting shows in other venues. Tobias also explains the Vogue's policy on health checks for patrons, how the Vogue intersects with his high-tech daytime gig, and what he sees as a vital need in order for the local music scene to thrive going forward.
Click here to find the IBJ Podcast each Monday. You can also subscribe at iTunes, Google Play, Tune In, Spotify and anyplace you find podcasts. Here are some of our recent episodes:
IBJ Podcast: Pete The Planner on new rules for retirement
IBJ Podcast: Buy your gifts now (and other tips for the 2021 holiday shopping season)
IBJ Podcast: IBJ Podcast: Martha Hoover (Part 2 of 2) on how the restaurant industry is broken
IBJ Podcast: Patachou's Martha Hoover on surviving the pandemic, prepping to expand (part 1 of 2)
IBJ Podcast: 'Old-school' agent Matt McLaughlin hits $1 billion in career home sales for Tucker
Looking for another podcast to try? Check out IBJ's The Freedom Forum with Angela B. Freeman, a monthly discussion about diversity and inclusion in central Indiana's business community.
Please enable JavaScript to view this content.