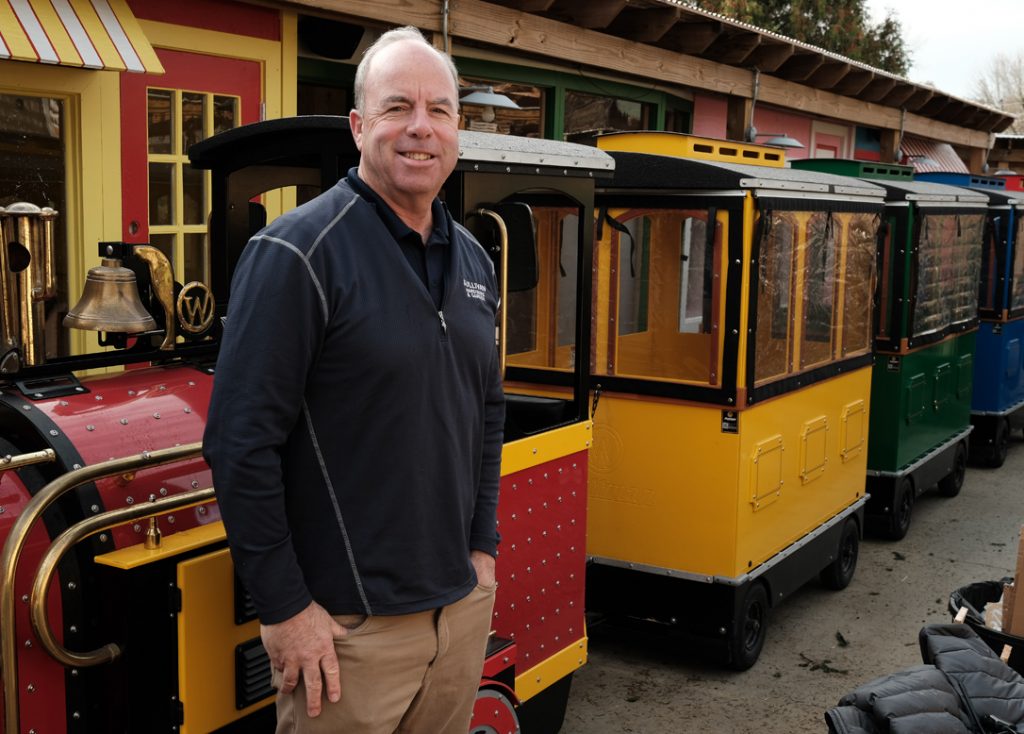 Five years ago, the head of locally owned Sullivan Hardware & Garden decided to create a Christmas experience for families at his location at East 71st Street and Keystone Avenue. Drawing on his memories of the Santa Express at the former L.S. Ayres department store downtown, Pat Sullivan bought a mini-train, created a North Pole and started selling tickets to families.
It was an almost instant hit. And last year, about 35,000 parents and kids rode the train and visited with Santa.
Sullivan talks with podcast host Mason King about why the Sullivan Express is so fun for him and his staff but also why it makes business sense to keep expanding the attraction. In fact, the store has invested some $500,000 in the experience already with plans to add more.
One note: King initially recorded the podcast for IBJ's weekly Q&A feature, not for the podcast, but we thought it was too interesting to resist using it here as well. King conducted the interview outdoors and not with his usual podcast equipment, so there's a bit of excess background noise.
Click here to find the IBJ Podcast each Monday. You can also subscribe at iTunes, Google Play, Tune In and Spotify. Here are some of our recent podcasts:
IBJ Podcast: How an Indy group will use $11.6 million to help black students achieve
IBJ Podcast: The new owner of WISH is investing $3 million. He explains why.
IBJ Podcast: Roger Penske wants to create an 'entertainment capital' in Speedway. What does that mean?
IBJ Podcast: Pete the Planner on the five deadly sins of money management
IBJ Podcast: Have you seen this guy painting on the Circle? That's no accident.
"Up on the rooftop" music courtesy of Heroboard on YouTube. Photo by IBJ's Eric Learned.
Please enable JavaScript to view this content.