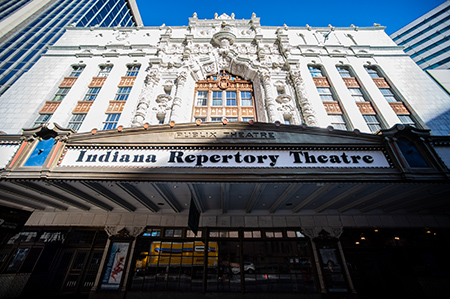 The Indiana Repertory Theatre, whose 2021-2022 season begins Oct. 6, will require all audience members to show proof of COVID-19 vaccination or recent negative COVID-19 test results, the organization announced Tuesday.
The new rules, which also apply to performers, are in addition to IRT's previously announced rule that all patrons must wear masks. IRT had already made vaccinations mandatory for its employees and volunteers.
"The increased COVID-19 statistics coupled with the desire to keep actors, staff and patrons safe this in-person season, and with more of our arts and culture peers instituting similar policies, we knew it was time to adjust our policies before our season starts in October," Managing Director Suzanne Sweeney said in an email.
Sweeney said IRT anticipates keeping the policies in place through the end of the year and evaluating and adjusting them throughout the season.
Those who opt to show test results must show results from a negative COVID-19 polymerase chain reaction test, or PCR test, taken within 72 hours of show time. IRT will not accept results from rapid COVID-19 tests or antigen tests.
Patrons age 12 and older can show their vaccination or test status in one of three ways: by showing a physical copy of their vaccination card, government certificate of vaccination or negative COVID-19 test plus a photo ID; by showing a smartphone photo of their vaccination card or test results plus a photo ID; or by using the smartphone app Bindle.
Last month, the Arts Council of Indianapolis and the Indiana Independent Venue Alliance announced they were partnering with Bindle. Users can download the app, input their information and create a pass they can show to gain entry to participating venues and events.
The IRT's policy also applies to those who are too young to qualify for vaccination. Children ages 4-11 must show proof of a negative COVID-19 PCR test and must be accompanied by an adult who shows proof of vaccination or negative test results.
IRT said it will make an exception for its annual family-friendly holiday show,  "A Christmas Carol," which runs Nov. 26-Dec. 26. For those performances, children ages 4-11 will be required to wear masks but they will not be required to show negative COVID-19 test results. The exceptions will be two performances at which proof of vaccination will be required: 6 p.m. Dec. 12 and 7:30 p.m. Dec. 21.
IRT is not the only local organization to require proof of vaccination or negative test results of its patrons. Late last month, the Indianapolis Symphony Orchestra announced similar rules.
Please enable JavaScript to view this content.