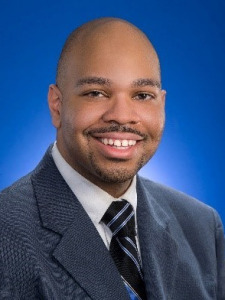 Brandon Perry, who worked as a reporter for the Indianapolis Recorder Newspaper for 13 years, is the publication's new editor-in-chief.
Robert Shegog, the Recorder's president and CEO, announced Perry's hiring on Monday.
"Brandon is an amazing journalist whose professional expertise, strong leadership skills and passion for the community make him the ideal person to serve at the helm of the newsroom," Shegog said in a prepared statement. "I look forward to Brandon serving in this capacity and continuing the rich legacy of our historical newspaper."
Founded in 1895, the Recorder is one of the longest-running Black publications in the United States. Originally published from an office on Indiana Avenue, the Recorder is presently headquartered at 2901 N. Tacoma Ave.
In addition to his previous role as a reporter, Perry served as managing editor of Indiana Minority Business Magazine—the Recorder's sister publication.
Most recently, Perry worked in the field of security management.
"The Recorder has a powerful history of life-changing journalism and continues to serve as a voice and vital resource for our community today," Perry said in a prepared statement. Shegog's "innovative efforts have expanded the paper's reach externally, and its capacity internally. I look forward to working with him, the team and community partners as we build on the Recorder's legacy."
The Recorder's previous editor, Oseye Boyd, left the publication in June to become public engagement editor at The Indianapolis Star.
Please enable JavaScript to view this content.