Land is a potential cash cow for Indiana farmers these days, with opportunities cropping up across the state for those trying to capitalize on rising property values and favorable federal tax conditions.
In June 2021, the market value of top-quality farmland increased to $9,785 per acre, up 13% from a year earlier, according to the Purdue University Farmland Value and Cash Rents Survey. That value is determined by farmers across the state, who share what they'd be willing to pay for certain types of acreage.
Today's rate is the highest value for agricultural land since at least 2000, including a two-year farmland boom from 2013 to 2014.
For perspective, the going rate for high-quality farmland in 2000 was $2,715—about $4,473 when considering inflation—according to Purdue's historical data.
Those rising values are thanks at least in part to an explosion in commercial, industrial and residential projects that is driving demand for land near interstates and urban areas. In fact, acres purchased to build logistics centers and warehouses can go for eight-times the average farmland price.
But rising land values have also been driven by increasing food prices that make every acre of fertile land worth more, no matter where it's located.
"You could make the argument this is as good as any time [in history], in terms of profits per acre" for crop farmers, said F. Howard Halderman, president of Wabash-based Halderman Farm Management & Real Estate Services, which helps farmers buy and sell land. "It's a very good time for agriculture. That's why you see the high land values."
That's especially true for land used to grow crops, which makes up about 85% of the 14.8 million acres farmed in Indiana, according to the U.S. Department of Agriculture. About 5.6 million acres in Indiana were used to grow soybeans in 2021, and 5.4 million were used for corn, with hay, wheat, melons, pumpkins and mint making up most of the remaining acreage.
Halderman said about 8% of his firm's cropland transactions in 2019 and 2020 surpassed $10,000 per acre. In the first half of 2021, that figure increased to about 18% of sales, before skyrocketing to 88% in the second half of the year.
Most of the firm's nearly 30 cropland transactions so far in 2022 have also exceeded $10,000 per acre.
And it's not just crop prices, commercial development and housing that are affecting the market, Halderman said. There are also federal and global forces at play.
Many farmers are trying to move more quickly to expand their farms or invest in additional property due to concerns that some real estate-related tax laws could be rolled back by President Joe Biden's administration.
Farmers are also watching the shifting geopolitical landscape—specifically Russia's war in Ukraine—which is expected to increase commodity prices in the U.S., leading agricultural operations to buy more farmland to grow crops locally, even as operational costs outpace previous years.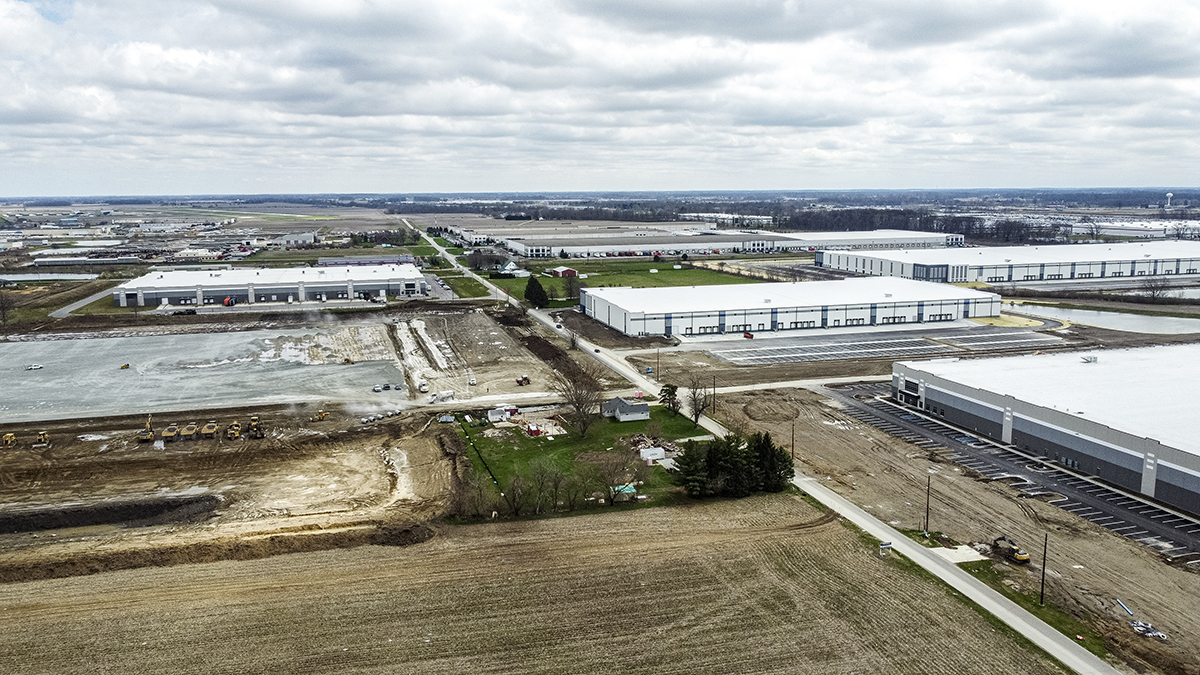 Location, location, location
Kip Tom is a managing member of Leesburg-based Tom Farms LLC and president of bushel grain facility CereServ Inc. He said the location of a farm property plays a significant role in determining its value—particularly when it's being eyed for new development projects.
The value of land in urban or suburban areas "is going to be influenced by the potential or the perceived future expansion of urban areas into that farmland," Tom said. "If you have farmland next to one of those large real estate developments, it's going to garner a much higher price."
Stan Burton, a land broker with the Indianapolis office of Toronto-based firm Avison Young, said regardless of zoning requirements, developers are generally willing to move mountains to get ahold of prime real estate, particularly for logistics-related industrial projects, primarily warehouses and distribution centers.
That's despite the fact that developers often have to prep the site through rezoning and the addition of utilities—moves that can amount to hundreds of thousands, if not millions, of dollars.
"It's really an interesting market right now, because industrial is driving the bus with all the big boxes you see popping up," he said. "Those developers pay a lot more than what is sought for straight farmland sales. They're all getting excited, so if you're sitting on a piece of commercial property in a good location right now—with or without zoning—just buckle up because you're going to get paid."
In fact, six of the 10 largest land sales in central Indiana by price in 2021 were in the Mount Comfort corridor of Hancock County, according to CoStar Group, a firm that specializes in real estate data.
Those acquisitions—all of them earmarked for new industrial projects—garnered per-acre prices between $59,500 and $79,140, or about eight times higher than the top-tier market value identified by Purdue.
The highest per-acre land sale in 2021 was about 52.5 acres along Ronald Reagan Parkway in the Avon area, which sold at just under $130,000 per acre; that parcel is expected to be turned into a distribution center that utilizes the nearby Indianapolis International Airport.
Todd Kuethe, an associate professor of agricultural economics at Purdue, said the top sales aren't unusual for the region, as industrial and residential development efforts have driven most of the land transactions recently in Marion County and the surrounding counties, specifically those near major interstates.
"If you're on the edge of Indianapolis, your land may be worth a lot more because you can convert it into a subdivision or distribution center for a warehouse," Kuethe said. "If you're near an interstate, that might also [have] development potential."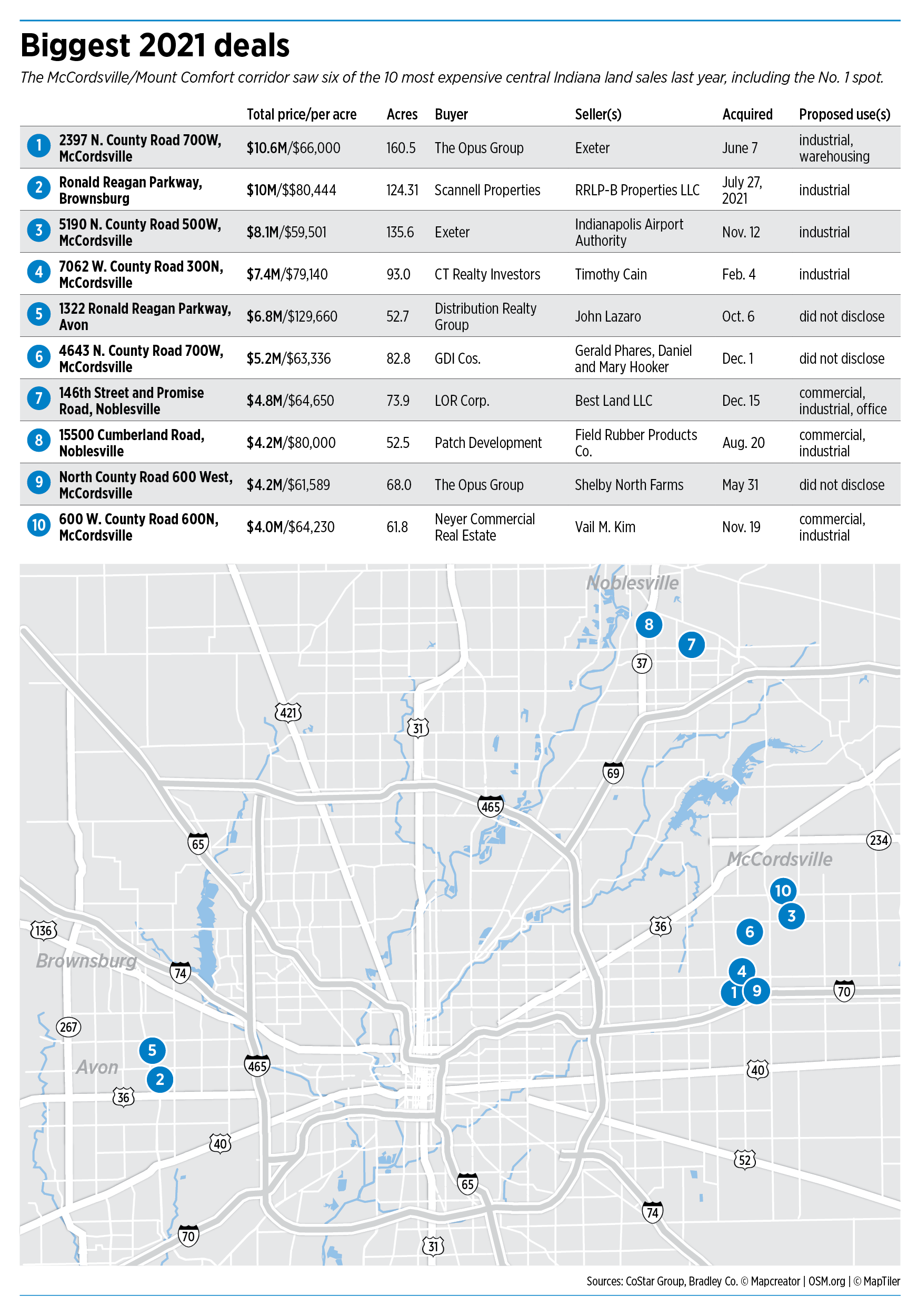 Exchanging opportunities
Farmland sales are often tied to a provision in tax law known as the 1031 exchange, which allows sellers to roll their capital gains on property sales into the acquisition of another property of equal or greater value, deferring federal taxes on the transaction.
The tool is generally viewed as a boon for local farmers looking to grow their enterprises and build generational wealth for their families, as many farmers hold onto land for multiple generations.
However, early in the Biden administration, there was some concern that 1031s, first established with the Revenue Act of 1921, could be eliminated as part of a larger reorganization of the tax code.
The American Families Plan, introduced in April 2021, would have limited exchanges to $500,000 of capital gains, a problem for the many farmers who sell their land for millions of dollars.
The language was not included in a reconciliation bill later taken up by the U.S. Senate. And Democrats have not suggested the changes since.
Even so, farmers took the earlier effort as a warning shot of sorts, experts told IBJ.
Mike Horrigan, a broker who leads the Horrigan Land Group of South Bend-based realty firm Bradley Co., said he often works with clients hoping to utilize 1031s in their real estate transactions. He said concern that the tax advantage will disappear has created greater urgency in the market.
"The administration has cast a shadow over whether that will be available in the future," he said. "The concern is whether this program is going to be there in 12 months and, if not, what the financial ramifications might be. So, there's a certain sense of uneasiness around all of that."
Industry experts say a change in the tax law would likely drive down property sales and decrease the value of investment properties almost immediately, costing owners a large portion of equity they've built in their property.
Andy Tauer, director of public policy for the Indiana Farm Bureau, said preserving the 1031 exchange is critical for the state's farmers, as are limits on the capital gains tax and inheritance taxes, which also affect farmers concerned with building wealth for their families through land investment.
The 1031 exchange "was something where the Indiana Farm Bureau … advocated very strongly to keep the current structure in place," he said. "It is definitely a tool in the toolbox for our members. If they are one of those families that has the opportunity to make a land sale, then having that ability to use a 1031 like-kind exchange is very important to the business of the farm."
Tom said he expects 1031 exchanges to remain in place, and not just because they are supported by farmers—after all, the exchange is used by investors of all kinds, including those operating in the commercial space of real estate.
"I really don't see 1031s going away. It's always been talked about a number of times, but I think it's here to stay for a while," he said.
A worldly view
Russia's invasion of Ukraine could also affect farmland values, because it is driving up food prices and restricting other parts of the agricultural supply chain.
For example, about 15% of the United States' nitrogen fertilizer imports come from Russia. Similarly, about 18% of the global corn export market comes from Ukraine. And a combined 28% of the world's wheat exports come from the two countries.
Those hits to the supply chain have raised prices for most commodities in the world, including in the U.S.
Halderman, the land broker, said the overseas issues are driving concerns among Indiana farmers and within the agricultural industry, largely because they are raising projected operational costs. There's not a quick remedy for that, he added.
"In terms of the outlook going forward for the industry, I would say there's a little more conservatism," Halderman said. "There are concerns in the ag sector—as good as last year was, and even as we have really good prices right now for the 2022 crops, which have yet to be planted. The concern, though, is that the cost of production is up substantially, probably 30 to 40% from a year ago."
Tauer, from the Farm Bureau, said he is encouraging Indiana farmers to be "very mindful" of their land holdings, with a priority on sales that would retain cropland, where possible.
"We have to … be able to preserve as much of our prime farmland as we can for food production," he said. "At the same time, as technology continues to advance and trend line curves continue to bend higher for yields per acre, it creates some opportunities for us to give some and take some [farmland] along the way."
Regardless of what happens with the global economy and the situation in Ukraine, however, observers say it's unlikely prices for farmland will decline any time soon.
"I don't see prices softening up a whole lot just because of the institutional interest of people wanting to diversify their portfolios from the equity markets, more into some fixed assets like land," said Tom, who served as U.S. ambassador to the United Nations Agencies for Food and Agriculture from 2019 to 2021. "I think people also are recognizing the need for reliable food production in the world."
And, he added, "At the end of the day, the U.S. still possesses the most reliable and durable agricultural industry in the world."•
Correction: A graphic accompanying this story that lists the most expensive land deals in central Indiana in 2021 has been revised to reflect the correct sales price, acreage, and closing date for the purchase of property by Scannell Properties along Ronald Reagan Parkway in Brownsburg. You can see all of our corrections here.
Please enable JavaScript to view this content.