Two long-abandoned brownfields and two local industries—manufacturing and food processing—could soon see a $90 million overhaul.
City-county government and a coalition of local institutions and community organizations this week completed a final round of applications for a national economic development competition that could end in a federal 80/20 match of up to $75 million.
At the 13-part proposal's core is the 19-acre site of the former Carrier-Bryant factory just east of Harding Street, from West 21st to West 23rd streets. The heating and air-conditioning plant closed in 1983 and the site has been unoccupied for two decades.
Sherman Park, the 50-acre former RCA site at East Michigan Street and Sherman Drive, would also see investment, as would a wide array of manufacturing-skills initiatives and entrepreneurship support centered on the 16 Tech Innovation District just north of IUPUI.
The bid is part of the U.S. Economic Development Administration's $1 billion Build Back Better Regional Challenge. The Central Indiana Coalition was named a finalist in December, one of 60 from a pool of 529 applicants, and submitted its applications for the final round Tuesday night.
The mammoth program is funded by the American Rescue Plan Act, a $1.9 trillion pandemic recovery package passed last March. But the coalition plans to address losses that go back decades, with the decline of local manufacturing jobs.
"We were third in the nation for manufacturing job loss—Detroit, Cleveland, Indianapolis—and our manufacturing sector has been decimated," said Aryn Schounce, chief policy officer at the Department of Metropolitan Development. "When we talk about Carrier-Bryant, when we talk about Sherman Park … . Those are brownfields, and they need to be redeveloped, but what they were was job centers."
"At the end of the day, this is about bringing these sites back to life because we need jobs in those communities, and we need those jobs to be accessible to the residents who are living in those communities," Schounce added. "So, we have to provide the skill development that's required. We have to provide the environment by which those companies can grow and provide more jobs."
The coalition decided to focus on manufacturing and food processing by looking at industry clusters that have outperformed the rest of the local economy during the pandemic, then scoring top performers by their potential for "inclusive growth." The federal competition identifies equity as a priority.
The coalition considered job quality via wages and on-the-job training, job accessibility in educational background required, and diversity through non-white workers and firm ownership, among other factors, according to a DMD slide presentation.
"This opportunity with the EDA was really an explicit opportunity around diversity, equity and inclusion," said Brandon Cosby, executive director of Flanner House, a coalition member. "The work that we are doing individually and collaboratively is about actually lining up resources and opportunities, so that it isn't just about lip service."
Alongside the city of Indianapolis and Flanner House, the coalition includes Indiana University Health, 16 Tech Community Corp., Marian University and the Indianapolis office of New York City-based Local Initiatives Support Corp.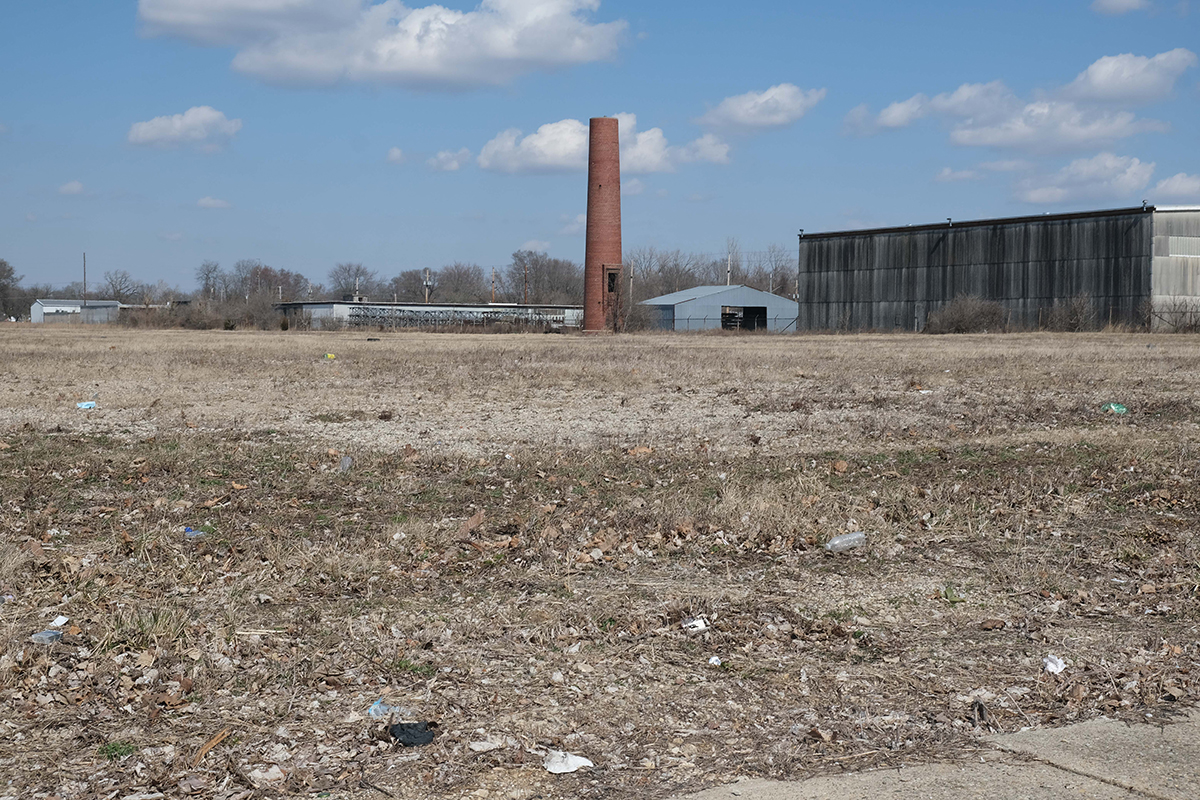 Carrier-Bryant site
The vacant lot at 1100 W. 21st St., once used for machine and tool manufacturing and later a heating and air-conditioning operation, has been unoccupied since 2000. Indianapolis took possession of the property in 2012, then spent four years demolishing buildings and cleaning up contamination.
IndyGo bought 6-1/2 acres of the site in 2018 for $399,000 to build a $4 million training facility, but the agency later abandoned those plans. It is instead using its East Campus at 9503 E. 33rd St., according to Vice President of Communications and Marketing Lesley Gordon. The city now plans to buy the parcel back for $405,000.
And the coalition hopes to reinvent the entire Carrier-Bryant site as a food production and processing hub.
"It is the absolute beating heart of that application, and a tremendous opportunity for Indianapolis if we are successful," said Aaron Laramore, senior program officer at LISC Indy. The organization is providing technical assistance, pre-development financing and tax-credit coordination help.
The site plan includes:
◗ A 200,000-square-foot facility for Oakland, California-based Revolution Foods, which makes health-focused meals for institutions around the country. The facility could produce 55,000 meals a day at full capacity and would create about 200 jobs.
Revolution Foods wants to use locally grown vegetables for its meals, and sell to schools, neighborhood organizations and others in the Indianapolis area, said CEO Dominic Engels.
Some of those vegetables could be as local as the roof atop the facility.
◗ That's because Flanner House, a century-old social service agency on Dr. Martin Luther King Jr. Street near West 25th Street, plans to run a nearly five-acre rooftop farm. It could sell produce to Revolution Foods, schools, restaurants, and the not-for-profit's own stores.
It'd also be part of Flanner House's youth restorative-justice program, which Cosby said gets young people "off the streets" and onto its two-acre Flanner Farms to learn about agriculture and gain employment.
◗ Flanner House would also run a 15,000-square-foot copacking facility with a commercial kitchen to provide space for local food entrepreneurs to scale up. Cosby said the group already works with 15 entrepreneurs through its Cleo's Bodega, and has had conversations about the needs and "pain points" the group faced.
Cosby noted that the coalition's plans to focus on food fall in line with earlier neighborhood ideas—namely, a 2016 Carrier-Bryant redevelopment plan. Riverside and other near-northwest-side residents envisioned the site as a "food hub" covering every step in the food growing, processing, distribution and end-use process.
◗ A U.S. base for CNTNR, a Canadian outfit that turns shipping containers into modular housing.
◗ Nearby, at 2020 Montcalm St., Flanner House would also build a third greenhouse as part of its food-access efforts.
Sherman Park site
The future of this brownfield—which forms a wobbly triangle along North Sherman Drive, between East Michigan Street and East Ninth Street—was unclear for years, after plans for a $20 million redevelopment were derailed by the 2008-2009 Great Recession.
But recently, the expansive former Thomson Consumer Electronics/RCA plant has begun experiencing a renaissance.
RecycleForce, an electronics recycling and workforce reentry not-for-profit, broke ground on its new headquarters there last October. Indianapolis Animal Care Services is also building a new shelter on the site. And DMD in January released a request for proposals from developers for a multifamily housing project.
The Build Back Better proposal would give the site another boost.
"The Sherman Park redevelopment emerged as a really big opportunity for us to elevate a project that is obviously a priority for the city … and it's one where job creation is really a critical need," DMD's Schounce said.
The Sherman Park plan includes:
◗ A new manufacturing facility for Indianapolis-based Kingmaker Foods, which didn't return an IBJ request for comment. Grant funds, however, can't go directly toward the facility or any others primarily intended for private, for-profit entities.
◗ What the coalition calls an "Industry 4.0 Learning Lab" satellite.
Manufacturing upskilling
The Ivy Tech Community College-run learning lab would be one of several such developments, with a main location at 16 Tech, a second satellite at Flanner House and potentially another at a union on the southwest side. "Industry 4.0" refers to the fourth industrial revolution, encapsulating recent rapid changes in automation and other technologies.
"This is about creating awareness and excitement for those future opportunities that are going to exist, which are fundamentally different than 20th century manufacturing," said Emily Krueger, 16 Tech Community Corp.'s chief operating officer.
The labs will offer Smart Automation Certification Alliance credentials. Some programs are completed in only 20 to 65 hours, while others are embedded in longer, for-credit paths, Ivy Tech and 16 Tech said. A technical certificate takes two semesters, while an associate degree can take four, according to Ivy Tech's website.
Through the federal grant, Ivy Tech would expect to award 50 certifications and 100 non-credit certifications annually, with a degree enrollment of 45 students each year.
16 Tech also plans to step up programming at its Machyne maker space and partner with Conexus Indiana's Catapult Indiana talent development program. Columbus-based Cummins Inc. could also play a role with its Technical Education for Communities program.
What the coalition has dubbed a "talent pipeline" project also features Marian University and IU Health's Mosaic Center for Work, Life and Learning.
Entrepreneurial support
That pipeline connects another of the coalition's key project components—support for small businesses.
"What we want to do is connect those resources—that are in many respects agnostic of an industry or sector … with the food-access and food-processing resources that Flanner [House] and others are leading," Krueger said.
Those plans include:
◗ An Urban Business Resource Center built by Flanner House, in collaboration with Marian University, at 2700 Dr. Martin Luther King Jr. St. Like the copacking space at the Carrier-Bryant site, it was inspired by Flanner House's work with local entrepreneurs. The organization runs the Ujamaa Community Bookstore with products from about 140 Indianapolis makers on its shelves, according to Cosby.
"That will really be just a full-time, dedicated space" for business owners, he said, "but also coaching, providing platforms of services for new entrepreneurs looking to scale."
◗ A revolving loan fund for small businesses headed up by DMD and LISC Indy.
"The demand and the need for flexible, affordable financing to serve Black and brown small businesses is much greater than what we have in terms of available resources," said LISC Indy's Laramore.
The fund, with an initial $7 million investment, would aim to provide working, inventory and equipment capital with low interest rates and would generally make loans of $100,000 to $500,000, Laramore said. It could be particularly useful for contractors, he added, who often struggle under high-interest loans.
"What we've seen is that you have small contractors that get overloaded with debt, and because the cost of [the loan] is so high—even if they're having success, getting good projects—[the loan is] eating so much into their margins that they're not really making any money," he said.
What's next?
The coalition's project list also includes infrastructure work, a "regional transit alliance" to make a business case for improved public and multi-modal transit, and a governance structure to oversee and implement it all. The ambitious array of projects has taken nearly a year to compile and plan. And the federal awards won't be announced until September.
The Economic Development Administration plans to cut the 60 finalists down to 20 to 30 awardees. Awards will generally range from $25 million to $75 million, with a maximum of $100 million.
The city of Indianapolis is putting up about $8 million, with other coalition members pitching in the rest of the $15 million match for the $75 million request.
The coalition plans to spend the next several months conducting feasibility studies, with requests for proposals to consultants going out soon. If selected, the group would have through mid-2027 to use the money.
If the coalition doesn't receive an EDA grant, members say they're still committed to pulling off at least part of their plans.
"We will have to be faithful so that this work can still happen, but we won't have this catalytic investment," Schounce said. "… The projects and programs that are being proposed are things that have been in the works for many months, and even years in some cases. This is a platform, and obviously a huge funding opportunity, to put a lot of fire underneath these efforts that have already been under way."
DMD Director Scarlett Andrews said the coalition would likely decide on projects to prioritize, and seek other funding sources. The partnership of the coalition itself, she said, is also already a win.
"I think that will live on regardless of federal funding," Andrews said. "I think that kind of partnership and alignment will be beneficial to us long term. But I think we'll get it just fine."•
Please enable JavaScript to view this content.