Rolls-Royce Corp. plans to spend $400 million at its Tibbs Avenue plant in Indianapolis and in West Lafayette, the manufacturer announced Thursday.
Warren White, who heads Rolls-Royce's Indianapolis manufacturing and testing operations, said design work has already begun for both projects, which will take five years to complete.
In Indianapolis, Rolls-Royce plans to add 150,000 square feet to the east side of its Tibbs Avenue facility, expanding and improving its testing capabilities at the site.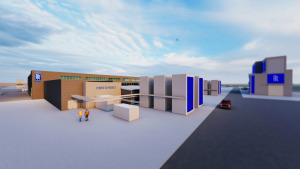 The new facility will include test cells, control rooms and upgrades that the company needs to test its gas turbine engines, which are used in a variety of defense and commercial aircraft, ships and power systems for customers around the world.
White characterized the investment as a modernization of Rolls-Royce's testing facilities, with an eye towards features and capabilities that the company's customers will want in the future. One example is that the new facility will be able to test engines that run on a variety of sustainable aviation fuels.
"It's everything that we do today, but in an enhanced and a modernized way," White said.
White said the $400 million will be split roughly evenly between upgrades at the Indianapolis and West Lafayette sites.
In West Lafayette, Rolls-Royce will add high-altitude, hybrid electrical and hypersonics test capabilities.
The investment comes on the heels of a previous $600 million modernization that Rolls-Royce completed in 2020. In that project, the company spent $400 million to modernize the equipment and facilities at its Raymond Street and Tibbs Avenue plants, and another $200 million on technology research, some of which was for projects on the campus of Purdue University.
And late last year, Rolls-Royce learned it had landed a huge contract to modernize the U.S. Air Force's B-52 bomber fleet. That contract calls for the Air Force to purchase 650 of Rolls-Royce's F130 engines, plus support equipment and commercial engineering data. The contract is worth an estimated $500.9 million, or up to $2.6 billion if the Air Force exercises all the contract's options.
"We are thrilled to expand our modern test capabilities and footprint in Indianapolis," Rolls-Royce North America Chairman and CEO Tom Bell said in a written statement. "We're developing state-of-the-art facilities that will enhance our recent modernization project and create value for our customers with highly efficient and advanced manufacturing capabilities. Rolls-Royce North America is growing, modernizing, and leading the way across the U.S."
White said Rolls-Royce is in talks with the Indiana Economic Development Corp. and the cities of Indianapolis and West Lafayette regarding possible incentives for the projects. No agreements have been signed yet, he said.
Rolls-Royce employs more than 3,300 employees in Indianapolis.
Please enable JavaScript to view this content.