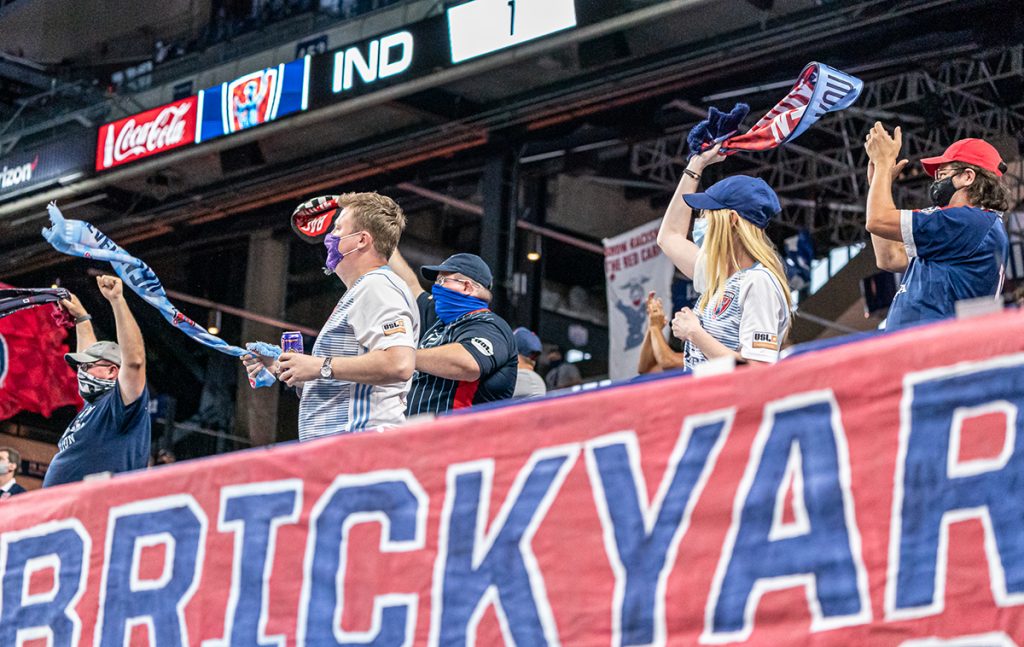 The Indy Eleven soccer team on Saturday became the first professional sports franchise in the state to host a game with fans since the COVID-19 pandemic gripped the nation in March—a big step for a team that relies heavily on fan engagement for its financial stability.
The United Soccer League Championship team in early July announced plans to welcome spectators to home matches, with a 50% capacity limit and a host of other safety measures in place, including face mask and social-distancing requirements.
Saturday's game against St. Louis FC—a 2-0 victory—before a thinned-out crowd to Lucas Oil Stadium for the 2020 home opener was the first real-world application of those measures. The announced attendance was 4,761, but that figure was based on tickets sold rather than turnstile activations. A broadcast of the game appeared to show less than half that figure.
The Eleven averaged attendance of 10,734 per home game at Lucas Oil Stadium over 17 games last year, second in the USL.
CEO Greg Stremlaw told IBJ being able to incorporate fans into the team's return-to-play plan—which was coordinated with city and state officials and USL Championship staff—is significant for the club's operational stability.
"I think it's important to have some fans and of course to be able to activate various assets," he said, referring to English- and Spanish-language radio and television broadcasts, as well as game-day partnerships and sponsorships. But broadcast revenue only accounts for a small portion of the team's overall income.
Most of the Eleven's revenue is generated by fans through in-stadium sales, as well as sponsorships.
The team, through Indy Sports & Entertainment LLC, received a Paycheck Protection Program loan between $350,000 and $1 million from the federal government. Stremlaw said the team expects to remain financially stable and is continuing to receive support from its ownership group, although he declined to offer specific details.
"Clearly, getting back up and running is important to us," he added. "It's just not about the business aspect but but also ensuring that we're a significant portion of positivity in the community, to give people something to do and to come and watch sports in-person."
Stremlaw touted the team's safety plan as "one of the best" in the United States. Other teams in the USL have also resumed games with fans, as permitted by their respective cities and states.
The safety plan limits ticket sales to the lower bowl of the stadium—restricting seats to every other row—with at least six feet between each grouping of four seats. It requires fans to enter in smaller waves rather than all at once. Lucas Oil Stadium also upgraded many of its high-touch surfaces to be no-touch, including restroom sinks and hand dryers.
The team continues to use suites for games, but decided to split larger corporate groups between adjacent suites to promote social distancing.
Stremlaw said he was pleased with the fan response and cooperation, adding the protocols now in place will likely continue through the rest of the season.
"We're pleased and privileged to have the opportunity to get back to playing games, resuming our season, getting back into Lucas Oil Stadium and having some form of fans being permitted," he said. "We don't want to take that for granted."
Saturday's game was actually the second for the Eleven this season. They topped Memphis 901 FC 4-2 on the road March 7. The team's next scheduled game is July 18 at Lucas Oil Stadium against Sporting Kansas City II.
Please enable JavaScript to view this content.