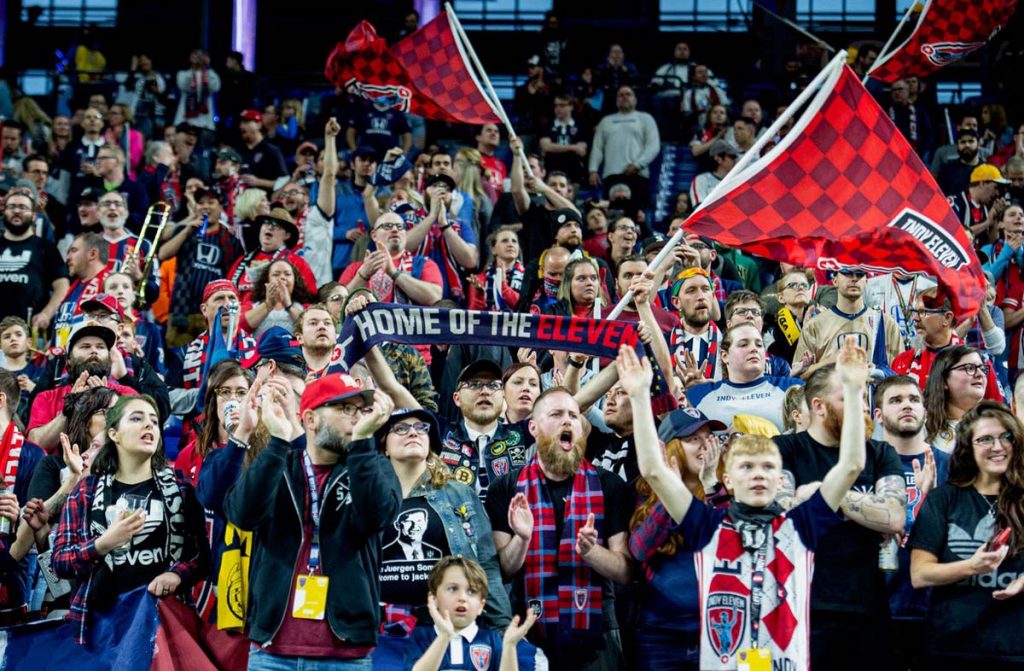 The Indy Eleven had the second-highest home attendance in the 36-team United Soccer League Championship division this season, with an average crowd of 10,734 people for 17 regular-season games.
The franchise trailed only New Mexico United FC, which drew 12,692 per home game this year. Rounding out the top four were the Sacramento Republic and Louisville.
The Eleven ended their season Saturday with a 3-1 home loss to Louisville City FC in the USL Championship division's Eastern Conference final, one game short of the league championship match.
The franchise played all 17 of its home regular-season games at the 67,000-seat Lucas Oil Stadium. It also played two postseason games at IUPUI's 12,111-seat Michael A. Carroll Stadium. Home attendance fell to 10,254 when including the two playoff games, but those games were not included in the league attendance rankings.
It also played a non-league game in the Lamar Hunt U.S. Open Cup at the Butler University that wasn't included in the attendance figures.
While only a nominal uptick from last year's average of 10,159, the bump was enough to jump the team two spots in league attendance, from fourth place last season.
"We are obviously pleased with these results, but we do plan to grow this again in 2020," team CEO Greg Stremlaw told IBJ in an email.
Last year, the team played all 17 of its home games in Lucas Oil Stadium in its first year in the USL. It previously played in the now-defunct North American Soccer League.
The Eleven set a team record for attendance in their March 30 home opener, drawing 20,251. Until Saturday's loss, the team was riding a 26-game home unbeaten streak.
Stremlaw, who joined the franchise in January, said the Eleven led the league in season-ticket holders with more than 7,000. The team declined to share the exact figure.
The Eleven have already launched a season-ticket renewal campaign for next year, and plan to launch new ticket and business initiatives in the coming weeks and months, he said.
Stremlaw said the franchise also plans to continue its broadcast partnership with WISH-TV next year. It also will benefit from ESPN's deal to broadcast dozens of USL games on ESPN Plus and other platforms.
"Exposure is a really good thing," he said. "It helps grow the league and helps expose the teams."
The team has been moving toward a goal of building its own venue, and last year won state approval to move forward with its proposed $550 million Eleven Park development. A site has not yet been announced.
The franchise, founded in 2013 by local businessman Ersal Ozdemir, earlier this year added several new partners to its ownership group.
Indy Eleven's overall attendance for home and away matches was 7,246—a drop from last year's 7,849. Its away attendance dropped from 5,667 last season to 4,072 this year.
Please enable JavaScript to view this content.