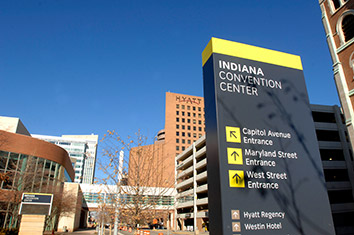 Indianapolis has been given another chance at hosting one of the major events it lost out on in the early days of the pandemic. The Seventh-Day Adventist Church on Thursday said it has picked the city to host its General Conference Session in June 2030.
The massive event had been scheduled to take place in Indianapolis in July 2020 along with more than 350 other events during the first year of the pandemic but was called off. The 2030 General Conference Session is expected to draw more than 65,000 people over an 18-day period and generate about $44 million in economic impact, according to figures from Visit Indy, the city's tourism arm.
The event is expected to result in the booking of about 36,000 hotel room nights.
Seventh-Day Adventist delegates selected Indianapolis over St. Louis during its annual council meeting on Tuesday in Washington, D.C., after hearing pitches from both cities. About 96% of delegates voted for Indianapolis to host the 2030 session. St. Louis hosted the event this year following the back-to-back postponements in 2020 and 2021 and is scheduled to host the next one, in July 2025. General Conference Sessions take place every five years under typical conditions.
The organization shared the news through its in-house news outlet, Adventist News Network. Representatives for the church did not immediately return an email requesting comment late Thursday.
The conference's selection committee recommended Indianapolis in part because of its proximity to a large portion of the membership base, as well as its facilities, including Lucas Oil Stadium and the Indiana Convention Center.
The conference is not contingent upon the completion of the proposed 814-room Signia Hilton hotel at Pan Am Plaza, which is scheduled to open in 2026, but Visit Indy Senior Vice President of Marketing & Communications Chris Gahl said anticipation for the hotel didn't hurt. Gahl was one of six local tourism officials with Visit Indy and the convention center to pitch Indianapolis this week to the church's leaders.
"We included facts about the Pan Am project in our presentation," he said. "Slated to first meet in 2020, they can fit in the city without the project, yet, we know they are ultimately intrigued with how the expansion can give them the ability to grow further."
Please enable JavaScript to view this content.