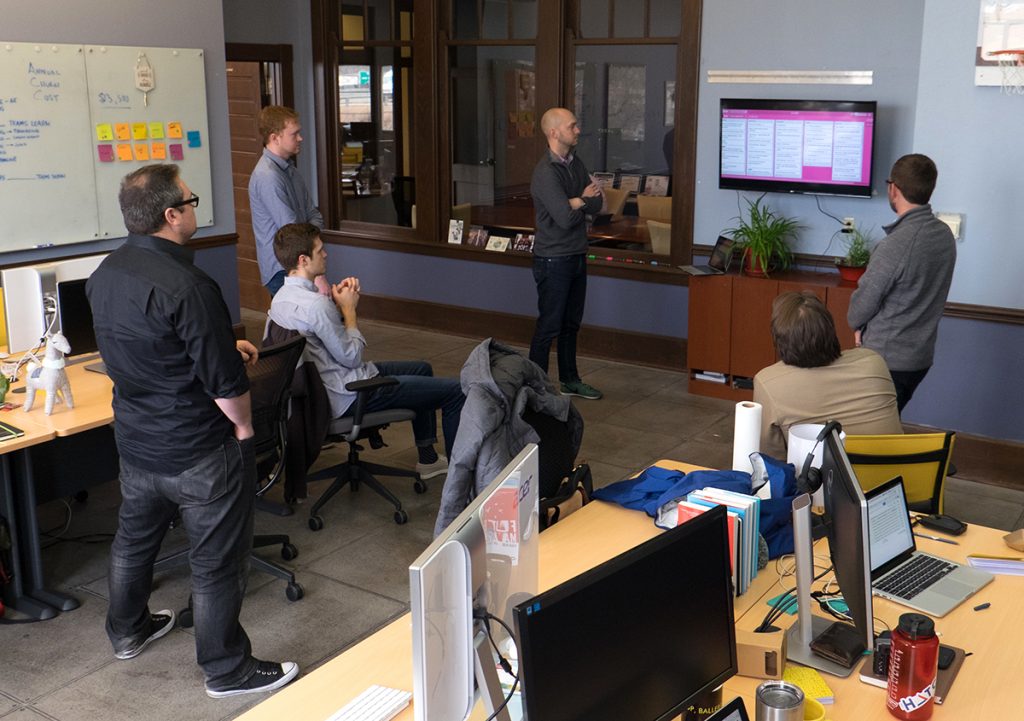 Lessonly Inc., an Indianapolis-based tech firm that sells sales training and coaching software and services, has been acquired by San Diego-based Seismic, the companies announced Monday morning.
Lessonly will be a brand within Seismic, which will retain the Indianapolis office and its 240 employees. The Lessonly headquarters at 1129 E 16th St., northeast of downtown, will become Seismic's 13th global office.
Financial details of the deal were not disclosed. Lessonly co-founder and CEO Max Yoder will run the Lessonly division of the company as its general manager.
In the same announcement, Seismic announced it had closed on a late-stage venture capital round of $170 million that it would use to fund expansion and research and development. Seismic, which makes software for sales team, said the acquisition raised its valuation to $3 billion.
Seismic and Lessonly have been partners for three years. Seismic provides sales-enablement software, and CEO Doug Winter said its customers have benefited from using Lessonly's platform—which he called the "leading training and coaching solution in the market"—as part of its sales efforts.
"As time went by and our teams grew better at working together and the trust level grew—and I got to spend more time with Max and [Lessonly President] Conner [Burt] and more parts of the team, we thought we could be a good partnership," said Winter, a native of Mansfield, Ohio.
The companies' combined platform, called Lessonly by Seismic, will deliver "the most powerful and comprehensive enablement platform on the market today," he said.
He said keeping the Lessonly brand—at least initially—is an important part of the equation. "It's a great brand. It's a fun brand," Winter said. "And from a business perspective, it's well-known and well-respected. So we have to figure out how to meld it together."
Yoder co-founded the company in 2012 as Lesson.ly with local tech entrepreneurs Kristian Andersen, Mike Fitzgerald and Eric Tobias, with financial backing from ExactTarget co-founders Chris Baggott, Peter McCormick and Scott Dorsey.
The company has raised more than $30 million in venture capital—including funding from local venture studio High Alpha—and received about $1.9 million in tax breaks and job-training funds from the Indiana Economic Development Corp. for fulfilling its job-creation commitments. The business had just four employees in 2014.
Yoder, the author of the book "Do Better Work," said it was important to him to be acquired by a company that was dedicated to Lessonly's employees and the products they've built.
"I wanted to know that our team was going to work well with whomever we ended up partnering with. And we already knew that because our team had been working with them," Yoder said of Seismic.
Yoder and Winter said they expect growth in the Lessonly brand and in the company's Indianapolis office. "Our respective teams and customers are going to see big gains as a result of this deal, as will the city of Indianapolis," Yoder said.
And Winter said Seismic will be adding employees to the Indianapolis office that will work on non-Lessonly products and programs as well.
In addition, Yoder said Lessonly still plans to host its Yellowship "The Better Work" conference Oct. 5-7 in Indianapolis and virtually.
Lessonly's software platform is used by more than 1,200 companies worldwide, including Scholastic, Jostens and U.S. Cellular.
Seismic, founded in 2010, has grown quickly in the sale-enablement software market. It has raised a total of $440 million in venture capital and grown to 1,300 employees and $250 million in annual revenue. Its 2,000 or so clients include IBM and American Express.
It's latest funding round was led by Permira with participation from JMI Equity, Lightspeed Venture Partners, Jackson Square Ventures, Ameriprise, and funds and accounts advised by T. Rowe Price Associates.
"Both companies are growing really fast," Winter said. "We expect together to grow 40% this year, which is really exciting. And we have our eye on being a public company at some point—maybe in the not-too-distant future."
Please enable JavaScript to view this content.