For international students seeking degrees at Indiana universities and hoping either to gain employment with domestic firms or start their own U.S.-based companies, the next four years promise to be far less angst-ridden and uncertain than the previous.
That's because President Joe Biden, a Democrat, has promised to undo—and has already started undoing—many of the restrictions former President Donald Trump, a Republican, imposed on both international students and foreign workers in the United States.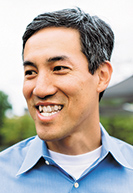 That's good news for universities and employers.
Arnold Chen, managing director of the Burton D. Morgan Center for Entrepreneurship at Purdue University, said his office sends out a weekly memo related to visas, which are official documents that permit citizens of foreign countries—including international students—to enter this country.
"Every week, the students were dying to read it because they don't know what's going to happen," Chen said. "Over the last couple of years, we have had so many students who said, 'I'm not going to go home for Christmas because I don't know if I'm going to be able to get back in the country. I'm here to study and I just can't take that risk.'"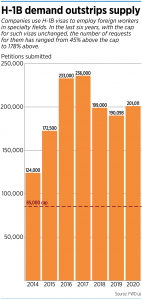 That sentiment reflects the crackdown on immigration that occurred during Trump's four years in the White House. At one point last summer, the administration threatened to send home students whose classes had moved online, a decision it ultimately reversed. And this fall, the administration proposed a rule to limit the time students could stay in the country.
The Trump changes didn't affect only students. In June, it suspended the nation's H-1B program, which allows companies to hire international workers with hard-to-find skills. And in October, the administration sharply limited who would qualify for those visas in the future.
Both moves frustrated tech companies who say they need talented international workers to fuel growth.
They appear to have an advocate in Biden, who said repeatedly during his campaign that he supported expanding the number of visas for highly skilled international students and ending limits on employment-based visas by country. He also proposed to streamline the naturalization process by making visas simpler to obtain and exempting recent STEM (science, technology, engineering and math) and doctoral grads from annual caps on the availability of green cards, which offer permanent residency status to immigrants.
But such measures could face stiff opposition in Congress from those who fear highly qualified foreign candidates will take jobs from Americans.
"It's no secret that the Biden administration plans to put Americans last by pushing for the most radical immigration policy in U.S. history," Mike Howell, a senior adviser at The Heritage Foundation, wrote in a recent editorial. "In fact, with its self-proclaimed 'first order of business,' this administration will be the first and only administration in U.S. history to announce that its top priority is not for U.S. citizens, but for non-U.S. citizens."
In addition, even with more lenient systems in place, obtaining visas, green cards and citizenship could still be a long, enervating process.
Complex system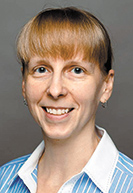 "If you fix one aspect of the issue, then you're missing out if you don't fix another aspect," said Jenny Bowen, director of international student advising at Indiana University. "I can't imagine how that would ultimately look. It would certainly require a lot of cooperation."
That means, no matter the reforms, even students who possess valuable STEM degrees could still face complex immigration policies and caps on the number of workers allowed in the country—and odds of success that can depend on such ephemera as your U.S. employer's tolerance for paperwork, and what nation you hail from.
Consider that the U.S. grants just 85,000 H-1B visas annually, even though more than 200,000 people applied last year. Recipients are chosen through a lottery, something the Biden administration had planned to change to a system based on the wages companies were willing to pay. Now, federal officials say they will delay that change until the end of the year to give the administration time to develop and test planned modifications to the system.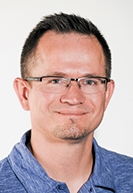 And take green cards for people from India. While currently the government can process only about 100,000 green cards a year for Indian applicants, the backlog of applicants runs into the millions.
"If you are an Indian national, you were born in the wrong country," Chen said. "It's because the wait for Indian immigrants to get a green card is something like 60 years."
Indiana tech companies, for their part, welcome both larger numbers of green cards for STEM students and greater leeway on immigration in general. Many say a more diverse employee pool is a key to 21st century success.
"U.S. immigration policy the last several years has negatively impacted our company's ability to consider the world's talent for our U.S. workforce," said Jared Adams, senior vice president of project engineering for the Indy-based applicant-tracking and recruiting software startup Jobvite. "The lack of clarity and planning in the introduction of policy change introduced fear and uncertainty into the lives of our employees and their families who leverage U.S. visa programs. This, in our view, is unkind and unacceptable."
"We view diversity and inclusion as important factors to technological innovation," added Jon Mills, director of external communications for Cummins. "And from a values perspective, reforming immigration policy is the right thing to do."
Big impacts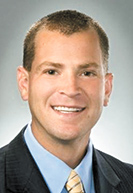 One of the arguments regularly made by companies seeking to put more international students on the payroll is that, in the long run, they create jobs rather than take them. According to NAFSA: Association of International Educators, the Hoosier state's 28,136 international students make an annual financial contribution to the state of $920.7 million, supporting 10,084 jobs.
NAFSA also calculates that international students contribute $38.7 billion to the U.S. economy annually, supporting some 415,996 domestic jobs.
In other words, for every eight international students, three domestic jobs are created, in everything from retail to transportation to higher education—not to mention the gains from students who start their own domestic companies.
Indiana University and Purdue University both host large contingents of international students. However, that number at IU has dwindled over the last four years, from 9,004 across the school's statewide system of 90,000 students in 2016, to 6,234 in fall of 2020. The biggest portion come from China and India, followed by South Korea. The most popular major is business, followed by computer sciences and engineering.
"There are international students and scholars who are quietly going about their business, studying, researching and teaching around the U.S.," Bowen said. "And they are also working on patent teams, cancer research and medications, and working on COVID vaccine creation and distribution. There's a lot of amazing things out there that are rather unsung."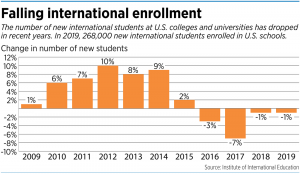 When it comes to attracting international students, however, Purdue University is in a class by itself. For years, it's been a fixture on national top 10 lists of universities with the largest proportion of internationals. About 23% of the entire undergraduate enrollment is international students, as is about 17% of graduate enrollment. U.S. News and World Report even named Purdue the top pick on its list of destinations for international students in STEM disciplines in the United States.
In 2016, Purdue hosted 9,303 such scholars, out of a total 40,000 students. But by 2020, the international-student count had dropped to 8,158. As with IU, most of Purdue's international students come from China, followed by India and South Korea. The most popular fields of study are engineering and science.
Increasing competition
For decades, studying in the United States and then possibly (probably) staying here either to work or begin a business was the holy grail of much of the world's best and brightest. And it's paid spectacular dividends. As Chen points out, more than half of all Silicon Valley startups have one immigrant co-founder, 50% of startups worth at least $1 billion have an immigrant co-founder, and 45% of Fortune 500 companies were founded by immigrants or their children.
That highlights a new problem that reared its head during the Trump administration.
While the U.S. busily tossed up barriers to international students, nations such as Germany and Canada, sensing a huge opportunity, made it markedly easier for high-value scholars to enter their countries. The immigration consulting firm Envoy Global recently reported that 51% of international employers now consider Canada an expansion target, thanks to its streamlined application and permanent residency processes.
While the United States remains a top destination for international students, there's no denying that what was once very much a seller's market is now a highly competitive buyer's market.
In the minds of universities and many employers, valuable STEM students should have a green card stapled to their diplomas. But don't hold your breath for that.
Given the difficulty of comprehensively reforming anything these days, and the amount of nativist ire such an effort would likely stir up, creating a logical, efficient highway to residency and citizenship for STEM candidates would be tricky. Perhaps the best that can be hoped for is to make the current Rube Goldberg-ian labyrinth a bit more palatable and a bit less off-putting.
"The current process for gaining permanent residence in the United States is definitely not an elementary one to understand, or engage in," Bowen said.
"It can be a very anxiety-ridden time for people going through this process, and it shouldn't be," Mills said. "They go to school here or perhaps have grown up here, and they just want to be able to create a life, get a job and be part of the American fabric."•
Please enable JavaScript to view this content.