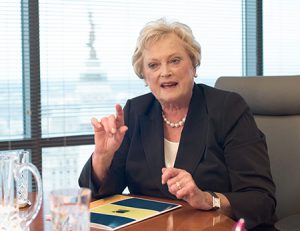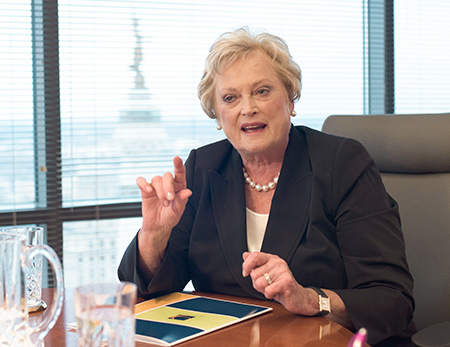 Indianapolis Public Schools has a powerful new ally in its last-ditch campaign to win back control of three schools taken over by the state—and prevent a Florida-based charter manager from running the schools indefinitely.
Christel House Academy, a politically influential Indianapolis charter network, wants to relocate its south-side school to Manual High School if oversight of that campus is returned to the district, IPS and Christel House officials told Chalkbeat on Tuesday.
Christel House would take over the campus through an innovation partnership, allowing the network to manage the school while the district monitors performance and gets credit for its enrollment and academic results.
"We're going to work very hard over the next couple of weeks as these major decisions are made to show how committed we are," said former Indianapolis Mayor Bart Peterson, president of Christel House International. "We want to provide an excellent education option to the current students and have the opportunity to grow on the south side—expand our footprint, have a bigger impact on children."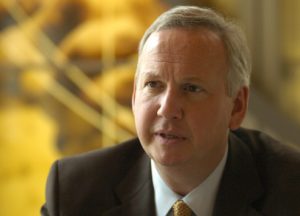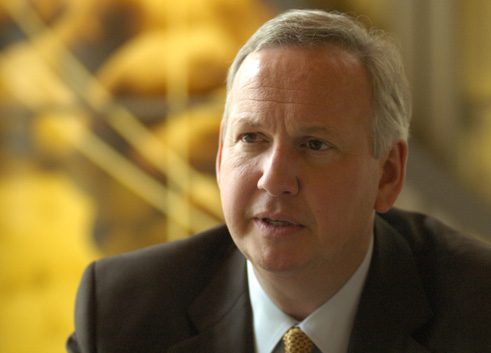 Christel House's south-side school, which would move from its campus less than a mile from Manual, currently serves about 650 students in kindergarten through 12th grade, and runs a dropout-recovery program for adults. Using the Manual campus to serve all ages could help fill a building that has space for significantly more students and potentially make it more financially sustainable in the long term.
Manual and two other schools—Howe High School and Emma Donnan Middle School—were taken over by the state in 2012 for poor academic outcomes. All three schools are expected to exit state control at the end of the school year.
A not-for-profit associated with the current, state-appointed operator, Charter Schools USA, is seeking charters to continue running the schools under direction from the state board of education. The Indiana Charter Schools Board is expected to vote on the charters next week.
The district, however, is hoping that those charters will be denied. A recent Chalkbeat investigation cast significant doubt on the accuracy of the graduation rates at Manual and Howe, and the charter board may be persuaded that the proposal from IPS is a better alternative to the operator tied to Charter Schools USA.
District Superintendent Aleesia Johnson said that working with Christel House is a "really exciting opportunity for IPS" because of that school's long history on the south side and "strong, consistent academic performance."
IPS has not yet unveiled a plan for Howe, and Johnson said it "remains to be seen" what the district would do with that campus. But the revelation the district has found a potential partner at Manual suggests the IPS board might be open to a similar arrangement at Howe. And if the district regains control of Donnan, it would likely choose one of two charter managers to run the campus: Phalen Leadership Academies or Adelante Schools, IPS portfolio officer Jamie VanDeWalle said Monday.
Support from Christel House could be crucial in helping the district make the case that it should regain control of all three campuses lost to state takeover. One of the state's longest-running charter networks, Christel House holds significant political sway because it was founded by local businesswoman and philanthropist Christel DeHaan and it is now led by Peterson.
In addition to its southside campus, Christel House runs a charter school on the west side and a global network of private schools. The vast majority of the students at their Indianapolis schools come from low-income families, most are children of color, and more than a quarter are English language learners. The south-side school currently has a C grade from the state, while the west-side campus has a D.
Charter Schools USA, meanwhile, has received strong support from families and teachers in its bid to keep control of Manual, Howe, and Donnan. At a hearing held by the Indiana Charter School Board, roughly 50 speakers said they wanted the current operator to remain, while a small handful of opponents submitted written statements.
"My daughter gets up every day excited to go to school," said Kim Hamilton, a parent at Howe. "The staff is wonderful."
Some residents have also expressed concern that IPS would close Manual if it was returned to district control.
Indeed, IPS leaders have long suggested they would close the high schools if they were returned to district control. It was only later that a new IPS superintendent hinted that district leaders were open to innovation partnerships. And, in March, the state board of education approved a plan for the high schools to pursue charters and for Donnan to be managed through an innovation partnership between its current operator and the district.
But in the months since, Charter Schools USA has faced unexpected obstacles. In September, a Chalkbeat investigation revealed that both high schools have relatively large numbers of students labeled as leaving for home-schooling, which can help boost graduation rates.
At Manual, the class of 2018 numbered 83 graduates, six dropouts, and 60 students who left at some point during their high school years to be home-schooled. The state does not monitor whether the students leaving to home-school are continuing their education or have, essentially, dropped out.
Johnson said Chalkbeat's report was one of the reasons she is concerned about Charter Schools USA. "I have questions around the level of integrity, quite honestly, that was demonstrated," she said.
Last month, IPS announced that it would cut ties with the Charter Schools USA—which was running Donnan in partnership with the district—because of concerns, including high teacher turnover and shrinking enrollment.
A spokeswoman for Charter Schools USA, Colleen Reynolds, dismissed concerns raised by IPS in a lengthy statement issued last month. She said that Donnan had strong outcomes on state tests, and the district is willing to disrupt the lives of students and teachers for "political gain."
If the Indiana Charter School Board does not approve the charters, the state board of education will reconsider what to do with the schools. If the district regains control of Donnan, it would go through a partner-selection process to choose a replacement for Charter Schools USA.
One option, the Indianapolis-based Phalen charter network, is a well-known district partner: It was chosen to lead the first overhaul of a failing neighborhood campus as an innovation school. It now runs three schools on the east side, including two in partnership with the district. And it's four Indianapolis campuses have A grades from the state. The network, which brands itself as a turnaround operator, has expanded to 20 schools across the country, according to the website.
When VanDeWalle revealed the potential operators Monday, a teacher at Donnan refuted the implication that Phalen would be a better manager than Charter Schools USA.
"Don't give us Phalen," said Angie Hood, a second-grade teacher at Donnan. She pointed to the school's state test results, which outpaced the district in student passing rates on the combined math and English ILEARN exams. "Look at our test data. They don't want to talk about that, because it's good," Hood said.
The other potential manager, Adelante, is brand new. It would be the first school from Eddie Rangel, an Indianapolis educator who most recently led an elementary school in the Tindley charter network, and Matthew Rooney, a native of Indianapolis who previously led a charter school in New York City.
Chalkbeat is a not-for-profit news site covering educational change in public schools.
Please enable JavaScript to view this content.