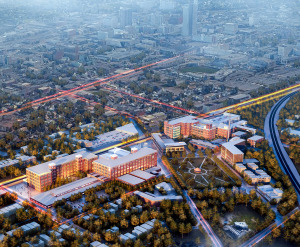 Do it Best Corp. has sat atop IBJ's list of the 50 biggest private companies in Indiana for years. But the member-owned hardware, lumber and building materials cooperative has remained under the radar—even to some degree in its hometown of Fort Wayne.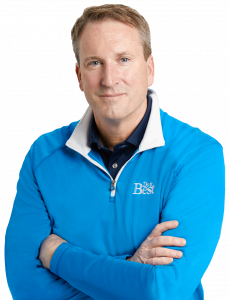 Located in an industrial area best suited to warehousing and distribution, Do it Best has quietly grown into a $5.2 billion company with more than 1,600 employees nationwide and about 450 in Indiana. Its goal is to promote its members—stores like Sullivan Hardware & Garden in Indianapolis, Ferguson Do it Best Hardware in Danville or Gillman Home Center in Lebanon—rather than its central office.
But Do it Best's days of relative obscurity are almost over.
Late this year, the company—founded in 1945—will move into a new, 200,000-square-foot headquarters as the anchor tenant of Electric Works, a massive redevelopment of a 39-acre historic campus in the core of Fort Wayne that housed General Electric Co. until it closed in 2014. The campus includes 18 historic buildings—the oldest built in about 1893—with 1.2 million square feet of space that will be used for offices, retail, a food hall, residential units and a school.
Do it Best CEO Dan Starr talked with IBJ about what drew the company to Electric Works and how the move could transform the company.
What is the status of Do it Best's move to Electric Works?
From the very beginning, the developer let us know that we should be aiming for the early November time frame of 2022. And they keep telling us they remain on track, even with all the supply chain challenges.
Building 26 is where we will be located. Construction has started at the top [of that building] and they are working down. So, the fifth floor, the top floor, is the one that shows the most progress. And right now, there are carpet tiles on the floor, there are countertops, there's bathroom finishing, there's even cubicles that have been arriving and are under installation work right now. That's how far along it is, which is very encouraging to us.
So, that's one side. The other is the campus itself. You don't want to move in and be the only one in the development. We need other folks to be there before we are. And so that includes food vendors and retail and things like that. So we're excited that's moving along. They have a number of commitments, and they tell us that's all on track as well.
The earliest is a STEAM school from Fort Wayne Community Schools that'll be located there. And of course, to be ready for the fall semester, they've got to be good to go by early August.
Will you have that entire Building 26, or will you have just certain floors?
We have a great deal of the first floor. We have all of the lower level of the building. We have floors three, four and five entirely. And then there is a one-story building immediately east of 26 that is what we're calling our Don Wolf Conference Center. So, it's a very, very large meeting room that we've just got to have in order to fit our entire team in one space.
Tell me about Don Wolf.
He was our second president and CEO. And Don was just a remarkable individual. He passed away just a couple of years ago. And he was just such an incredible element in the history of this company. He was CEO from about 1967 until about 1992. And there was a tremendous amount of growth and success of our company in his tenure as CEO. He really set us on a course to become a national and international company.
We felt it was appropriate to honor his legacy by calling this the Don Wolf Conference Center, just to put something as a memorial in his honor.
How did the decision to move into Electric Works come about?
The primary motivation for us was to find the ideal space that would meet all the marks for us. … We were trying to find an appropriate, exciting, dynamic space to support the great-place-to-work initiatives that we have.
We really think that we have a great company, a great culture. I think our team in HR does a phenomenal job of recruiting and retaining people. And they are able to just accurately describe the culture of the company that is very attractive to people.
What's harder for them to sell or what's harder for them to promote is where we are located. We're just off of [State Road] 930 in an industrial area on the border between New Haven and Fort Wayne, surrounded by railroad tracks and very industrial-looking buildings right beside us. So, if you think of an appropriate space for a headquarters—one where you're not really actively doing any distribution or warehousing work—that is not the kind of environment you would pick.
The first building there was constructed in 1947, and it had been added onto six or seven times. It's primarily a warehouse structure with office on the second floor, but we ceased using it technically as a distribution center in the early 1980s. And we have slowly built out that space as cubicles and spaces for all the things that you would typically find in a headquarters.
But [the building] is just not conducive to working in a team environment. And obviously, we've known that for a while, but I think as we continue to invest in the building to try to make it a great place, we slowly recognized … this is not good stewardship [for employees]. We really need to invest long term in what is a more appropriate space. And then that freed us up to envision, what should that look like?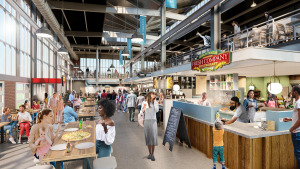 How did you land on Electric Works?
We were thinking about what would be the best environment to support the great-place-to-work initiative that we want to have and the culture initiatives that are underway. And it was just this amazing overlap with Electric Works.
As soon as we understood fully the vision of the developers of Electric Works, it was an immediate recognition of: Wow! Yes, that vision that they have is exactly what we're looking for. … You've got office, you've got education, you've got retail, you've got entertainment, you've got ultimately residential, all co-located in the same dynamic space in buildings that are architecturally significant.
Oh, and by the way, it's the biggest restoration project, I think, our state has ever seen. And we're in a business that's all about hardware, home improvement and lumber building materials.
It's an exciting, dynamic space. And in terms of talent recruitment, in terms of talent retention, we really believe that we can take something that right now is not a positive and relocate. It's still in our hometown where we were founded, in a space that's really the envy of—across the Midwest—of what restoration projects can look like. And it's adjacent to our downtown.
I think it will change the face of Fort Wayne.
Were you one of the first companies to commit to moving there?
We were, I believe, the first to truly commit. And we're the critical commitment in that we agreed to be the anchor tenant. For us, that was a pretty significant commitment, but we require a fair amount of space.
How many people will work in the Do it Best offices there?
Well, right now, we hover somewhere around 450, but we see that growing to 500 pretty quickly.
As anchor tenant, did you get to pick where in the district you wanted to be located?
Yes, we did get to pick our building.
If you look at the campus map, it's sort of right in the center of things, which you would want. But on top of that, it's immediately adjacent to the food hall area, which we thought would be very helpful for our team. And it's very close, as well, to the parking that we need.
And lastly, the building is great, but as I mentioned, it is also immediately adjacent to a large, one-story building that could be used as a large meeting room.
How did you decide to build out the space? What were your primary goals?
Let me try to set the stage. The ceilings on the first floor are 25 feet above you. And you've got these massive concrete columns that serve as the internal support structure for the entire building. … Then the next story is 18 feet floor to ceiling. And that's the same for floors three, four and five. And … most of the wall is windows.
You go into buildings constructed today, and they desire to fit them out in a way that looks as though they are quasi-industrial and have a little bit of a rough edge to them. This already had the best features of that. … So you want to preserve the aesthetic nature of the building. You don't want to do a lot to obstruct the bones. You want to be able to see that brick. You want to be able to see the concrete columns.
And so, it's not drop ceilings and hiding all that. It's not painting all that. You clean up the brick, clean up the concrete, but let it show, and then build in all that infrastructure that you need.
We wanted to use some reclaimed wood that would both warm up the space and be a reflection of the industry that we serve. We also wanted it to allow office work to occur, so we'll have individual cubicles but lower walls, so there is a sense of community.
We also wanted a lot of collaborative space. We work in teams an awful lot within our company. And so, while everyone might have a home location, areas where you can work in smaller and large groups collaboratively all over the place was pretty important to us.
When did you start the planning process for the space? Was COVID already in our lives?
We started talking to the developer in the fall of 2019. By the time we got to December of '19, we were ready to commit. And then I actually had a public announcement to reveal that we had committed to being the anchor tenant. And in terms of the development, that was pretty critical because it was a hard ask.
The developers … couldn't really complete the space until they had the funding, and they couldn't get the funding until they had the anchor tenant. And the practical problem they had was: How many companies would sign on to be anchor tenant, and then wait two years before their space was ready? And if it was anybody outside of northeast Indiana, of course they'd be unwilling to do that.
So we had committed to it in late 2019. We held a public event that the governor attended in February of 2020. … That was one month before the world imploded in the midst of COVID. And it immediately cast a little bit of a concern over development projects. And so there was a bit of a back and forth for a while before [the project] ultimately got closed and funded.
For our business … with the inability to travel, with the requirement to shelter in place and socially distance, people—really DIYers and remodelers—suddenly started doing an amazing amount of work on their homes, which did nothing but strengthen our business. We went from $3.8-or-so billion to over $5 billion in one year.
Did COVID make you rethink what an office should be?
It made us consider it, I'll say that. And I think that was a healthy thing. Most of the time, you wouldn't have even given that any passing thought. You'd think: We're going to build out office space because that's what everybody does.
But ultimately, it did not change our plans. We still took sufficient space to have our entire headquarters team locate there in the building, as well as some additional space for some growth.
Culture is critically important for our team, and I think that translates to the quality of the work that we do for our members. It makes a difference that we work together and that we're physically together to be able to do our best work.
It's also easier to ask people to come into the office when you're giving them a great space with a lot of amenities.
My hope is that you don't have to convince anybody.
And it's already playing out. I have one-on-one meetings with every new employee who starts at Do it Best Corp. at our headquarters. And part of that is to learn more about them, to welcome them personally, to make sure that they understand that it should be an easy and comfortable thing for them to be able to knock on the door of the CEO and have a conversation with them.
Over the course of the last year, almost every single welcome meeting that I have with someone has involved them talking about how excited they are for the impending move, or how excited they are about Electric Works in general, or what a neat project it is for our community. And it's already impacted our ability to recruit talent.
Do you think that impact will grow after you move in?
I do. I think it will increase. I think for many years we may have been just an interesting sort of well-guarded secret. As an employer in northeast Indiana, culturally, our company has always been one to promote our members first, because, if you go shopping in Indianapolis, we would promote Pat Sullivan, for example. … And we're a wholesale business. We don't feel that it's necessary or important for us to have a presence.
But that's not really true in our own hometown, where we need to recruit and retain top-tier talent. We should be well-known. But whether it's the Midwest humility or a servant-led culture or that we put our members first, or a combination of those three things, we were pretty under the radar, even in our own hometown. And we really feel the need to change that in order to compete effectively for the top-tier talent that we need.
We have a very strong team, but we see that, with the next generation, we've just got to be able to attract them differently.
Is there space there for you to keep growing?
There is. We intentionally leased sufficient space that would allow us to expand a little bit in our existing footprint, but we also have an option on additional space there.
Do you have a favorite thing about the new headquarters?
I do. It's partially underway. So, as yet, it's still a vision for the future. But there is a rooftop patio area that will be on top of our building that has dramatic views of the city and then … you can see the full campus as well. I just think it's a unique feature that our entire team will be able to enjoy. It's breathtaking.•
—Lesley Weidenbener
Editor's note: This story has been updated. The company name should have appeared as Do it Best. 
Please enable JavaScript to view this content.