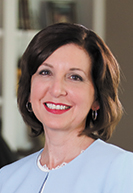 Age: 52
Hometown: Woodstock, Illinois
Residence: Indianapolis
Family: husband, Larry; four adult children; two grandchildren
Education: bachelor's from Valparaiso University, master's from IUPUI
Political experience: Indiana state treasurer (2015-present), Cass County commissioner (1997-2004)
Career: Indiana state treasurer, previously worked for United Consulting Engineers
Why she's running: I see our country at this crossroads, and the direction we go matters so much for our generation and the next generation.
Top priority: fiscal issues
What she's streaming: "Some Good News" on YouTube, from John Krasinski
Q&A
What do you think needs to be done to improve access to and the affordability of health care?
Medicare for all is not the answer. Obamacare was supposed to fix everything, but prices have gone up. I believe we need to start over with patient-driven health care markets and have providers competing with each other to offer the best services at the best prices. We also need transparency in health care billing.
What should be done to address the massive amount of student debt in this country and make college more affordable?
As someone who paid student loans until I was 37, this one hits close to home for me. I wouldn't change my experience, but I know what it's like to be saddled with that debt when you should be saving for a house or planning for retirement. People should take advantage of tax incentive programs, like College Choice 529, to save for college. A dollar saved is cheaper than a dollar borrowed. … People are also doing things like going to community college first before transferring to four-year universities. … It's important to encourage vocational college and apprenticeship programs.
What is your position on trade and tariffs?
I absolutely believe in free trade, but I also believe in fair trade. Other countries aren't playing by the rules. The Trump administration has made it very clear we're willing to stand up to those who are willing to rig the trade system. So the tariffs are fair to make this an even playing field.
What should be done to address climate change?
Everyone wants clean energy, clean air, clean water. How do we most cost-effectively provide this and do it in the best way possible? That discussion is ongoing and it absolutely has to be.
State treasurer seeks higher office
When Kelly Mitchell was 28 years old and still relatively new to living in Logansport, a friend suggested she run for a spot on the Cass County Board of Commissioners.
"Up until then, I never really thought I'd run for office," Mitchell said.
But she ran, and she won, becoming the youngest county commissioner in the state—and, to this day, the only woman to ever serve on the elected body in Cass County.
She said she decided to do it so she could make a difference in the community for her kids, who were 2 and 5 years old when she ran. She served two terms, including one as president of the three-member board.
Mitchell said she learned about the various responsibilities of local government, from maintaining infrastructure like roads and bridges, to building a new jail and overseeing parks and economic development.
"It was wonderful," she said. "I keep telling people what a great job being a commissioner is."
Mitchell earned her degree in political science from Valparaiso University, but her first job out of college was actually in the health care industry.
She worked for the Porter-Starke Services facility in Valparaiso, doing in-home visits with residents and helping them run errands like grocery shopping.
"It was a fascinating job but definitely a difficult one," Mitchell said.
She was later promoted to the center's admissions team, making sure complete assessments were conducted on potential residents to thoroughly understand their situations and the challenges they face.
Also when she lived in Logansport, before becoming a county commissioner, she spent time selling ads for the local newspaper, the Pharos-Tribune.
In 2004, she moved to Indianapolis and thought she was done with political office. She was getting remarried, and she took a marketing job with United Consulting Engineers.
But in her role with the firm, she regularly worked on local government construction projects. And in 2007, she was asked to join the Indiana Treasurer's Office to help launch the state's local government investment pool known as TrustINdiana.
"I got to travel Indiana and work with local governments," Mitchell said.
She realized her boss, Republican Richard Mourdock, wouldn't be able to seek reelection in 2014 because the position is limited to two terms, so she thought about running.
"I finally realized I know this office inside and out, and I love what we do," Mitchell said. "It's just an office where we get to make a real difference in Indiana."
She won in 2014 against Democrat Michael Boland with 58% of the vote, and she won her reelection bid in 2018 against Democrat John Aguilera with 59% of the vote.
She still loves her job, but she said she's worried about the future of the country, so she decided to run for Congress.
"I see our country at this crossroads," Mitchell said. "And the direction we go matters so much for our generation, the next generation."•
Please enable JavaScript to view this content.