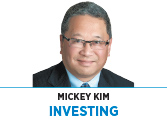 Whether it's Ali vs. Frazier in boxing (the "Thrilla in Manila"), Duke vs. Kentucky in basketball, or Godzilla vs. Kong in the movies, when "titans" clash, it always makes for great theater.
A similar brouhaha recently unfolded in the investment world. In one corner is Cathie Wood, portfolio manager for the ARK Innovation exchange-traded fund (Nasdaq—ARKK), who was in the right place at the right time and rode the wave of populist sentiment of "disruptive innovation" that resonated with the army of new thrill-seeking investors born in the depths of the pandemic to fame and fortune.
ARK Innovation was up a stunning 147.8% in 2020 (versus the S&P 500 total return of 18.4%), which led to Wood's assets under management surging from less than $10 billion at the end of 2019 to almost $85 billion today.
Wood is an "ideas-driven, big picture" investor, known affectionately as "Mamma Cathie" or "Aunt Cathie" to her legion of followers. According to ARKK's Prospectus, disruptive innovation is "the introduction of a technologically enabled new product or service that potentially changes the way the world works." Additionally, while we're big believers in eating our own cooking, officers and trustees of ARKK own a paltry 0.1% of the shares.
For Wood, it's all about the technology, future growth prospects and momentum, not current profitability or stock valuation.
In the other corner is Michael Burry, who earned his fame (as subject of the book and movie "The Big Short") and fortune betting against the bubble in the U.S. housing market and related subprime mortgage bonds in 2007, the bursting of which precipitated the worst global financial crisis since the Great Depression.
Unlike Wood, Burry is data-driven and all about fundamentals like profitability and valuation.
In regulatory filings on Aug. 16, Burry's Scion Asset Management, along with several other hedge funds, reported making bearish, negative bets on Wood's ARKK. Adding insult to injury, plans were revealed for the Short ARKK (SARK) exchange traded fund, designed to deliver the daily inverse performance of ARKK.
ARKK's naysayers argue that, 1) The stocks it owns are wildly overvalued, and, 2) Many of the companies owned are expected to lose money for the foreseeable future and are thus dependent on a continuous, abundant supply of ultra-low-cost funding, which will end when (not if) the Fed begins raising interest rates.
Wood fired back: "To his credit, Michael Burry made a great call based on fundamentals and recognized the calamity brewing in the housing/mortgage market. I do not believe that he understands the fundamentals that are creating explosive growth and investment opportunities in the innovation space."
Warren Buffett famously said, "Price is what you pay. Value is what you get." In that spirit, let's do a quick valuation exercise comparing ARKK's 10 largest (out of 50) holdings versus the "FAANG" stocks, mega-capitalization technology stocks that have done spectacularly well and driven S&P 500 performance for the past too many years.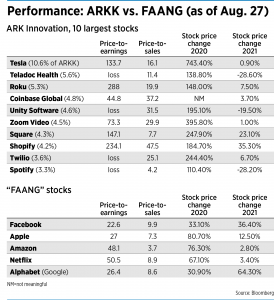 A couple of things stand out. First, four of ARKK's 10 largest holdings lose money. Second, based on both price-to-earnings and price-to-sales valuation metrics, ARKK's 10 largest have astronomical valuations. Third, looking at 2020 and 2021 performance, you can see why ARKK was up 147.8% vs. 18.4% for the S&P 500 in 2020, but down 2% through Aug. 27, vs. up 21.2% for the S&P 500. As Tesla goes, so goes ARKK.
Burry warned of a coming flood of biblical proportions. "All hype/speculation is doing is drawing in retail [investors] before the mother of all crashes," he warned. Further, "#FOMO Parabolas don't resolve sideways: When crypto falls from trillions, or meme stocks fall from tens of billions, #MainStreet losses will approach the size of countries. History ain't changed."•
__________
Kim is Kirr Marbach & Co.'s chief operating officer and chief compliance officer. He can be reached at 812-376-9444 or mickey@kirrmar.com.
Please enable JavaScript to view this content.