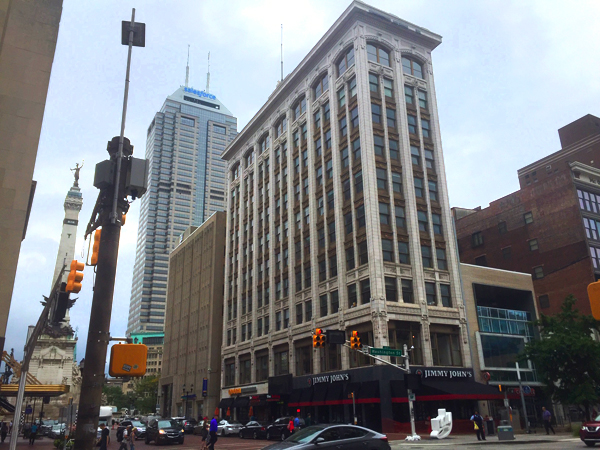 The Chicago-based firm behind the redevelopment of the historic King Cole building at the northeast corner of Washington and Meridian streets in downtown Indianapolis is expected to receive more than $8 million in city incentives for the project.
City officials plan to create an economic development area in the coming months for the Motto-branded hotel, which is being developed by hotel design and development firm Gettys Group for about $48.5 million. 
The designation will allow the Department of Metropolitan Development to later allocate developer-backed tax-increment finance bonds for construction.
According to a filing for the project with the Metropolitan Development Commission, the city plans to offer about $8.6 million in TIF bonds. However, that number is considered preliminary and has not yet been finalized by city officials.
The economic development area proposal had been scheduled to be heard by the commission Wednesday, but it was delayed to an undetermined date in April to finalize some loose ends.
Initially, the hotel project was expected to cost $25 million to $30 million, but supply costs and the unexpectedly dilapidated state of some of the building led to increased costs. The Motto is also expected to include 116 rooms, rather than the original plan for 108.
Gettys confirmed its plans to turn the 107-year-old structure into a hotel in August 2019, and has since been working on construction plans and pushing for local and federal incentives as it tries to revitalize the historic property.
The development is expected to include at least two full-service restaurants and bars—one in a new rooftop area and the other on the first floor—along with public art, outdoor seating and other retail tenants. The basement of the 11-story building could also reconfigured into a high-end restaurant.
A restaurant known as the Seville Tavern operated in the building's basement from 1929 until 1957, when the space became home to upscale restaurant King Cole. Although that restaurant closed in the mid-1990s, 1 N. Meridian St. is still known as the King Cole building.
The Gettys group is a hospitality-industry developer that also handles interior design, branding and procurement. In fact, the firm's interior design division, known as Gettys One, did the interior design work for the nearby dual-branded 316-room Hyatt House and Hyatt Place project that opened in 2019 at 130 S. Pennsylvania St.
The King Cole project is expected to be completed sometime in 2023.
Please enable JavaScript to view this content.