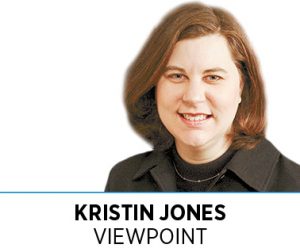 Indiana is leading the way as one of the nation's most prominent life sciences hubs. Progress is being made every day to help us live longer, better lives, whether it's breakthrough treatments for Alzheimer's, new cancer diagnostics or improved ways to control and manage diabetes. Furthermore, the med-tech sector in our state has been one of the leading contributors to this progress, creating jobs and contributing to our economy along the way.
These innovations help ease the demands on our already strained health care system while also addressing the ever-rising rates of chronic illness in our communities.
But what if it all came to an end?
New proposals from some in Congress and the Biden administration would expand federal power over medication pricing—piling onto the Inflation Reduction Act that still isn't fully understood or even implemented. These additional proposals would do away with many potentially lifesaving and life-changing drugs before physicians ever have a chance to prescribe them.
The Inflation Reduction Act gave power to the government to pick certain drugs used by Medicare beneficiaries and mandate certain prices for them. As enacted in the law, these set prices won't kick in for small-molecule drugs—pills largely taken orally by patients in their own homes—until nine years after U.S. Food and Drug Administration approval and 13 years for more complex biologic therapies that are frequently administered in clinics or doctors' offices. And yet, even before these changes have been implemented, government-mandated drug-pricing policies are having an adverse impact. Some drug companies have already pulled new treatments from clinical trials with the certainty that government pricing will never allow them to see a return on their investments.
Now, new proposals from some in Washington would shrink that timeline to just five years after FDA approval before drugs are subjected to government-mandated drug-pricing policies. Newly published research has detailed just how devastating this would be for our health, our economy and our state as a whole.
Research firm Vital Transformation has found that implementing government-mandating drug-pricing policies only five years after FDA approval would result in an unprecedented retrenchment of drug development and create collateral damage in the process. This study showed that there would be more than 235 fewer FDA approvals of new treatments and therapies over a decade.
This damage wouldn't be spread evenly. Instead, it would have a disproportionate impact on those drugs that address significant unmet patient needs. Cancer drugs, neurological treatments, new medicines for rare diseases and infectious-disease drugs would be the hardest hit by this change.
Indiana's economy would also be at stake as these proposals would disproportionately affect states like ours that have been successful in attracting a robust biotech industry. According to the research, Indiana stands to lose nearly 7,000 biopharmaceutical jobs if these aggressive government-mandated drug-pricing policies go into effect and a total of more than 38,000 jobs across the state that are supported by the economic activity these biotech innovators generate.
This shortsighted attempt to use the big fist of government to mandate drug prices would result in thousands of jobs exiting our state and would deliver an unrecoverable blow to the infrastructure that has supported the biopharmaceutical industry and the treatments and cures it delivers to millions of patients every day.
True drug-pricing reform will come from meaningful legislation that addresses the insurers and pharmacy benefit managers who actually determine what we pay out of pocket at the pharmacy. It is possible to improve affordability without strangling innovation and impairing the economy in the process. Taking shortcuts with government-mandated drug-pricing policies at the expense of Hoosier patients and a healthy economy are not the answer.•
__________
Jones is president and CEO of the Indiana Health Industry Forum.
Please enable JavaScript to view this content.